In March of 2017, the Ugandan Government took over Uganda Telecom's operations after the Libyan government, the majority shareholders, pulled out of the ailing telecom. UTL has been associated with slow business and financial troubles that had camped almost permanently at Uganda's oldest telecom company. However, we can now confirm that a Nigerian company, and not Safaricom. UTL bought!
Early this year on January 23rd, the President wrote a letter to the Prime Minister's office saying he believed that UTL still had a lot of potential to manage Government's data. However, this seemed hard to believe considering all the trouble the telecom faced.
Advertisement - Continue reading below
The Government through the Ministry of ICT and National Guidance tweeted a plan to revamp UTL.  The strategy aimed to give UTL a fighting chance in the country's competitive telecom space.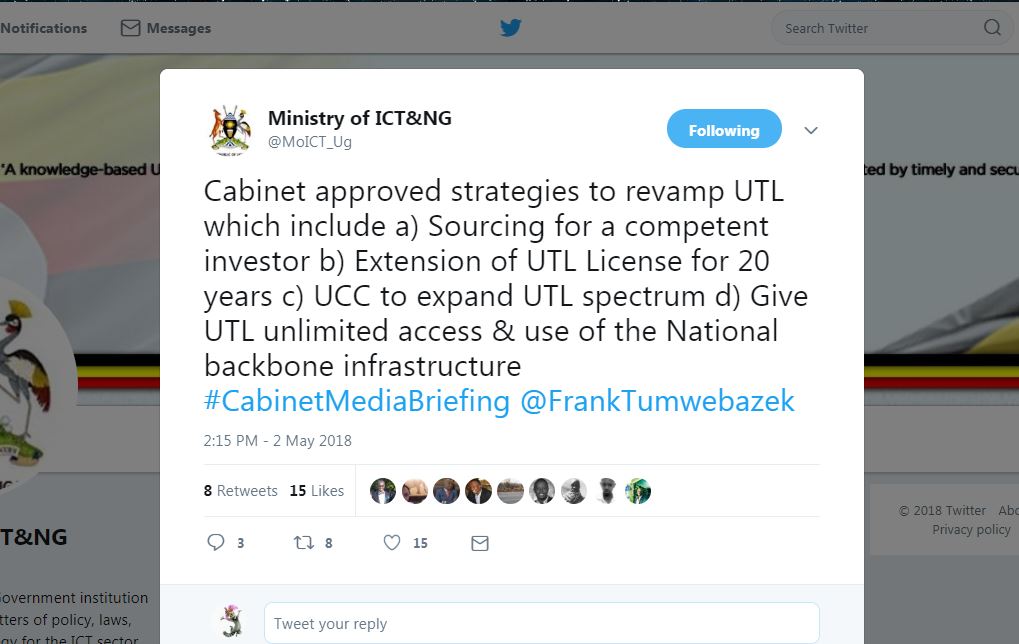 As per the strategy, sourcing for a competent investor ranked high on the list. The list of 5 candidates to take over UTL included Afrinet Communications from Kenya, Mauritius Telecom from Mauritius, US-based Hamilton Telecom, Telecel Global which is headquartered in Beirut and Nigerian company Teleology.
Prior to Teleology's triumph, State Investment Minister Evelyn Anite who claimed that the Nigerian company had no technical expertise or financial strength to run a telecom business. The Minister backed Mauritius Telecom which ranked second on the list of 5 companies that expressed interest in buying UTL.
Sources familiar with the matter indicate that Taleology's $71 million bid dwarfed Mauritius Telecom's $45 million. According to Gen Ali Moses, a Cabinet sub-committee he chaired endorsed the Nigerian company. However, the conflicting choices of the Cabinet and Minister Evelyn Anite led to a delayed decision. This was until President Museveni sided with the Nigerian company according to one Minister.
UTL bought: The Shs268 billion Deal.
Cabinet tasked the Nigerian firm to pay a non-refundable 10% of the total amount ($7 million) within a month. The Nigerian firm must pay the remaining balance within the next two months.
Advertisement - Continue reading below
If  Taleology fails to meet this, the Government will cancel the deal and source for another potent buyer for UTL.
Under the deal, the Nigerian firm will get a 67% share in UTL, leaving the Government as the minority shareholder. Taleology will also take over UTL's Shs148 billion assets and everything the Government included in its plan for a revamped UTL. (see above tweet)
Will this breathe new life into UTL? Should they have chosen another buyer? Is giving a key State communication asset to a foreign company risky? Tell us what you think in the comments.