Over the past couple of months, there have been countless news, rumours, speculations, and leaks that points towards the idea of a foldable smartphone — a first of its kind. And while Huawei and Samsung were the front-runners to unveiling this technology on a smartphone, a start-up smartphone company pulled up a rather surprising move by releasing the world's first foldable smartphone.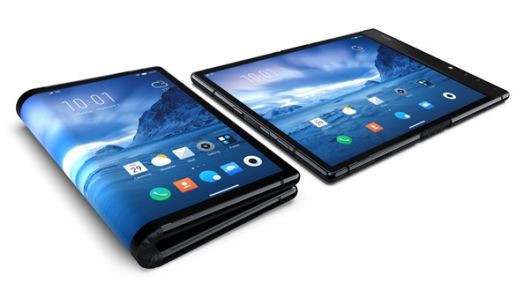 Advertisement - Continue reading below
The device is called the Royole FlexPai –an unusual name– and was announced by Royole Corporation, a California-based startup, at a conference it held in Beijing China.
Introducing the world's first foldable smartphone, a stylish combination of a mobile phone and tablet with a fully flexible screen: the Royole FlexPai! For more information, please visit: https://t.co/MWdBBP9rUm pic.twitter.com/VmgOtOAkeU

— Royole Europe (@Royole_Europe) October 31, 2018
The Royole Corporation's folding 'FlexPai' smartphone is more of a smartphone-tablet hybrid that sports a wide 7.8-inch display when fully unfolded. The display is an AMOLED screen with a 1920 x 1440 pixels.
Royole Flexpai: Three displays on board
When folded into a book, the Royole FlexPai will have a total of three (3) displays;
Advertisement - Continue reading below
1. A primary (front-facing) display with 1440 x 810 pixels resolution
2. A secondary (rear facing) display with 1440 x 720 resolutions
3. A tertiary 1440 x 390 (edge) display. This display runs between the primary and secondary display and will be used to display call and message notifications. It is also called the 'edge screen'.
According to Royole, the FlexPai functions both as a stand-alone portable device, a tablet, and has the capacity to efficiently support dual-screen usage. When bother displays are spread out to form a tablet, the Royole FlexPai measures 190mm x 134mm x 7.6mm but when folded into a portable smartphone, the thickness reaches up to 15.2mm.
Speaking about the record-breaking foldable smartphone at its launch event, the founder and Chief Executive Officer of the six-year old Royole Corporation, Dr. Bill Liu had the following to say:
"It perfectly solves the contradiction between the high-definition large-screen experience and portability, which introduces a whole new dimension to the human-machine interface. The phone's inherent design will forever change the consumer electronics industry, as well as the way people interact with and perceive their world."
Internals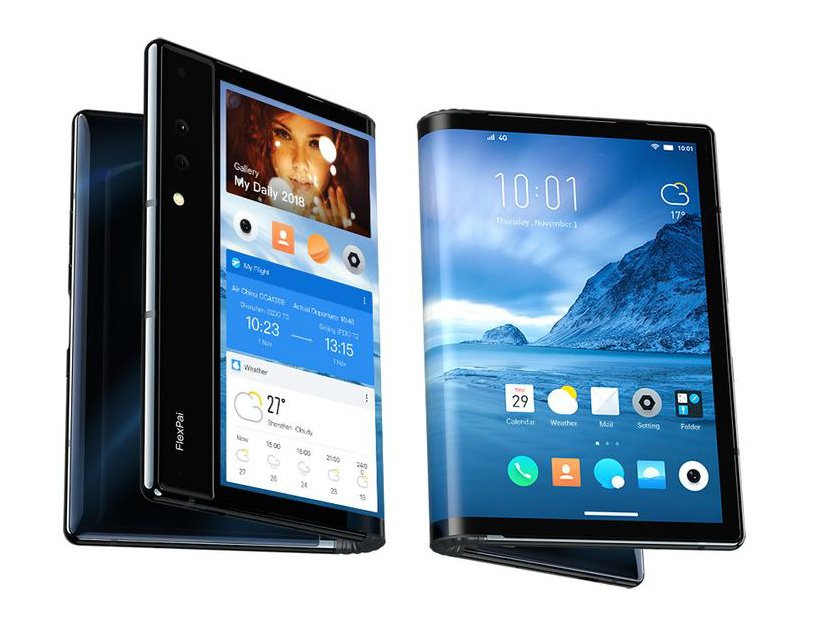 Advertisement - Continue reading below
The Royole FlexPai smartphone comes with Qualcomm's latest flagship Snapdragon 8-series (SD 8150) laced with 6GB of RAM and 128GB if built-in storage. There is also a variant of the FlexPai with an 8GB RAM and 256GB ROM storage combination. For storage expansion, there is a micro SD card slot for storage expansion.
The device uses Royole's native Water operating system (OS) which is based on the latest Android 9 Pie.
Camera and Battery
There is a dual camera setup of primary 20-megapixel sensor and a secondary lens of 16-megapixel. Special features of the camera aren't known yet but when the device does launch and subjected to comprehensive review, we'd find out if the cameras do cut it — just like the display— or not.
A 3,800mAh battery lives underneath the Royole FlexPai. It is expected to be long-standing and of course, isn't removable.
Price and Release date
Before we talk about the price, it is worth noting that the FlexPai foldable smartphone that was announced by Royole Corporation isn't the final product; it is more of a prototype. Royole calls it the "Developer Model" and states that it isn't available for public use just yet.
However, it was made available to interested customers a day after it was launched in a quick flash sale. Official sales of the final model is expected to be in December at a price range of $1,300 to $1900 depending on how storage variants you purchase.
What are your thoughts on the Royole FlexPai foldable smartphone? Yes, the California-based company beat Samsung and the likes to the releasing the first foldable smartphone, but will it stand the test of time? Will it be able to compete with the upcoming Samsung's flagship Galaxy X foldable phone which is scheduled for a November release? So many questions. But again, what do you think?
Advertisement - Continue reading below