The 21st century is fast-paced to the point that nothing seems to wait for anyone. There are incredible new kinds of stuff that get out daily on the web that sometimes we miss out on them. To this effect, the world's largest search engine, Google, concocted an avenue to bridge this gap. This avenue, the Google Alerts, is all but enthralling.
Launched in 2003, Google Alerts aim to help you monitor web contents that pull your attention. This powerful tool is undoubtedly one of the surest bets to remain updated. As you know, Google's prying eyes can see into most of the stuff circulating across the internet.
Advertisement - Continue reading below
So, do you plan on knowing the premiere date of that blockbuster movie? Or you don't want to miss out on the latest trend in your industry? Google Alerts can come to your rescue. What's more, you can monitor internet reactions to your enterprise through Google Alerts.
Mechanism of Google Alerts
The way Google Alerts functions is pretty simple. Once the user sets a keyword, Google Alerts runs an algorithm of the keyword on the internet and sends emails at a specific frequency. The user determines how often the emails will come in.
It majorly collates mentions from top blogs and news websites relating to the keyword. For more accurate results, it's safer for you to optimise the keywords correctly. And the most marvelling part is that it's a free internet tool, that is, no charges incurred.
Are Google Alerts Limited?
Whenever things are free, there's always a pending question: What's the limitation? Yes, Google Alerts are limited in certain areas. They are:
The number of alerts: This only enters the list because of the definition of the word "limited". The cool fact is a single user can set as much as 1000 alerts per email address through this tool. I'm so sure you can't use them all. So, you see it's not technically limited. Even if 1000 alerts aren't enough, you can set alerts on other email addresses as well.
No social media results
No analytics reports
Since you only need Google alerts for the cool stuff on the web, these limitations shouldn't be a "thing".
How to Set Up Google Alerts
Well, here's the part that got us waiting. Just follow these few steps, and you're good to go:
Advertisement - Continue reading below
While you're trying to do this, ensure you're logged in with the Google account (email address) that you'll love to receive the alerts.
Try as much as possible to optimise your keywords. In essence, try to make them unique and specific. Choosing "iPhone" keyword will result in more emails than "next iPhone release". And the excessive emails might disturb you as time goes on.
Below the search box, you'll select "show options". Then you'll choose how often you want to receive the Google Alerts.
After the "how often"dialogue box, you'll see the "Sources" dialogue. Options such as Automatic, blogs, news, books, web, video, books, discussion and finance will pop out. Using your discretion, you can choose the source you want.
Choose your preferred language
Specify your region
Choose the kind of results
You'll find this section in the "how many"dialogue box. You can choose between showing "all results" or "only the best results".
Select delivery email address
At this point, you'll choose the email address where the alerts will get delivered to.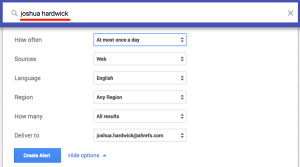 Once all the above steps have been taken, you can create an alert by merely hitting the button.
Advertisement - Continue reading below
As simple as ABC, with the guides above, you can now set up Google Alerts. So, what are you waiting for? Start monitoring the best of the best content on the internet.
Image: Ahrefs.com