From time to time, Artificial Intelligence (AI) keeps developing more foothold in the hearts of smartphone enthusiasts. The renowned AI on mobile, Siri and Google Assistant, are usually updated with scintillating features to please us. This time around, Google Assistant has gone one step further in this quest. You can now communicate with Google Assistant inside Siri through the Siri shortcuts.
Typically, Google devices such as Android phones, Chromecast, Google Home, etc. are controlled by Google Assistant. Simply put, it's their native AI. To initiate commands, users only need to say "OK Google" or "Hey Google".
Advertisement - Continue reading below
But Google isn't satisfied, it also wants to cross-border with an immense statement. It is in the act of making Google Assistant feel less alienated in the iOS platform. No questions asked, Siri is the boss AI on iPhones, but that doesn't limit the aspirations of Google's AI. Recently, Google updated its Google Assistant app on iOS with Siri shortcuts.
CHECK THIS OUT: How to unlock your phone with your voice using Google Assistant
With that in place, users can access the Google Assistant by calling Google, but first invoking Siri. As hilarious as this can be, it's nothing other than the truth.
How to access Google Assistant in Siri
Below are the simple steps you'll be required to follow to make this happen:
Advertisement - Continue reading below
Get the latest version of Google Assistant app
Previous editions of the app do not support Siri shortcuts; that's why it's mandatory for you to download the app's latest version. If you already have the app on your iPhone, you can directly update it from the App Store.
Open the app & add to Siri
As soon as you open the Google Assistant, an Add "Ok Google" to Siri prompt will appear. In the prompt message, you'll see "Not Now" and "Add to Siri". Then, you'll click on Add to Siri.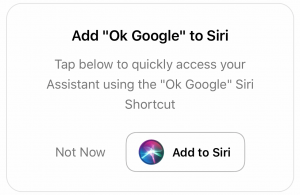 Record your hotword command
Once you've selected Add to Siri, you'll be asked to record your catchphrase. You can choose either "Ok Google" or "Hey Google" as your catchphrase. As soon as you confirm the catchphrase, you're good-to-go.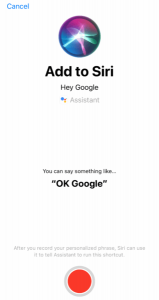 Now, here's the fun part: You have to call on Siri before you call Google. To do this, you'll say "Hey Siri. Ok Google". So, right inside Siri, Google Assistant will begin to perform its functions.
SEE MORE: What's new with iOS 12?
Advertisement - Continue reading below
Google searches (voice rather than manual) have been made easier on iOS devices through this feature. And of course, iPhone & iPad users who want the Google Assistant experience will commend this feature. With this, they don't have to perpetually open the Google Assistant app before they can activate commands.
But tell us, what are your reactions to the "Hey Siri. Ok Google" ideology?