Since 2016, Hive Colab hosts a technology summit called Swarm. Swarm Summit brings together the core voices in the Ugandan tech community to discuss recent developments, showcase new innovations, and identify potential for the future. The Swarm summit 2018 will be graced by about 300 swarmites who consist of tech enthusiasts and other honorary guests.
Swarm Summit 2018: Speakers
The host, Hive Colab has confirmed 50 guest speakers who will participate in on-stage interviews and panel discussions during the 2-day summit. Among the speakers is our Co-founder Onyait Odeke who will be moderating a panel on Fintech.
Advertisement - Continue reading below
The other speakers include Digest Africa founder PK Mallinz, Country Director Andela Jackie Ochola, Investigative journalist Raymond Mujuni among others. They can be classified under startup CEO's and Founders, tech fanatics, telecom and government officials, award-winning innovators among others.
The Program (Dates)
The Swarm summit 2018 will begin on 7th December and end on 8th December at the The Square place. As the tech ecosystem continues to grow, Hive Colab now holds the annual summit in bigger venues. Below is the two-day program.
Ticket information.
The tickets to Swarm summit 2018 are available on the summit website portal here.
• Early Bird: UGX 20,000
• Hive & ICTAU Members: UGX 15,000
• At the door: UGX 25,000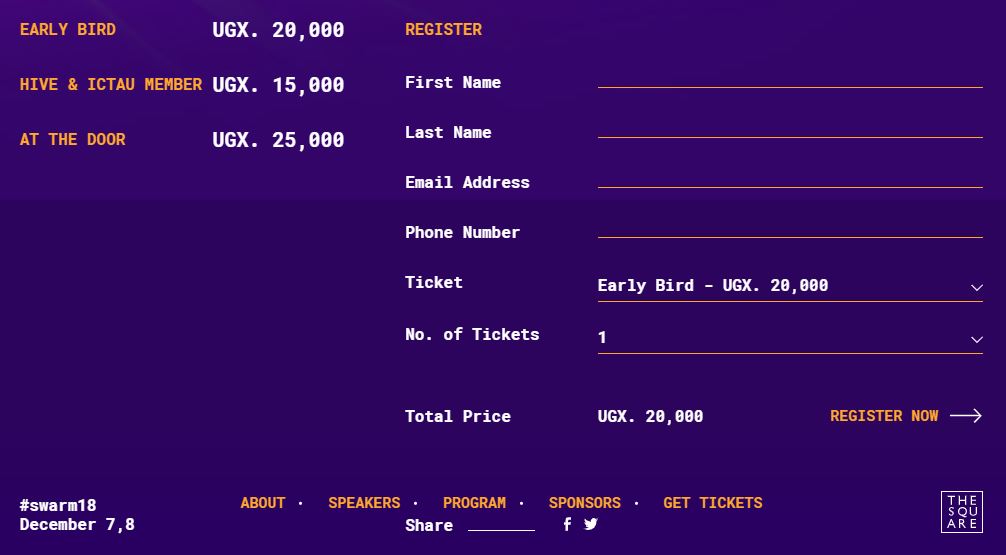 Advertisement - Continue reading below