When you get notifications from your email or instant messaging apps, there's always this urge to reply to whatever messages they contain almost immediately — which is cool— because you don't want your smartphone's notification bar looking cluttered and ugly. But there are also times when you are busy with some other activities (on or off your device) and can't seem to attend to your notifications immediately but you also don't want to clear them because you might forget to attend to them later.
Thanks to the "Snooze Notification" feature that was introduced by Google with the launch of the Android Oreo operating system, Android smartphone users can temporarily declutter their notification bar. If you received an important email notification on your way to a 1-hour meeting, for example, you can snooze the notification for 1-hour. This notification will be cleared off your notification bar but would reappear in 1 hour.
Advertisement - Continue reading below
You can snooze all types and categories of notifications. If a notification seems to be getting a better part of your focus while you're doing something else on your device, you can simply snooze it to appear some other time so you don't end up forgetting about it. And here's how to do it on your Android device.
1.. When a notification you want to attend to later appears in your notification bar, simple slide it to the right or left. BE CAREFUL not to slide it too much otherwise you'll dismiss the notification.
2. To the left side of the notification is a panel. Tap the clock icon on the panel to snooze the notification.
3. By default, a notification will be snoozed for an hour. You can tap the drop-down icon to expose more snooze duration options i.e. 15 minutes, 30 minutes, and 2 hours (the longest you can snooze a notification for).
4. Tap the "UNDO" button to undo the snooze action.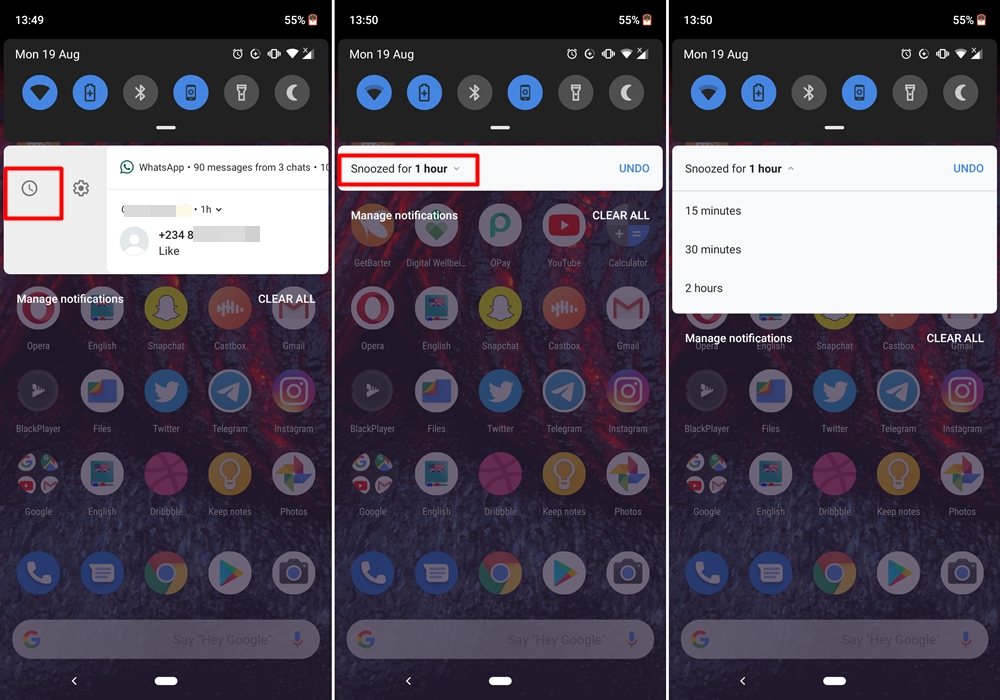 5. When you snooze a notification, it disappears from the notification bar and tray. And as soon as the time you snooze the notification(s) for elapses, it reappears.
Advertisement - Continue reading below
The notification snoozing feature is available on Android smartphones that run the Oreo operating system and older. And if you use it rightly, it is super useful because it helps reduce distractions during smartphone usage, acts as a reminder to reply certain messages and ultimately helps curb smartphone addiction.