Ever been in a situation where you had to check the password of a WiFi network your smartphone is connected to? Perhaps you needed to connect your PC to the same WiFi network your smartphone is hooked on to. While you can easily navigate through the Settings menu to reveal the WiFi password of a connected network on a PC, it isn't that straightforward on smartphones and tablets.
If you have forgotten the WiFi password of a network you previously connected to on your smartphone, here's how you can check it on your smartphone.
Advertisement - Continue reading below
As mentioned earlier, there's no direct way to check login credentials of WiFi networks on your smartphone. But with third-party apps, you can view the passwords of the network you are currently connected to as well as the passwords of all secured WiFi network your phone has ever connected to. So you do not have to worry whenever your friends/neighbors secretly input passwords to their WiFi routers on your phone; you can check them later.
Method 1
One of such apps (which I have personally used) is WiFi Key Recovery. It is only available for Android smartphones and also requires users to have root access. This means you'd have to root your phone before the application can properly function. However, before rooting your Android phone, here's what you need to know.
Launch the Google Play Store app on your smartphone.
Search for 'WiFi Key Recovery' or click HERE.

Install the application on your phone.
Open the app upon successful installation and grant it whatever permission it requests.
Wait for a couple of seconds and you should see the names and passwords of all WiFi networks your phone have previously connected to.
The application is feature-packed and it allows you do quite a number of additional things like tap on an entry to copy it to your phone's clipboard, export the list to SD card, share passwords with your friends etc.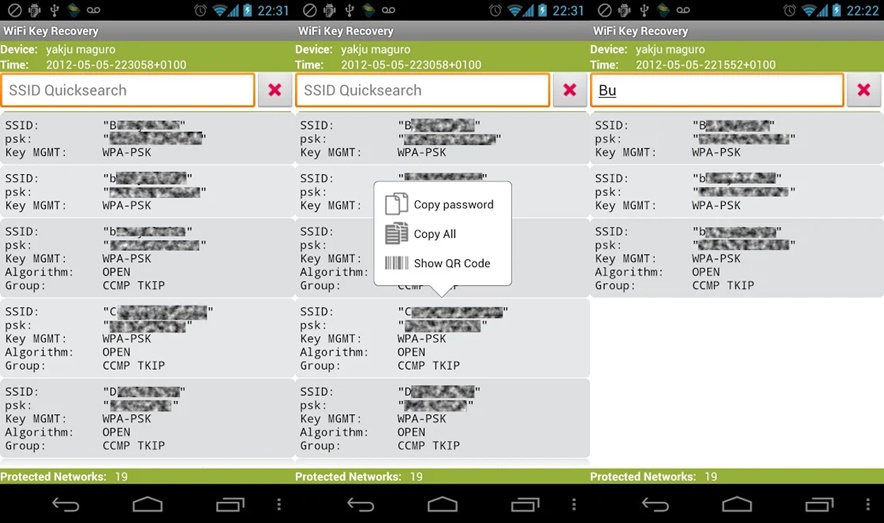 And if you have a large number of networks displayed, you can easily enter a network name in the search box in lieu of scrolling through the list.
CAVEAT:
As stated by the developer of the app, the permissions requested does no harm to your phone or file. You are only granting the app access to read the files/folders where WiFi passwords are being stored.
Advertisement - Continue reading below
The permissions being requested basically helps/allows the app read saved files where Wi-Fi passwords are being stored.
You need root to use this application.
You need to have connected to the network in the past; the app cannot "hack or crack" into an unknown/new network.
Method 2:
If you don't want to install an App, you can still view the stored password using file manager. Your smartphone still needs to be rooted. Follow the following steps;
Open file manager App or download one. Usually your phone already comes with one.
Navigate to location /data/misc/wifi
Open wpa_supplicant.conf using text editor. Now you can view the stored password corresponding to a specific WiFi network.
Say you are visiting your parents at their place, your phone connects to the router because you had previously logged in to the network but your laptop doesn't. You can easily copy the network's password from your phone and subsequently use it to log-in on your PC or other devices.
Image credit: GizBot.com