If your car  becomes wedged in the middle of road on a crazy traffic jam, don't panic. You need to do some basic troubleshooting, but if the problem is beyond your paygrade, you need a mechanic ASAP.
Makanika dot com is just the right app for this kind of emergency situations. It's like Uber or Safeboda but for Mechanics. The way you hail a Boda on demand, it exactly the same way you can request for a Mechanic to fix your car wherever you are.
Advertisement - Continue reading below
Today, my car couldn't start because of a battery issue. It couldn't ignite. At first, I thought the battery was dead, so I need jumper cables and a good samaritan's car to help ignite my car. It can be tricky to find someone willing to help you in that way. Then it hit me that I had the Makanika app installed. All you have to do is make a request briefly describing your issue and the type or brand of car you have. In a few minutes, Makanika customer care agent will call you(or you can call them), ask for your location and connect you to a nearby mechanic. The mechanic calls you and within minutes arrives to your location with your directions.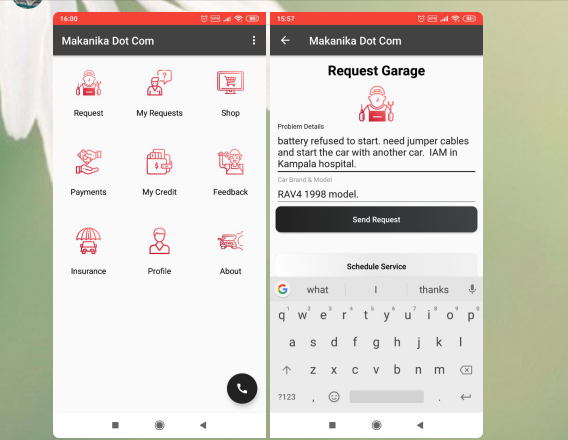 It turns out I had loose connections with my battery which the Mechanic from Kamwokya fixed within minutes. Like many services in Kampala, you have to negotiate and come to an agreement on how much to pay. If you suck at bargaining, better have a fat pocket. Of course this is something that the App providers need to look into. Makanika leaves this negotiation and payment to you and the Mechanic. Payment is by cash!
The app has several other features we have not really tested yet like a shop where you can purchase car accessories like car alarm, radio, tracker. There are payments by scanning a QR code, You can even schedule car servicing within the app itself, you can also buy credits via Mobile Money and buy comprehensive or third party car insurance.
Download hereand tell us your experience with the app.