In recent years, food delivery apps have become increasingly popular in Uganda, providing convenient options for customers looking to have their meals delivered straight to their doorsteps. Among the many options available, two of the most popular are Glovo and Jumia Food.
In this article, we will take a closer look at Glovo and Jumia Food, comparing the turnaround time, delivery prices, and restaurant ranges offered by each app. We will also consider the customer reviews and overall popularity to help you decide which app is the best for your food delivery needs.
Advertisement - Continue reading below
Turnaround Time (Speed)
When it comes to ordering food online in Kampala, two of the most popular platforms are Glovo and Jumia Food. Both offer a wide variety of options for delivery, but there are some key differences in turnaround time and delivery speed.
In my experience, Glovo consistently takes less time than the estimated delivery time when ordering. For example, I recently ordered a UGAROLL Rolex on both Glovo and Jumia Food. Glovo gave me an estimated delivery time of 35-45 minutes and Jumia Food 45-55 minutes to my office space at Mirembe Business Center Lugogo Bypass, but Glovo delivered my order in just 30 minutes.
On the other hand, Jumia Food took significantly longer to deliver my order. Despite having the same pickup location as Glovo (the local restaurant), Jumia Food took over 60 minutes to deliver my order.
Overall, my experience with Glovo's delivery speed and turnaround time have been much more positive than with Jumia Food. If you're looking for a quick, efficient delivery service in Kampala, Glovo is definitely the way to go.
Delivery Prices
Both Glovo and Jumia Food offer delivery services for a variety of products, including food items. In my experience, I ordered a UGAROLL Rolex from both platforms and found that the delivery cost on Glovo was 2,900 UGX, while the delivery cost on Jumia Food was 3,500 UGX.
When it comes to delivery prices, Glovo's cost is relatively lower than Jumia Food. However, it's important to note that prices may vary depending on the location, time, and distance. It's always advisable to check the prices before placing your order. The last time I ordered KFC on Glovo from Kireka to Agenda at 21:00 hrs, it cost over 5,000 UGX for a shorter distance than when I ordered UGAROLL Rolex to my office building.
Advertisement - Continue reading below
Additionally, both platforms have different options available, such as express delivery, pre-order, scheduled delivery, and so on. This provides more flexibility when placing your order and can also impact the delivery cost. Besides, delivery is not possible beyond 22:00 on both platforms.
In summary, both platforms have their own set of advantages and disadvantages, so it's best to compare prices and options before placing an order.
Supply (Restuarant Range) and Coverage
One of the key similarities between the two platforms is that they both partner with a wide variety of vendors, including restaurants, supermarkets, and pharmacies.
Restaurants are among the most popular options for customers, with both platforms offering a wide variety of cuisines and meal options from local food to Indian and Chinese food. Supermarkets and pharmacies are also well-represented, with a wide range of products available for delivery.
In terms of coverage, both Glovo and Jumia Food have a strong focus on the central business district (CBD) and the surrounding areas. They both have a limited delivery zone, usually around 15 km to 20 km radius. Customers are reminded if they try to order outside of the delivery zone. I stay around Namugongo zone which is within the delivery radius but always can't find service when I go to visit my uncle in Bulindo which is a few kilometers away.
Glovo and Jumia Food Features
Both companies have mobile apps for iOS and Android devices, as well as a web-based platform that can be accessed from a computer.
In terms of user-friendliness, both mobile apps are well-designed and easy to navigate. Glovo's app has a simple and clean layout, with a search bar prominently displayed at the top of the screen. Users can easily browse through a list of restaurants and select their desired dishes. In addition, Glovo app allows you to track your order in real time, which is very useful and satisfying.
Jumia's food app also has a clear and intuitive interface, and it allows users to filter restaurants by location, cuisine, and rating. Moreover, jumia is providing extra features such as bundle deals, combo meals and so on.
Advertisement - Continue reading below
The web-based platforms for both Glovo and Jumia are similarly user-friendly, with a simple and straightforward layout. Users can search for restaurants, view menus, add delivery address, reorder past orders and place new orders directly from the website.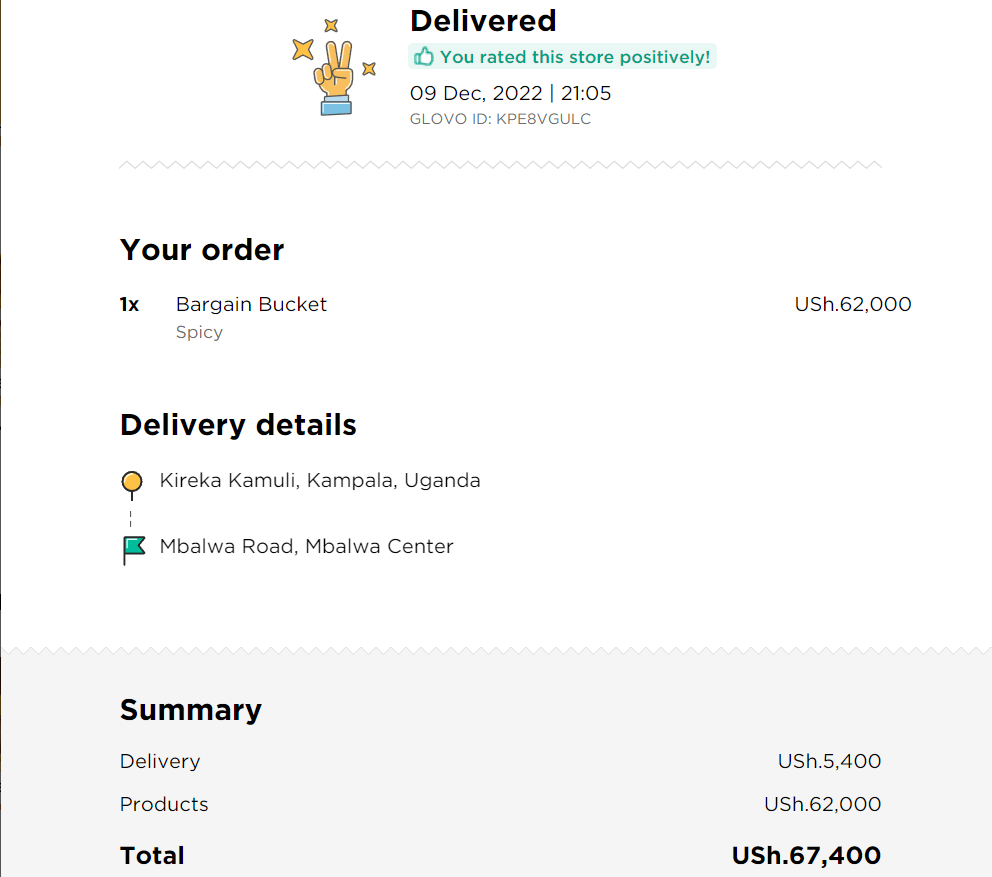 Additionally, Glovo platform allows you to add a debit/credit card to pay for orders placed, which is not available on Jumia. Both Glovo and Jumia's food delivery platform features are user-friendly and convenient to use.
In conclusion, both Glovo and Jumia Food are popular food delivery apps in Kampala that offer a wide range of options for customers to choose from. However, Glovo generally delivers faster than Jumia Food, making it a suitable option for customers looking for a quick delivery service.
On the other hand, Jumia Food boasts an average of more vendors and stores on its platform, making it a more diverse option for customers looking for a wide range of cuisines and restaurants to choose from.
Overall, the choice between the two apps will depend on the specific needs and preferences of the customer. Share with us in the comment section which platform you prefer to use and why.