Mozilla recently launched its file-sharing platform which has been in the testing phase since 2017 and is finally ready for use to all and sundry. You can easily send files as large as 1GB without signing up or any registration and with a free registration/signup you can send a file of up to 2.5GB in size. Mozilla is a privacy-centered company and this is is an effort to expand its portfolio to the file sharing niche.
Check Out: What's new in Bluetooth 5.1 
Advertisement - Continue reading below
To go about this, all you have to do is visit the website, upload the file you want to send.
You could do this from the in-browser app which you can install by clicking menu of your browser (Chrome) when on the website, then, you'll see 'Install Firefox Send' and an interface opens up as you have it on the website.
Choose how many times you want the file is to be downloaded before it expires and how long you want it to last for. You will have to choose both the timeframe and download limit of the sharing link before you get it. Also, the Firefox Send supports end-to-end encryption to make sure your file safe from compromise.
Read More: Mozilla is bringing a voice-controlled web browser called 'Scout'
You can even decide to add a password for more security by checking the box near password and type in the password you'd want to set.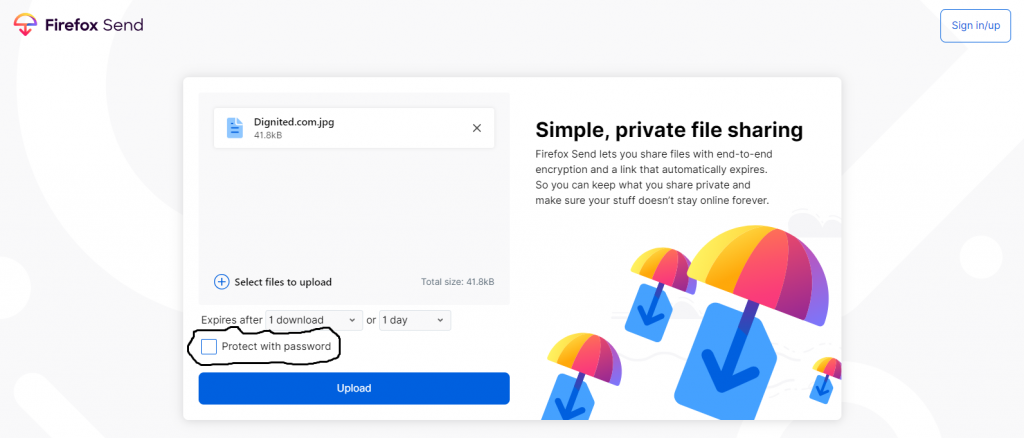 However, take note that the file size limit is 1GB not unless you sign-in or signup in which case the size limit is bumped up to 2.5GB. Mobile app for the Firefox Send will roll out soon according to Mozilla. Pricing for the service has not been released yet and for now, it is absolutely free.
Advertisement - Continue reading below