Uber Lite is an Android app designed for low-speed connections and low spec phones. Uber Lite is a simple way to request an Uber ride. This simpler version of the Uber app works on any android phone while saving storage space and data. Plus, it's easy to learn and use, and it's designed to work even in low connectivity areas.
Uber Lite app launched in 2018, but it just launched in Uganda following launches in Kenya and South Africa earlier this year.
Advertisement - Continue reading below
Uber's main app weighs in at 46 MB on my Infinix Note 5; Uber Lite is a mere 5.6 MB—that's about 87.83% less space. Uber Lite is designed to use less RAM and CPU power, as well, so you'll get a smoother experience on a cheaper and less powerful phones. You can tell the app has been tuned to operate more efficiently, and to feel snappy even on ancient Android hardware.
Uber debuted the lightweight version of its main ride hailing app to better serve users in developing countries—specifically, people in the parts of the world where a mobile data connection is difficult to access, unreliable, or just painfully slow.
The installs on almost any Android phone, and runs well on flaky, low-bandwidth data connections. Critically, it uses less data than big ol' regular Uber; people who pay by the megabyte can use it to hail rides without racking up crazy fees.
Some Lite jabbing in Uber Lite
Looking at what other lite apps like Facebook, the Uber Lite app doesn't look as though it's been beamed in from 10 years ago. It keeps a sheen of beauty, not the eye awing visuals but it looks good enough not to suck.
The default text size is readable throughout the app. However, simplicity echoes throughout the app screens. The visuals are limited to what's basically important to get you from point A to point B without wasting data away.
After signing into the app, you will immediately notice that there is no live map showing the location of the nearest cars or motorcycles. These animations put more strain on a phone's resources, so Uber Lite does away with them.
Advertisement - Continue reading below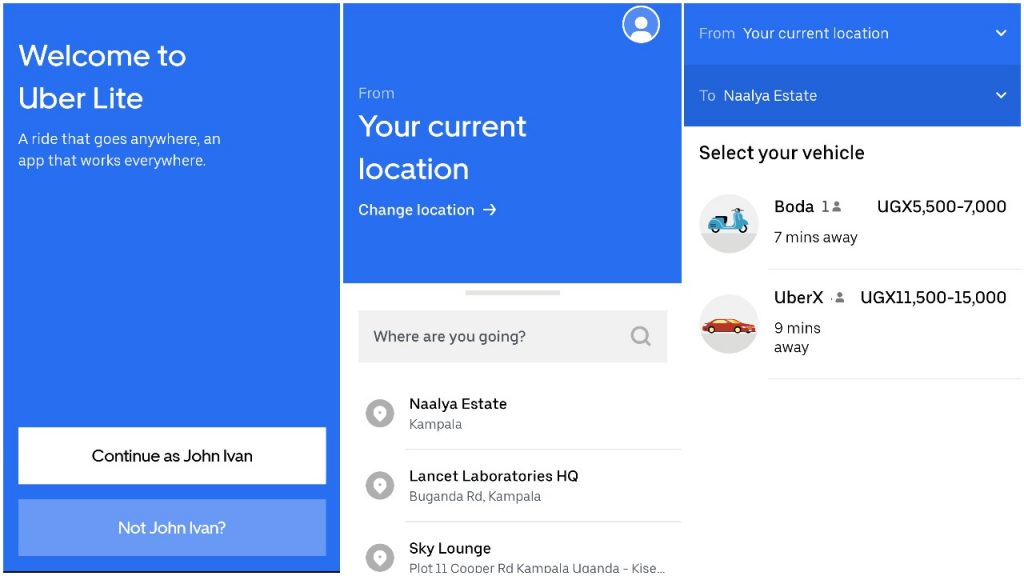 The app is straight forward. It auto-selects your current location which you can re adjust on a map to make it more accurate. However, it does not have the option to select your destination on a map. You are basically relying on your location showing up in the results as you type.
The big part of Uber Lite's appeal is its ability to cut back on data consumption by cutting down on animations without limiting usability, at least not that much. This has the added bonus of saving you money if you're on a metered plan.
Related:
Should You Use Uber or Uber Lite?
Uber Lite has a lot going for it. It's got most of Uber's banner features, uses fewer system resources and less data, and works on slower connections. The only downside is that it feels kind of basic. The stripped down interface, removed option to text driver and lack of digital forms of payment at this time feel like something from a couple of years ago.
If you've got a decent Android phone and a big mobile data plan, I'd suggest sticking with the regular Uberapp. On the other hand, if you need to curb your data consumption, and especially if you have a pre-paid data plan and make so many errands, then yes, you definitely should give Uber Lite a slot. Using Lite will burn fewer megabytes and save you money. However, if you find Lite's basic look and feel too annoying, maybe keep it installed just for use during those weeks when you really have to be stingy with your mobile data.