Google continues to roll out features and tools dedicated to making online learning a smooth experience for students, teachers, and guardians. A good example is the Google Classroom tool designed to help students and teachers organize virtual classes.
Google launched the Google Lens app sometimes in 2017 and has over the years beefed up the tool with a variety of functions such as Personal Shopper, Image-Text Translation, Dining, Tour Guide, etc.
Advertisement - Continue reading below
Google, however, recently added a new feature dubbed "Homework" to its collection on the app.
The 'Homework' feature is designed to help users learn and solve math equations. It comes at about just the best time, as many students around the world have been forced to school remotely due to the pandemic.
---
Related Article: Scan text, shop and discover new places with Google Lens
---
How to Solve Mathematical Equations Using Google lens
Step 1: Launch the Lens app.
One way to access the app is to download/install it to your smartphone from the Google Play Store or Apple's App Store. However, if you own a Google Pixel smartphone, then you can access Google Lens from the camera app.
Step 2: Go to 'Homework' mode.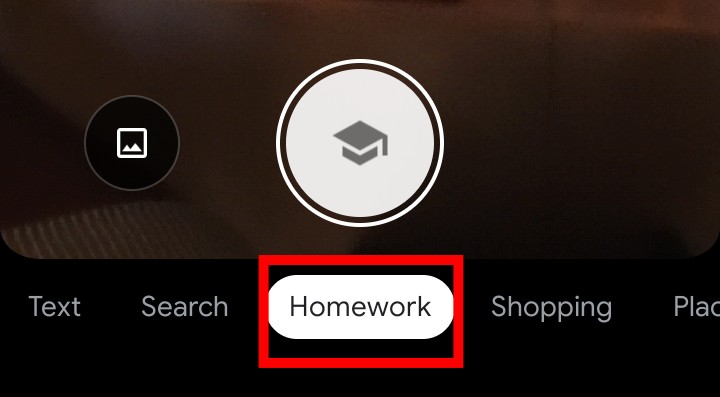 After launching the app, swipe through the options at the bottom of the screen till you see the 'Homework' option.
Step 3: Hold your smartphone camera against the mathematical equation to scan/upload it.
The steps to solve the equation as well as the final answer/solution will be displayed on a card that pops up at the bottom of your display.
Advertisement - Continue reading below
After launching the app, you'll notice that your smartphone camera is constantly scanning random texts it sees in the background. However, to solve your math problem, you should make sure the target bracket captures only the equation.
---
Related Article: Google Go integrated with Google Lens and Assitant Go is now global
---
Google also lets you scroll down to see other resources and solutions from the reputable maths problem-solving problems like Cymath, MathPapa, and Wolfram|Alpha.
Finally, it is worth noting that 'Homework' functionality isn't as effective for solving word problems as it is for equations. But it's definitely worth checking out.