Despite the fact that the average internet user is now more privacy-conscious about the type of information shared online, we still subconsciously give out certain (sensitive) data without even realizing it. Location is one of the most important data that some platforms, websites, and apps (ethically and illegally) harvest from their users majorly for advert-targeting purposes.
However, while you think no one can have access to your location if you do not turn on your device location or directly give it out in your social media posts, your location can be detected from your photos due to geotagging.
Advertisement - Continue reading below
What is Geo-tagging?
Powered by Global Positioning System (GPS), geo-tagging is the process of attaching geographical information (read: location ID) to media files like photos and videos. When a media file is "geo-tagged", it basically means that the device (digital camera, smartphone, tablet, etc.) that captured the file has embedded GPS coordinates in the file metadata.
Geo-tagging may occur after a photograph or video footage is shot, or once the images are posted online
Although geo-tagging a photo has some useful applications like helping you organize pictures in your gallery based on location, it also comes with its associated (privacy) risks too.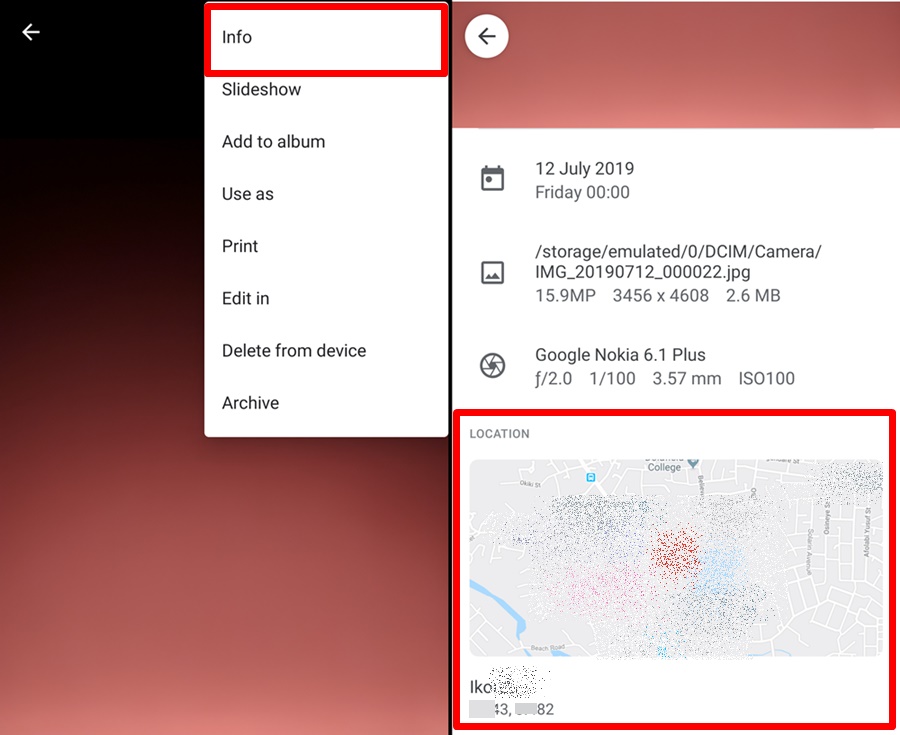 For example, if you share a geo-tagged photo with a stranger, the person can read the photo metadata, determine where the photo was taken and ultimately track you down. if you take a lot of pictures in your home and a stranger has access to these pictures, they can determine your home address and find out.
In 2012, for example, the FBI was able to track down a woman to her house in Wantirna South, Australia from a picture she uploaded to a website. The photo, which she took with an iPhone, had GPS information embedded in its metadata and gave up her location to the feds.
How to remove location data from your photos
Follow the steps below to learn how to prevent be by giving out your location through the photos you take. The methods below are some of the ways to avoid location (GPS) information from being embedded into your photos when you take them or when you share them with others.
Advertisement - Continue reading below
1. Turn off Location Services
Turning off location services is one of the first step to ensuring that location data isn't embedded in your photos metadata whirl you use your camera. Next time you are about to launch your camera to take a photo or a video, ensure your device location is turned off. To do this, you can simply swipe down from the top of your screen to access your device control center. Then ensure location is toggled off.
Alternatively, navigate to Settings >> Security & Location >> Privacy >> Location
2. Revoke Camera's access to location
Another way to ensure that pictures you take with your device aren't geotagged is to make sure your camera app(s) do not have access to your device location service. Go to your device's Settings >> Apps & Notifications >> App permissions >> Location >> Camera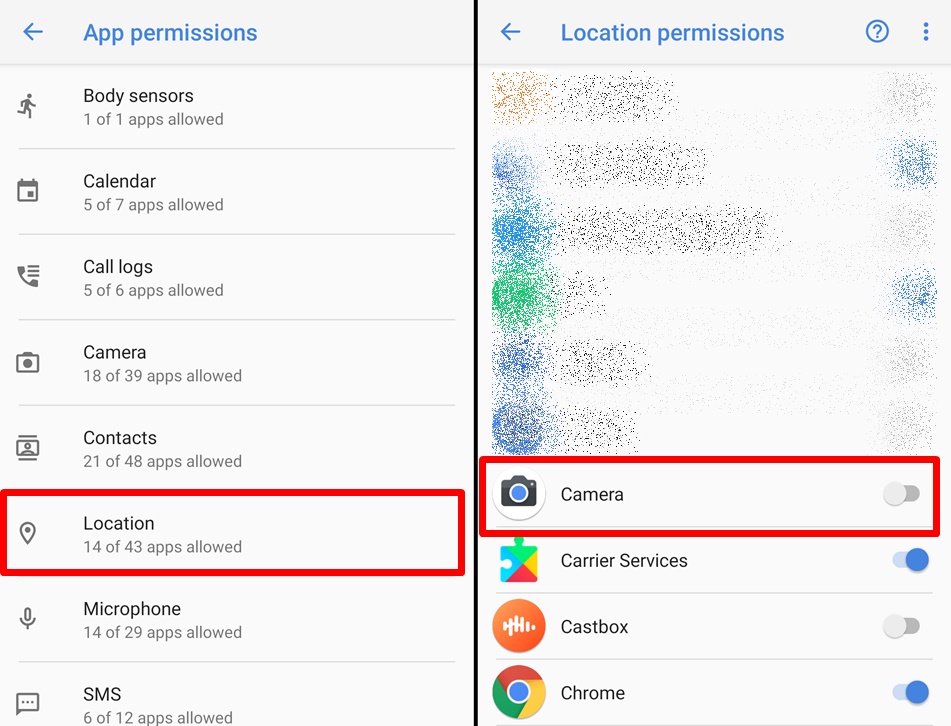 Toggle off your Camera apps' access to your device location and your device will no longer embedded GPS information into your photos.
3. Turn off Location Tag in Camera app
Sometimes, depending on the type of device you use, your phone's camera saves location information to pictures by default. To turn this off, launch your device camera and turn off location tag in the camera settings.
It could appear on your device as "Save Location" or "Location tag" or something similar. As long as there's "location" in it, toggle it off.
4. Turn off location sharing in Gallery
From your device gallery app (e.g Google Photos), you can remove geo-location from your photos and videos before you share them with your friends or online on your social media pages.
Launch Google Photos, tap the menu icon and select Settings. On the settings page, toggle on the "Remove geo-location" option.
Advertisement - Continue reading below
How your location is exposed through geotagged photos
If you keep geotagged photos on your phone or camera, then you have no risk of exposure. The moment they leave your phone to another device or you share them with another individual, you have also handed over the GPS coordinates of where the photo was taken to him/her. If you don't live where the photo was shot, then you really aren't exposed to any harm. If, on the other hand, you live where the photo was taken, with your family perhaps, then someone could track you down.
When you directly share photos via text, email, instant messaging apps etc, they will be shared together with the embedded metadata — location and GPS coordinates inclusive. The same applies to uploading photos to cloud services (like Google Drive and Dropbox), sharing them through Bluetooth, or via third-party apps like Xender.
If you're sharing photos to family and friends, then this shouldn't be a problem. You shouldn't have any reason to worry about your location as your relatives and loved ones already know where you live, right? Where you'd need to exercise more caution is sharing photos to the outside world.
Sharing Geo-tagged photos on social media
Like me, if you have previously shared tonnes of images on your social media pages (Facebook, Instagram, Twitter, etc.), you don't have to fret about your location being exposed either. This is because these top social media websites understand that your location can be exposed to strangers if they have access to GPS information embedded in your photos.
This is why social media platforms like Instagram, Facebook, Twitter and the likes strip all metadata from your photos when you upload them. And if you decide to add a location to your photos during upload, viewers can only know where you uploaded the pictures from, not where the picture was taken.
Additional Safety Precautions
As mentioned earlier, when you upload pictures to some social media platforms, all the embedded metadata are removed. But not all platforms do this. To be sure, if you have previously uploaded your pictures to a website or a forum and you aren't sure if they contain location/GPS information, you can download the pictures and use online tools like Get-Metadata to be sure your photos don't expose your location.
Geotagging of media files is one concept many aren't familiar with. If you value your privacy a lot, you shouldn't leave anything to chance. Try as much as possible to make it hard for anyone to track/locate you. Ensure you leave no trace o your location embedded in your pictures and other media files you capture with your phone. You never know whose hands they might fall into.
Advertisement - Continue reading below
Feature image credit: PSafe.com