Huawei has finally made official the Huawei P30 and Huawei P30 Pro at an event in Paris. While some of the specs of the new devices were revealed in the multitude of leaks prior to the launch, Huawei has managed to keep the wow factor on the launch day with groundbreaking specs that no leak was able to tell.
Without wasting any time, here is what's new on the Huawei:
Advertisement - Continue reading below
Huawei P30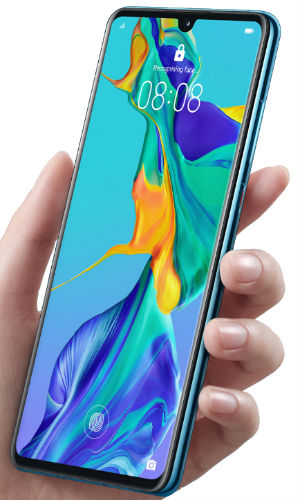 6.1-inch screen
3650 mAh
IP53 rated
32Mp front camera with HDR+

The P30 is a high-end smartphone and designed to battle for the market with the iPhone XS, Samsung S10 and Google Pixel 3. The P30 features three rear cameras: An 8Mp telephoto lens, a 16Mp ultra wide angle lens, and a 40Mp wide angle lens. The main camera in the P30 uses a 40-megapixel sensor paired with an F1.8 lens. 27mm focal length.

The wide-angle camera uses a 16-megapixel sensor paired with an F2.2 lens.

The third camera uses an 8-megapixel sensor paired with an F2.4 lens. This comes with a 3X telephoto lens.
Huawei at the launch demonstrated how impressive its low-light photography was, and how its improved AI could lead to better bokeh effects and even long-exposure shots for true drama.
The P30 also does away with the 3-button navigation controls as it replicates the iPhone XS-like gesture controls. 
The Huawei P30 smartphone offers 128GB internal storage and 6GB of RAM options and is priced at about $900
Advertisement - Continue reading below
---
Related Article: Samsung Galaxy S10, S10 Plus, S10E, and S10 5G; Here are Samsung's 2019 flagships
---
Huawei P30 Pro
6.47-inch screen
4200 mAh
IP68 rated
32Mp front camera with HDR+
This is the bigger version of the P30. It comes with a curved screen, similar to that on all of the Samsung S10 models. You also get a very large battery, at 4,200 mAh. Better waterproofing is also in order, with an IP68 rating.
The biggest difference between the two phones is the camera. The P30 pro has a 20Mp ultra wide angle lens, a 40Mp wide angle lens, an 8Mp telephoto lens with 5x optical zoom and a new time-of-flight depth-sensing camera.
The great camera specs allow for incredible zoomed images, thanks to its new "Periscope" technology which works by combining multiple mirrors lying flat within the phone with an angled mirror at the end, allowing for greater zoom without any extra effort.
It also possesses the time-of-flight sensor which allows for better depth perception. This means that HDR and bokeh effects can be greatly improved, as the P30 Pro will be able to actually recognize distance, rather than just guessing. 

Huawei P30 pro has four cameras. The main camera uses a 40-megapixel sensor paired with an F1.6 lens.

There is a separate camera for wide-angle shots. It uses a 20-megapixel sensor with an F2.2 lens. 16mm focal length.

Then there is an 8-megapixel camera with a long 5X zoom lens. Huawei calls it Periscope lens. This lens has an aperture of F3.4. 125mm focal length.

The fourth camera is called Time of Flight camera, which calculated how much time light takes to travel while clicking a shot and then uses that information to offer some unique features to P30 Pro users.
The prices for the P30 Pro start at around $1,126 for the 128GB model with 8GB of Ram, rising to about $1,400 for the 512GB model with 8GB of Ram.
Processor
Both the Huawei P30 and the P30 Pro use Kirin 980 processor. This is Huawei's own processor using ARM technology, and it is one of the fastest you can put in a phone. The Kirin 980 has 8 processors and has two specific Neural Processing Engines (NPU) for AI processing. The top speed of Kirin 980 is 2.6GHz. It comes with Mali G76MP10 graphics processor.
Advertisement - Continue reading below