The eighth and final season of Home Box Office's (HBO) Game of Thrones series airs on April 14. Being one of the most popular series in the world from one of the most successful premium networks (HBO) in the world, 8 in 10 people have watched (and would love to watch) Game of Thrones. The series premiered in April 2011 and will end in May 2019 after eight seasons.
Filled with thrills, action, adventure, surprises, drama, lots of mystery and epic moments, audiences around the globe can't wait to watch the battle against the Night King and his army of White Walkers — oh, his newly-acquired Dragon too😶. However, since the first (out of 6) episode of the final season of the series airs in a couple of hours, we bring some details about Season 8 of Game of Thrones and how you can watch it online.
Advertisement - Continue reading below
Game of Thrones Season 8: Episodal Details
Episode 1 – Sunday, April 14 (Runtime: 54 minutes)
Episode 2 – Sunday, April 21 (Runtime: 58 minutes)
Episode 3 – Sunday, April 28 (Runtime: 1 hour 22 minutes)
Episode 4 – Sunday, May 5 (Runtime: 1 hour 18 minutes)
Episode 5 – Sunday, May 12 (Runtime: 1 hour 20 minutes)
Episode 6 – Sunday, May 19 (Runtime: 1 hour 20 minutes)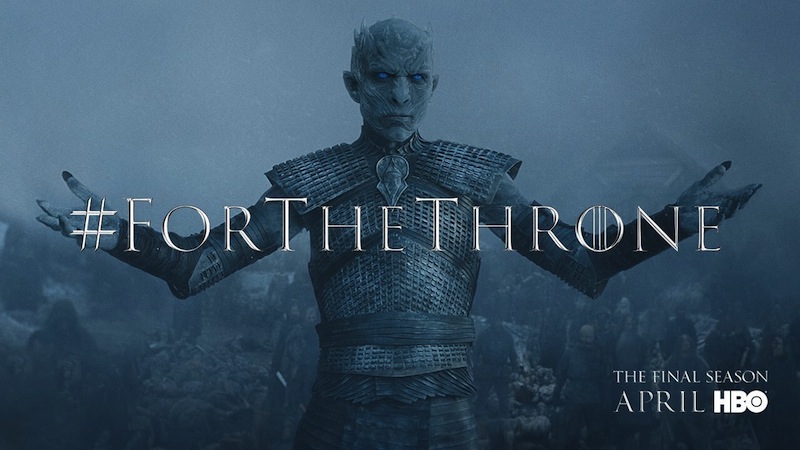 Winter has finally here!
How to Watch Game of Thrones Online
Want to find out who — from the seven(7) Kingdoms of Westoros — will win the throne? Here are some platforms where you can live stream the season finale of Game of Thrones.
1. HBO Now
HBO Now is Home Box Office Inc. standalone subscription service that gives you access of all of HBO's series (Game of Thrones inclusive) on any connected device — smartphones, tablets, XBox One, Google Chromecast, Android TV, consoles (PlayStation 4 & Xbox One), Roku, Wondows and Mac PCs. The HBO Now subscription costs $14.99/month and comes with free 7 days trial for new customers. No cable or satellite TV subscription is required to use HBO Now. Simply log on to HBO's website, subscribe to a HBO Now plan and watch Game of Throne live as it airs/
Sadly, the HBO Now platform is only accessible to viewers in the U.S. and certain U.S. territories. You can, however, get creat and bypass the geo-restriciton using Virtual Private Networks (VPNs).
2. HBO Go
This is another HBO streaming service available to U.S. viewers only. However, unlike HBO Now, HBO Go is free and can only be used if you have an active HBO subscription as part of your cable or satellite TV package. On HBO Go, you can catch up with previous seasons of the series as well as live stream episodes of the new Season 8 as they air. Simply log into the HBO Go app (on your smartphone, tablet, console, TV etc.) and select Game of Thrones.
Advertisement - Continue reading below
3. Hulu
If you use or have an active plan on Hulu's streaming service, you can add HBO as an add-on to your package for an extra $15/month and watch episodes of game of Thrones as they air. Sadly, if you live outside the U.S.A and Japan, you cannot use Hulu as it is restricted to both regions. Again, you can bypass the geo-restiction using a VPN.
4. Showmax
For Game of Thrones lovers that aren't resident in the U.S., you can atch previous seasons of the series on Showmax. Likewise, you can watch/stream new episodes of the series on the Showmax as they air worldwide. Showmax is available in a total of 65 countries — Europe, Australia, New Zealand, North America, Canada and 36 African countries — with a monthly subscription cost off or R99 or $7.99 per month (14-day trial inclusive).
5. PlayStation Vue
Sony's PlayStation Vue streaming service is another online platform to watch the Game of Thrones series online. The most premium plan (Ultra bundle) on the PlayStation Vue platform costs $80/month and comes with HBO. If, on the otherhand, you are subscribed to other bundles, you can include the HBO channel as an add-on for an additional $15/month.
Other platforms where you can watch Game of Thrones online as they air include Amazon Prime Video, Direct TV Now, Sky Atlantic, Sky Go, M-Net, SlingTV (U.S. only) and, Foxtel (in Australia).