The recent removal of blue check marks from verified legacy accounts has shaken up the Twitterverse. However, fear not! Twitter has introduced a new paid verification service called Twitter Blue, which allows users to obtain the coveted Blue Badge next to their names. In this article, we will delve into how to subscribe to Twitter Blue and unlock the power of the Blue Badge, despite the recent changes to Twitter's verification process.
The standard monthly subscription fee for Twitter Blue is $8 for individual accounts. However, Twitter also offers a higher-priced plan specifically for personal and organizational accounts, which is priced at $1000 per month
Advertisement - Continue reading below
---
Related: Twitter Verification: Types of Checkmarks and Badges Explained
---
How to Subscribe for the verification badge
Let's assume that you already have an existing Twitter account, and we will now proceed to demonstrate the process using the desktop version.
Log in to your Twitter account on the desktop version of Twitter.
Navigate to your right menu and look for the Twitter Blue Icon as indicated here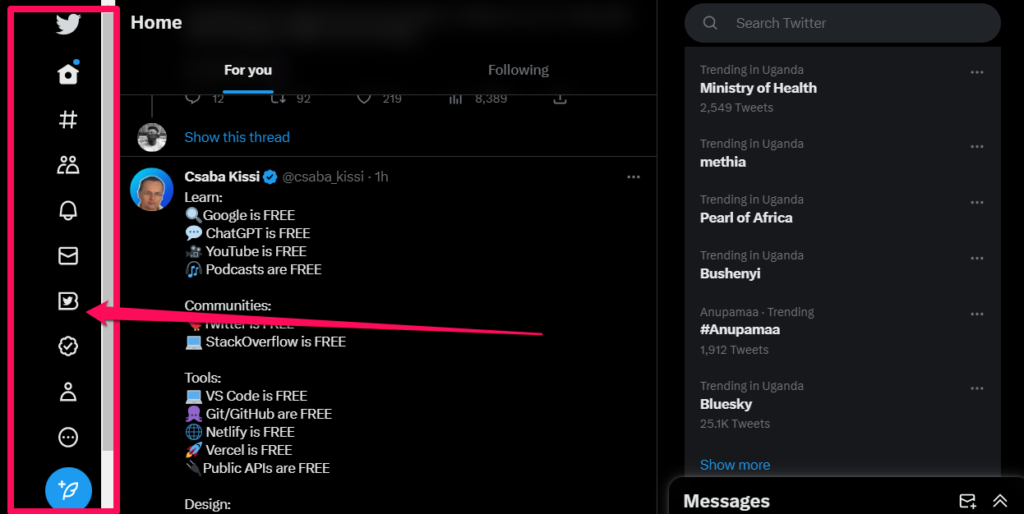 Change to your preferred subscription by choosing the Monthly or Annual option
Hit the $8.0 / Month button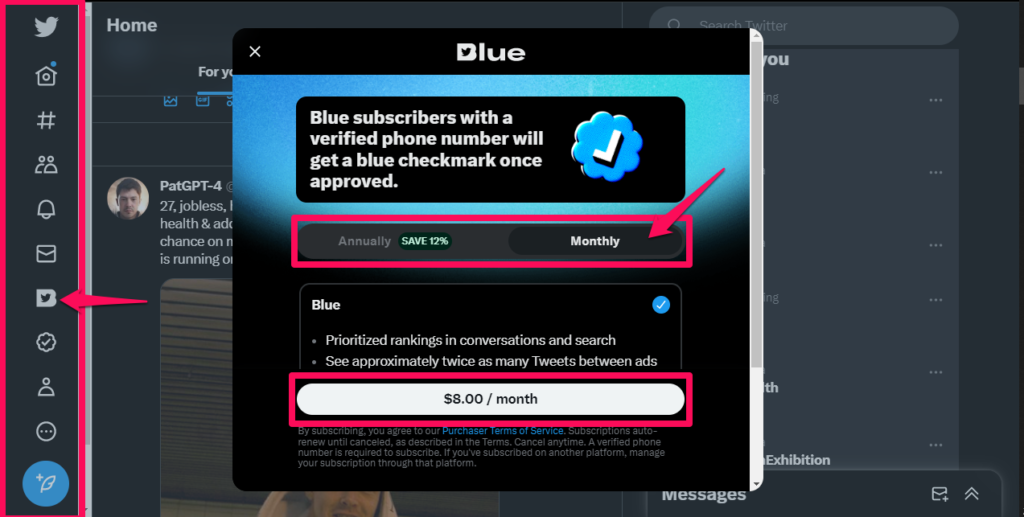 Enter your payment details and Hit the Subscribe Button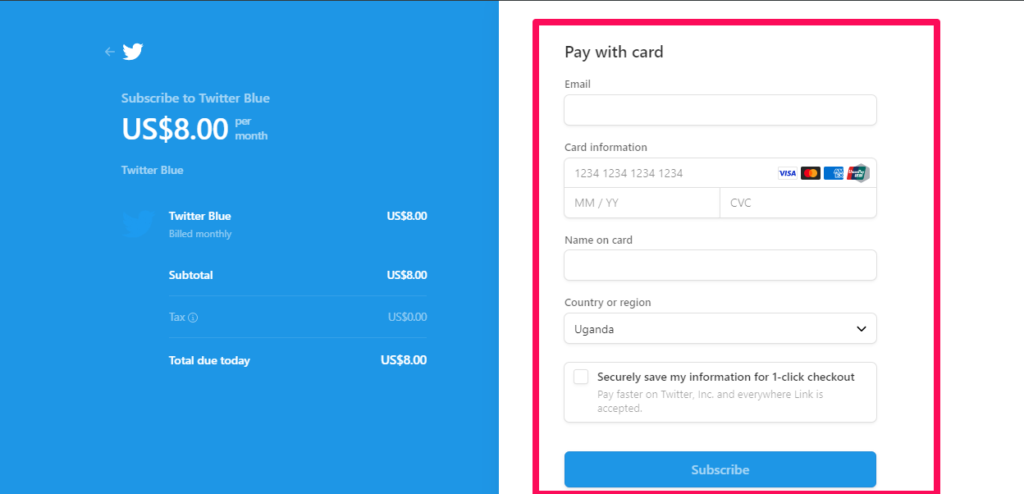 Please visit the Twitter Help page for more information.
Please note that the Blue Badge, also known as the blue checkmark, may not appear immediately on your account after subscribing to Twitter Blue. This is because Twitter will review your account to ensure it meets the eligibility criteria for verification.
---
Related: How to Freely Add Two-Factor Authentication (2FA) on Twitter
---
Pro Tips
It's important to mention that if you choose to subscribe to Twitter Blue through the Twitter app on iOS or Android, the cost will be $11 per month instead of the standard $8 monthly fee. This higher price is due to fees charged by Apple and Google. As a result, it's advisable to sign up for Twitter Blue via a desktop to avail of the most affordable price.
Advertisement - Continue reading below
If you decide to cancel your monthly subscription, you can do so at any time through the Twitter Blue portal. For those who have opted for an annual plan, it's important to disable auto-renewal to avoid being charged for another 12 months after the initial subscription period. Keeping this in mind will help you manage your Twitter Blue subscription effectively.
Is Twitter Blue Worth It?
So, is Twitter Blue worth the $8.00 per month? It really depends on how much you use Twitter and how important the new features are to you. If you're someone who spends hours on Twitter every day and could benefit from the undo tweet, verification badge, and bookmark folder features, then it might be worth it.
On the other hand, if you're a more casual user who doesn't spend a lot of time on Twitter, the extra features might not be worth the cost. Ultimately, it's up to you to decide if Twitter Blue is worth it.