In this time and era, buying things online is not only popular but also one of the safest ways to shop. Asides from allowing users carefully navigate through an assortment of smartphone types and categories from the comfort of their homes, workplace or wherever, payments and shipment is also relatively faster.
And though a sizable number of the Nigeria population still, sometimes, prefer to purchase smartphones offline (from physical stores, shops, etc.), buying online does come with its advantages. (gifts)
Advertisement - Continue reading below
Buying smartphones online is sometimes cheaper than buying offline. Occasionally, many online (read: e-commerce) platforms offer discounts — in form of promos and coupon codes — that allow users purchase gadgets at prices way lower than the recommended retail price.
Smartphones sold online sometimes come with gifts and special add-ons e.g headphones, powerbanks, free screen-replacement plan.
You get to be the first to buy new smartphones. Some smartphone manufacturers partner with e-Commerce platforms to launch their devices. If you need to brag to your friends about being the first to use the latest iPhone, your best bet is to buy online.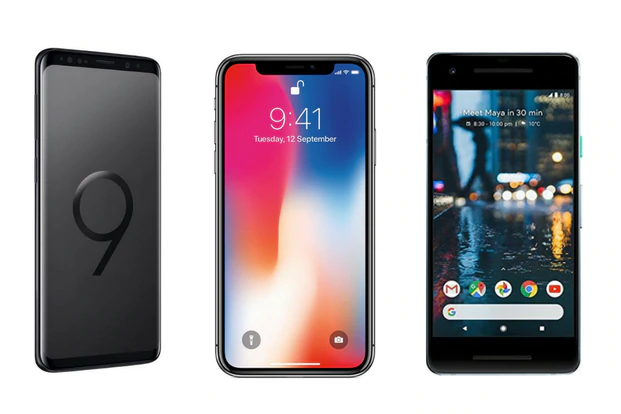 There are more advantages of buying online compared to offline purchases but we'd fully talk about that later. For now, though, we highlight some of the top 5 online platforms to buy smartphones in Nigeria.
1. Jumia Nigeria
Jumia isn't just the biggest and largest online shopping website in Nigeria, the platform also hold the title across many countries in Africa. Asides from a wide collection of affordable, mid-range and premium smartphones, you can also purchase all sorts of electronics, home & kitchen appliances, toys, computers, groceries, fashion items and lots more on Jumia.
In addition to selling phones at affordable prices, you can also buy products that aren't available locally from overseas at reasonable prices. Jumia also runs special offers, promos, and events like its annual "Jumia Mobile Week" where smartphones sold for as low as 90% off their original prices. Jumia's delivery system is also prompt enough; the company offers same-day delivery for major cities and regions in the country. You can also choose to pay for your products only after they have been delivered to you.
2. Konga
Like Jumia, Konga is also a household name in the Nigeria e-commerce space. The platform also boasts of a wide collection of products; electronics, fashion items, home appliances, accessories, computers, etc. Visit the platform's Mobile Phones Category and you can be sure to find a smartphone you'd love at an affordable price.
In addition to discounted prices and affordability, you also enjoy (free and) low delivery rates, flexible payment methods (Pay-on-Delivery inclusive) and gifts/bonuses when you purchase smartphones on the platform. Konga also occasionally runs a special Mobile Week event where it drops prices of smartphones to as low as 90% off their regular prices.
3. SLOT
Although SLOT has an online platform where it sells phones, appliances, and electronics, the platform's offline presence is actually bigger and stronger. It might interest you to know that the company (SLOT) originally existed as offline stores before setting up an online platform to enable its customers also purchase phones online.
Advertisement - Continue reading below
Occasionally referred to as the number one mobile phone dealer in Nigeria, SLOT has over 60 physical stores spread across the 36 states of the country. Although SLOT is popular for selling phones, the platform also sells computers, accessories, as well as other electronic and electrical appliances.
4. 3CHUB
Like SLOT, 3CHUB also originally operated offline stores across major cities and towns in Nigeria before creating an online presence. That said, 3C Hub is a trusted digital product retailer and is one of the biggest dealers of low and high-end multi-brand smartphones in Nigeria.
All of 3CHub's phones are covered by warranty and are also pretty affordable.
5. MicroStation
Although MicroStation operates an offline-first model of retail like SLOT and 3CHUB, the platform also operates a functional online store where customers can purchase smartphones, accessories, computers, cameras, etc. from the comfort of their homes and pay securely online.