Factory Reset Protection (FRP) is device protection security feature introduced on Android smartphones running Lollipop (5.1) onward aimed at preventing someone from just wiping your data during an unsanctioned factory reset and getting away with it.
In theory, this feature is intended to render a lost or stolen device unusable by requiring one to enter Google account credentials of the last device user a factory reset in effect making it unappealing for phone thieves.
Advertisement - Continue reading below
In practice, most often than not, Android users are unaware of Factory Reset Protection until they encounter it for the very first time when they are locked out of their devices either because they forgot their Google password, were gifted the smartphone by a friend, or due to some bug that just let them access their device even after inputting the correct credentials.
What you need to know about Factory Reset Protection
Factory Reset Protection initiates a 72-hour lock-down on your protected device when a device is wiped soon after changing a Google account password. During this time, this Google account cannot be used to reset a smartphone with Factory Reset Protection. This window is vital for instances where your device has been stolen as it allows one to reclaim their account and prevent a thief from accessing the device. Not so amusing when you own the device.
Google tip: If you reset your Google Account password and need to do a factory reset, wait 24 hours after changing your password to reset your device. For security purposes, you can't use an account to set up a device after reset if that password was changed within 24 hours.
Factory Reset Protection is activated by default and ships with Android devices starting from Lollipop (5.1). Older devices will get the security feature after upgrade to Lollipop.
To unlock a device using Factory Reset Protection, one is required to have an active internet connection. Increasingly, a WiFi internet connection is preferred. This is to allow the phone to connect to your Google account and authenticate your login.
New devices do not require Factory Reset Protection. It is only activated once someone syncs their device with a Google account.
Related: Here is how to boot into Safe Mode on your Android
How to disable Factory Reset Protection (Please Don't!)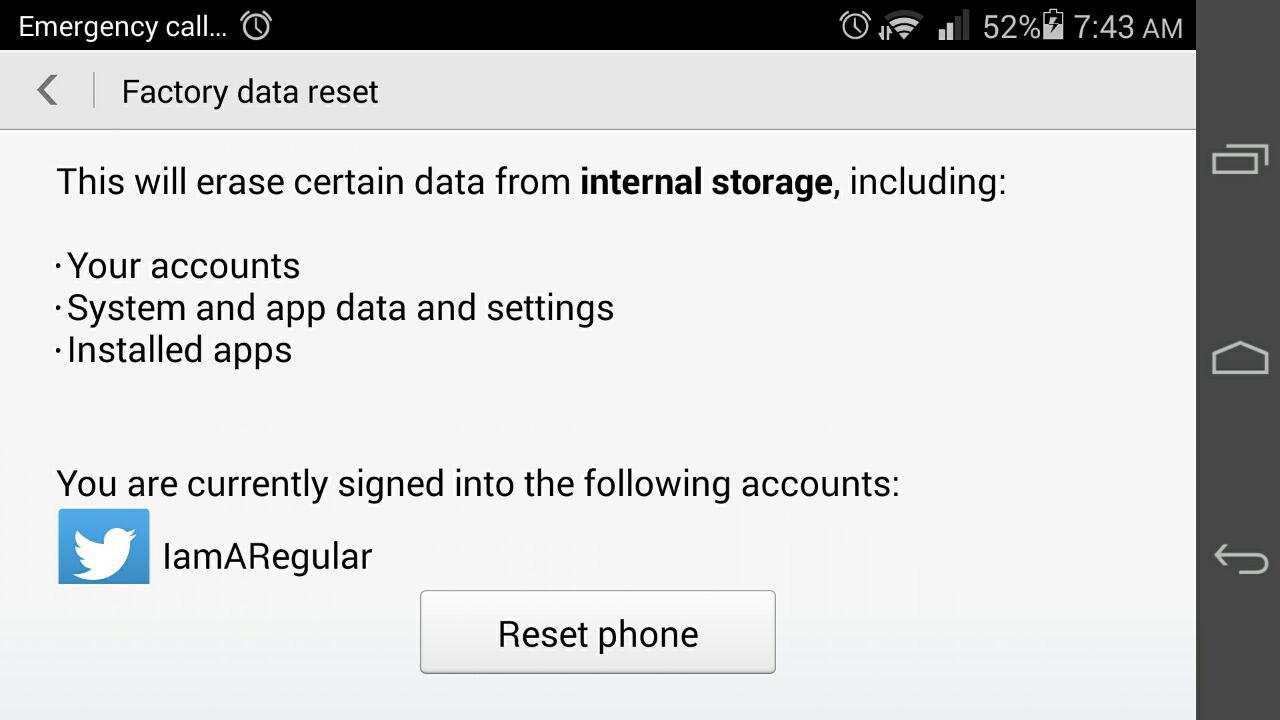 Naturally, you'll want to know how to disable the kill switch. We would advise you not to, as Google added this device protection feature for your own safety. That is unless you want to do a Factory reset either to donate or sell their device afterwards.
The downside to Factory Reset Protection is that it normally skips your mind that such a measure is in place that many people completely forget to disable it before wiping the phone, which is a bummer. Android does not warn you in any way of it's existence.  While, the location of these settings may vary from device to device, the general location should apply to most:
Go to device settings and disable screen lock security. This can normally be found in the Security tab. Some smartphones don't require you do this step but better you now about it.
Head over to Accounts tab (still in settings) and remove all Google accounts synced with your device. Removing your account(s) will automatically remove Factory Reset Protection.
Go to Backup & Reset and Factory Reset your phone.
In the event that you cannot disable Factory Reset Protection, you have to return the phone to the owner who can enter their Google account information. Alternatively, they can send you the information if they trust you well enough.
Advertisement - Continue reading below
That failing, your phone is as good as bricked. What you can do at this stage is either return it to sender, ask for a refund (if you bought it from a friend), sell it for spare parts, or give it to a baby as a toy. Your device would be dead to you. Well, you can also try out the YouTube hacks, but those are patched as soon as Google learns about them. But who knows? You might be lucky. Good luck with that!
Featured Image: XDA Developers