Have you ever wondered if your Google account is logged in on another device? Perhaps on your friend's computer? Do you suspect that someone else has access to your Google account on another device but you cannot pinpoint which device it is? Did you just sell your old phone but you cannot remember if you logged out of your Google account before you sold the device?
Google understands the possibility of these occurrences and thus created a tool which allows you check all the devices that are synced to your Google account. Dubbed "Device Activity", the Google tool will show you all devices that are currently signed in to your Google account, as well as devices that have been active on your account in the last 28 days.
Advertisement - Continue reading below
That's not all. You can also check the exact name of the device, whether it is a PC or a mobile device, the location of the device(s), last login period, the app the device used to login to your Google account, etc. The best part is that you can remotely revoke access of devices you do not recognize by removing them.
Manage devices connected to your Google account
Check out how you can easily track and manage devices synced to your Google account.
On Mobile
Launch the Google app on your smartphone/tablet
Navigate to the "More" section and tap "Manage accounts"
Navigate to the "Security" section and scroll down to the devices section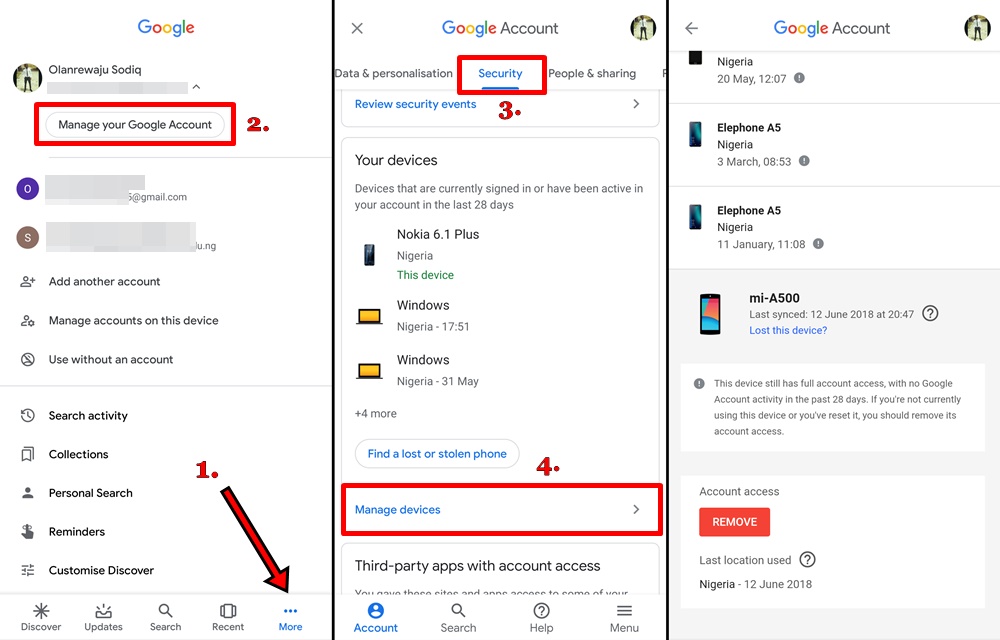 Tap the "Manage devices" button and you'd see a full list of devices synced to your Google account.
To remove/revoke a device's access to your account, tap on the device and select the "Remove button"
On PC
For PC users, here's how you can check devices that have access to your Google account.
Visit the "Device Activity" dashboard of your Google account by clicking on this link. You may be prompted to log in to your Google account if you haven't previously logged in on that browser/PC.
On the new page, all the devices connected to the Google account on the browser. Devices that previously logged into your account in the past 28 days will also be displayed.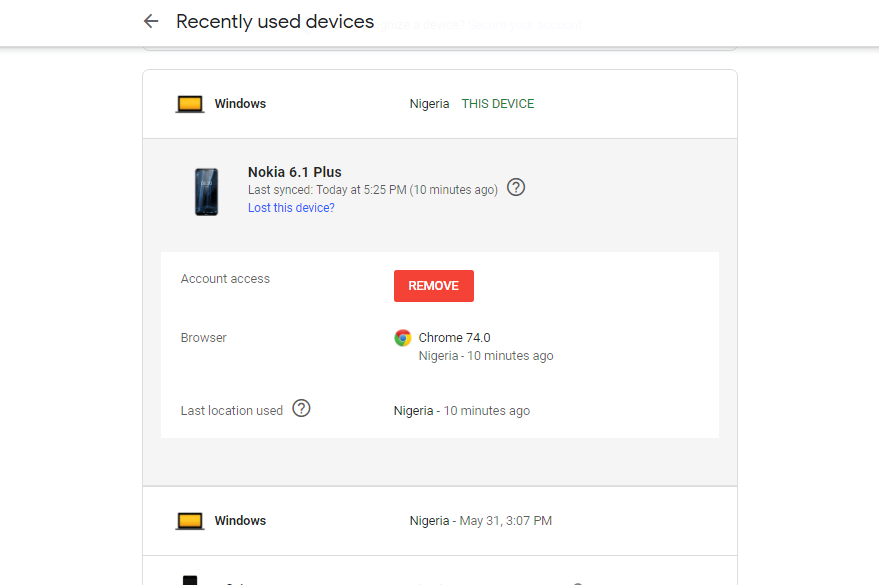 To remove a device, simply tap on the device and select "Remove"
And that's it. Super easy ways to check a Google account connected devices. If you're the type that change smartphones or laptops very often, you can easily lose track of all the devices using your Google account. You shouldn't have to worry as you can use the Google Device Activity to monitor device usage on your account and likewise, remove old and suspicious devices.