Google, being one of the most valuable tech companies in the world, understands that users sometimes cannot access its services due to poor internet or the lack of it. This was the major reason it created the Dinosaur T-Rex game so users could play while experiencing internet downtimes.
The Dinosaur game could only be played within the (mobile and web versions of the) Chrome browser. To allow more users kill time and have fun during network outages, Google introduced an offline game within the Google search app and widget on smartphones.
Advertisement - Continue reading below
When you perform a search within the Google search app without having internet access on your smartphone, you can play the hidden game. Google hasn't given the game an official name yet but many sources have given it a pseudonym — Floaty Cloud. The game basically requires users to guide a floating cloud through the moving sky without hitting any obstacles.
Gameplay
Presently, the only way to launch/play the Floaty Cloud game within the Google app is to be offline. It's either you;
Have a poor internet connection, or
Turn off your mobile data/WiFi
Additionally, you must ensure that your Google app is up-to-date; older versions of the Google app do not have this game.
How to play
— Perform a search on the Google app or widget while offline and you'd see an animation at the top-left corner of the "Mobile data is off" page.
— Tap on the animation and the game will be opened in fullscreen mode.
— A smiling cloud holding a yellow umbrella while standing on a hill is displayed on the screen. Tap anywhere on the screen to start the game.
Advertisement - Continue reading below
— Tap the screen at intervals to keep the cloud afloat in the sky while dodging obstacles (the evil birds and thunder clouds).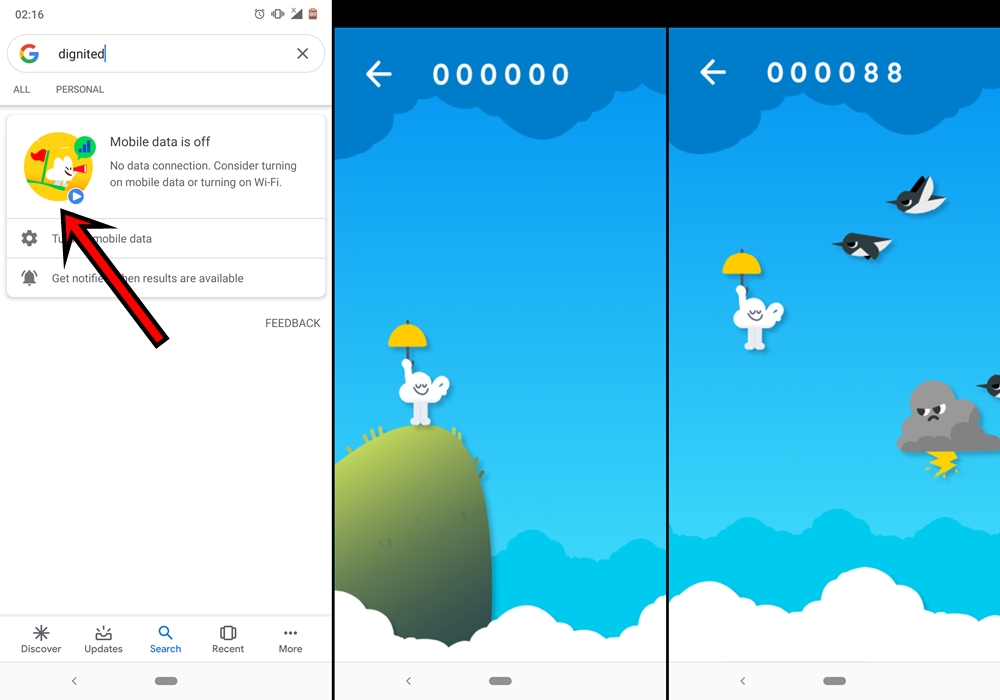 NOTE: The (yellow) umbrella can come in contact with obstacles but the cloud mustn't. Else it stops floating and you lose the game.
Did you know about this hidden Google app cloud game? Do you find it more intriguing than the Chrome Dinosaur game? What's the highest score you've attained in the Floaty Cloud game? Mine's 182!🙂