Just a few months back, Apple recalled older 15-inch MacBook Pros because the batteries could catch fire. According to information on the Apple support, "in a limited number of older generation 15-inch MacBook Pro units, the battery may overheat and pose a fire safety risk. Affected units were sold primarily between September 2015 and February 2017 and product eligibility is determined by the product serial number."
Overheating batteries are not to be joked with and the Nigerian Civil Aviation Authority (NCAA) are taking this very seriously, this is why they have decided to place a ban on the MacBook Pro retina 15 by Apple from all flights in Nigeria.  
Advertisement - Continue reading below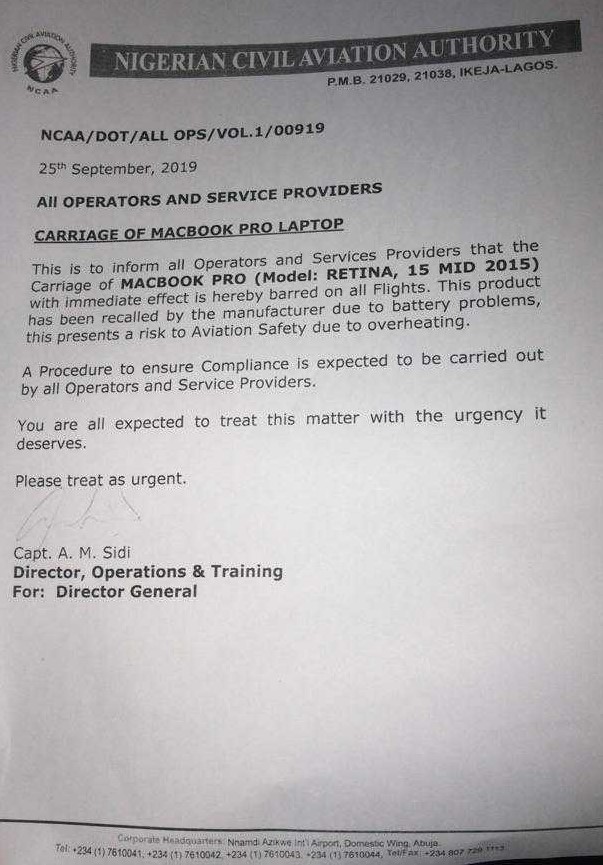 According to a released circular signed by the Director of Operations and training at NCAA, Captain Abdullahi Maikano Sidi, the NCAA has directed that the MacBook Pro Retina 15-inch Mid 2015 is not to be allowed on flights as a carry-on or checked-in luggage because it poses a serious fire safety risk in an aeroplane. This ban took effect on the 25th of September 2019.
Featured Image: Techspot