Apple recently introduced a new and interesting refresh to its wireless earbuds (read: AirPods) line of audio accessory on Monday. The new addition to the family is called the AirPods Pro and it comes in seven months after the second edition (the AirPods 2) of the wireless earbuds was released.
Despite not having too many significant differences (especially physically) from its predecessor, the AirPods 2 launched with unique features like wireless charging support, powerful chipset, "Hey Siri" integration, and improved microphone clarity.
Advertisement - Continue reading below
The newly (third-generation) AirPods Pro likewise comes with unique features and breathes totally fresh air to the AirPods lineup. Before we delve into the differences between both devices, let's talk have a look at the new AirPods Pro, its features, pricing, availability, amongst other things.
AirPods Pro vs AirPods 2: What's New?
Refreshed Design
The first thing you cannot go without noticing about the new AirPods Pro is the design. The device, according to Apple, is made from lightweight materials to enable comfort during usage. Speaking about comfort, the new AirPods Pro now supports detachable ear tips to fit all ear types and sizes. Interestingly, the AirPods Pro will come out of the box with three sizes of ear tips (small, medium, and large) made out of flexible silicone material.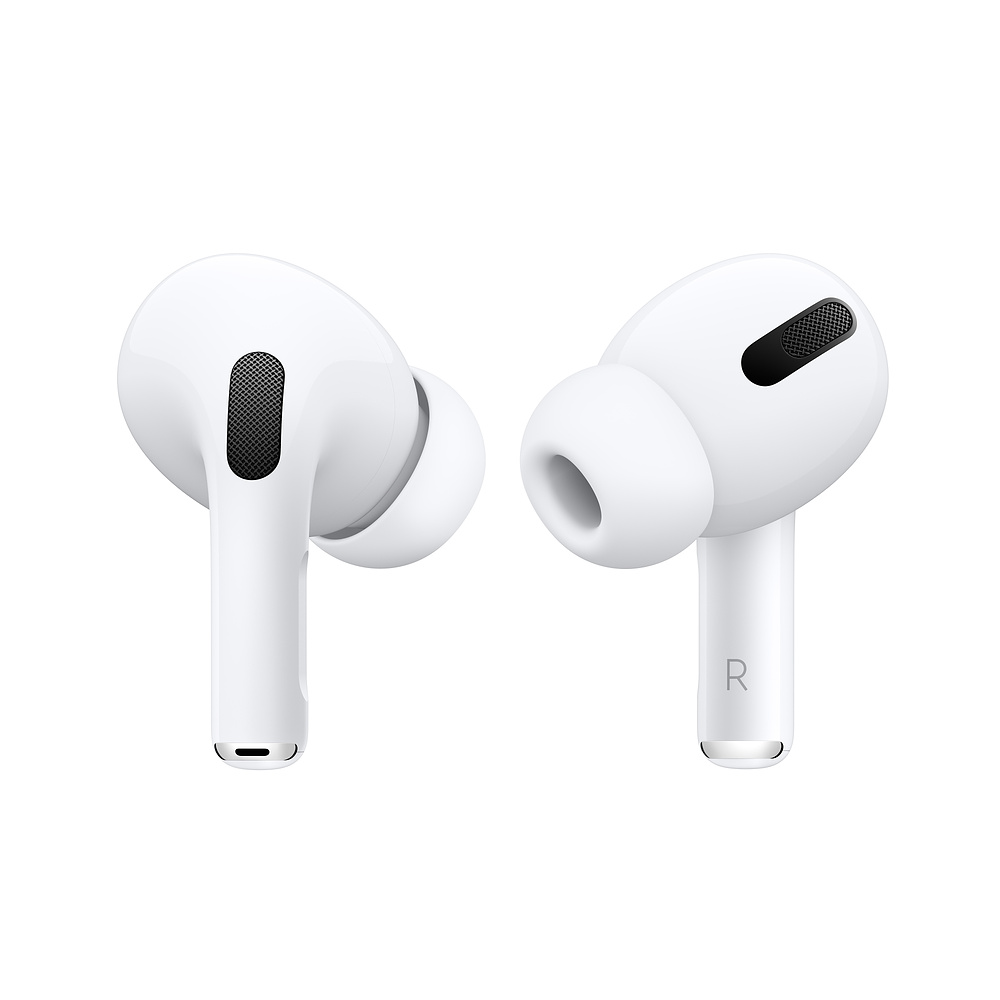 The case of the AirPods Pro is still white-colored but is a little bit wider to accommodate the AirPods. Like the AirPods 2, the case is compatible with Qi-certified wireless charging and also has built-on extra batteries that can supply the AirPods with up to 24 hours of extra listening time. Similar to AirPods 2, charging can also be done via the lightning connector at the bottom of the case; there a lightning-to-USB-C cable in the box.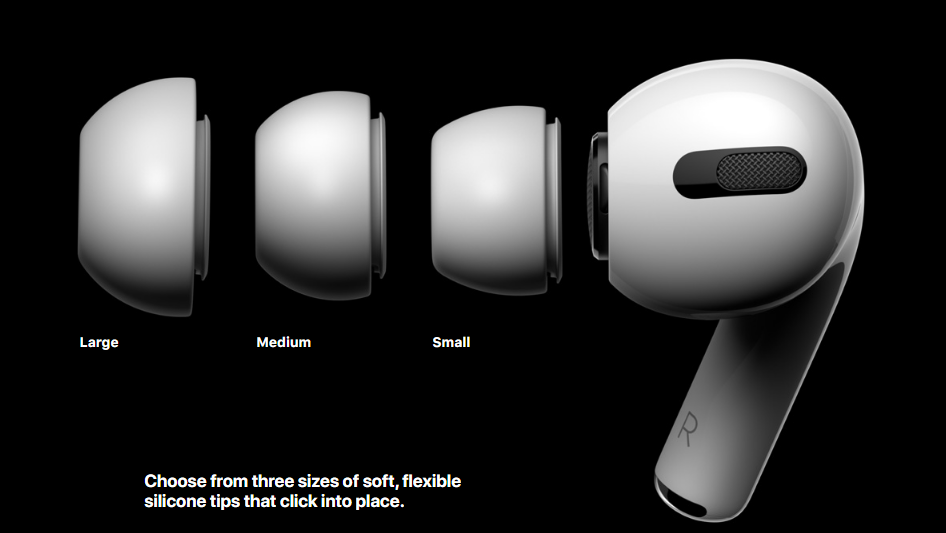 Apple says the rationale behind the new 'breakthrough design' of the AirPods Pro is to deliver immersive sound and ultimately improve listening experience. The AirPods Pro is water and sweat resistant and sports a 'vent system' that minimizes discomfort by equalizing pressure in the ears.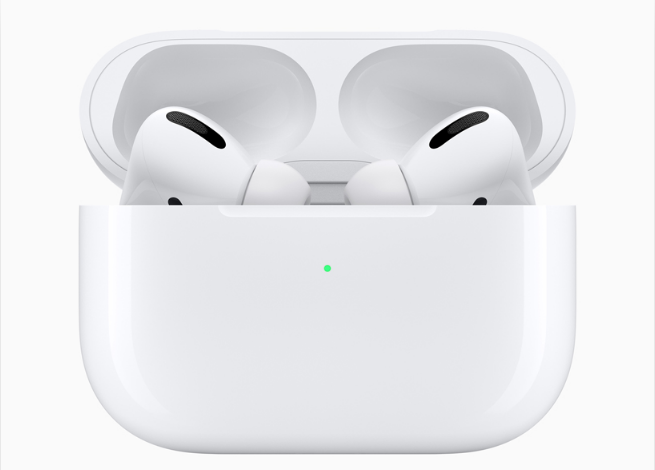 The level of detail and attention that went into the design of the device are quite impressive, I must say.
Active Noise Cancellation
The new AirPods Pro is integrated with Active Noise Cancellation, the first AirPods to have the features. The noise cancellation system uses a combination of the following to provide a noise-free listening experience:
Advertisement - Continue reading below
Two Microphones: An outward-facing mic (filters noises by detecting & analyzing external noise) and an inward-facing mic (removes any remaining noise detected by the first microphone).
Software: The AirPods Pro also uses advanced software to achieve a fine noise cancellation result. The AirPods noise cancellation is continuous as Apple's software automatically filters out unwanted sounds 200 times in a second.
Design: Aside from aesthetics and visual appeal, the AirPods Pro is designed in a way that makes it adapt to the geometry of the user's ear and block out external/environmental noise during usage.
Audio Quality
Compared to previous generations of Apple's wireless earbuds, the AirPods 2 will provide superior sound quality. The device uses a combination of hardware and software (like Adaptative EQ, Custom HDR Amplifier, and the Low-distortion speaker drivers) to optimize and balance audio frequencies, produce rich bass, and crystal clear sound while simultaneously extending battery life.
Transparency Mode & Controls
Another unique feature of the AirPods Pro is its Transparency Mode. This mode does the exact opposite of what Noise cancellation does…and even does it better. Unlike noise cancellation, the transparency mode lets external sounds from the environment in. Not just that, it optimizes and improves the sound to make them feel even more natural and real as though you had no AirPods in your ears.
The Transparency Mode can be easily toggled on by pressing and holding the 'force sensor' at the side of the AirPods. Doing this also switches the device back to noise cancellation mode. Interestingly, you can also switch between the two modes by tapping the volume slider on your device and select which modes you want to put the AirPods Pro.

Battery
On paper, the battery of the AirPods Pro is impressive. On a single (full) charge, the AirPods Pro delivers up to five (5) hours of listening time in normal mode (i.e. noise cancellation & transparency mode turned off). With Noise Cancellation active, the listening time drops to four and a half (4.5) hours while talk time drop to 3.5 hours.
As mentioned earlier, charging can be done wirelessly on a Qi-certified charging pad or you simply charge the device via the lightning port at the bottom of the case. Lastly, you should know that factors like usage intensity, environmental factors, device settings, etc. will affect battery life and usage (listening & talk) time.
Price & Availability
The AirPods Pro has a $249 retail price and will officially begin shipping to buyers on October 30th. You can, however, pre-order on the official Apple Store.
AirPods Pro vs AirPods 2: Similarities
The following are the features that both editions of AirPods have in common:
Available on in White color variant
Wireless charging support
Lightning port support
Supports the "Hey Siri" wake-word
Powered by Apple's headphone-focused H1 chipset
Bluetooth 5.0 connectivity
AirPods Pro vs AirPods 2: Differences
Differences
AirPods Pro
AirPods 2
Design/Dimension
1.22 x 0.86 x 0.94 inches (30.9 x 21.8 x 24 mm)
0.65 x 0.71 x 1.59 inches (16.5 x 18.0 x 40.5 mm)
Weight
0.19 ounce (5.4 grams)
0.14 ounce (4 grams)
Weight (charging case)
1.61 ounces (45.6 grams)
1.34 ounces (38 grams)
Ear tips
Silicone ear tips (three sizes)
Doesn't support ear tips
Noise cancellation
Supports noise cancellation
Doesn't support noise cancellation
Transparent mode
Supports Transparent mode
No Transparent mode
Sensors
Dual beamforming microphones
Inward-facing microphone
Dual optical sensors
Motion-detecting accelerometer
Speech-detecting accelerometer
Force sensor
Dual beamforming microphones
Dual optical sensors
Motion-detecting accelerometer
Speech-detecting accelerometer
Battery/Power
Up to 4.5 hours of listening time with a single charge (up to 5 hours with Active Noise Cancellation and Transparency off)
Up to 3.5 hours of talk time with a single charge
Up to 5 hours listening time
Up to 3 hours talk time
Price
USD $199
USD $249
Is the Airpods Pro Worth It?
Price-wise, the new AirPods Pro costs $50 more than the 2nd-generation AirPods 2. Is this price difference worth it? Well, with the introduction of new features like continuous cancellation, transparency mode, improved audio quality, optimized controls (i.e. force sensor), a lightning-to-USB-C cable out-of-the-box, and not to forget the newly improved design with support for three ear tips sizes, I'd say the $50 increase in price is definitely worth it.
Advertisement - Continue reading below
The AirPods Pro might not be the best wireless earbuds out there, but it's definitely the best AirPods from Apple ever.
What's you take on the AirPods Pro? Placed your (pre)order yet?