In brief:
#MTNSupu More supu is a promotional offer effective 6th November 2019 for a limited period that applies to MTN daily voice bundles.
Dial *160*21# to activate this promotional offer
You get between 6 ~60 minutes to call all networks at the same price.
The more supu promotion is only applicable to daily voice bundles. Minutes can be used to call either mobile and fixed lines both on MTN and to other networks.
If you're like me and you find calling other networks costly business, then you're in luck. MTN Uganda has jazzed up an old voice bundle which now lets you call all networks on the same bundle, for the same price. MTN is promoting this bundle under the hashtag #MTNSupu for More supu.
Advertisement - Continue reading below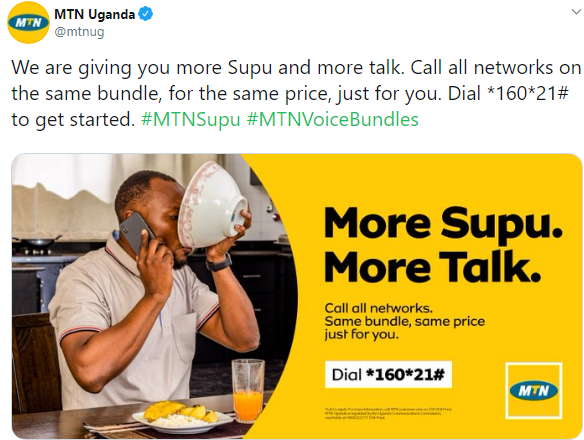 If you must know, before all this hullabaloo, this same daily call bundle only offered between 1~5 minutes to other networks. The lion's share of the daily call bundle was exclusively MTN to MTN (5~55 minutes). Price-wise, these bundles range from between UGX 500~UGX 2,000.
If you break down the calling rate per second, that's in the region of UGX 1 to as low as UGX 0.5 for the 60-minute bundle. If you don't believe me, please pull out your calculator and do your own math.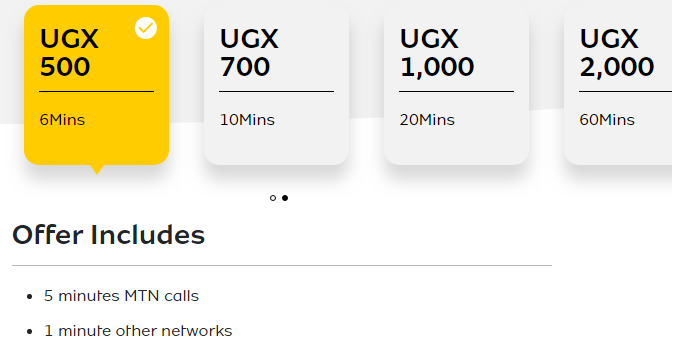 To get started on this MTNSupu voice bundle for more supu, dial *160*21#. MTN offers 6 minutes to 60 minutes in the range of UGX 500 to UGX 2000. Here is a breakdown of what you get contrasted from old to new.
#MTNSupu voice calling bundles
| | | | |
| --- | --- | --- | --- |
| Price (UGX) | New/Total Minutes | Old/MTN to MTN | Old/Other Networks |
| 500 | 6 | 5 | 1 |
| 700 | 10 | 8 | 2 |
| 1,000 | 20 | 17 | 3 |
| 2,000 | 60 | 55 | 5 |
At the moment MTN's rival Airtel offers UGX 3 to all networks. It's been a great deal up until this moment. But not anymore. To the Airtel execs reading this article, over to you. Don't we just love the price wars between the telcos?
Read more: MTN launches a free messaging app called Ayoba
Advertisement - Continue reading below