Android is a vast ecosystem spanning across hundreds of different phone makers. Supporting this ecosystem is a very vibrant community of developers.
We see very interesting, very useful apps on the official app stores for Android but then there are countless others which for one reason or another, cannot be allowed onto the Play Store. One such app is YouTube Vanced.
Advertisement - Continue reading below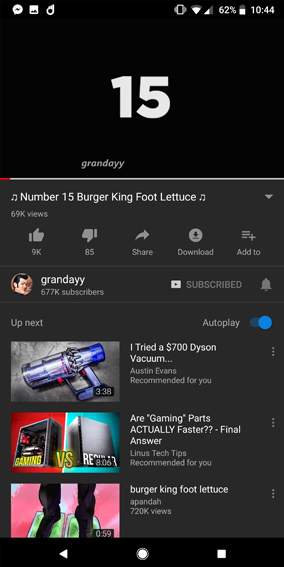 What is YouTube Vanced you ask? Well, basically this is a modified version of the official YouTube app that you can install from the Play Store. It is, however, tweaked a little so it comes with, among other things, a built-in ad blocker that prevents tracking and provides security protection with optimized data and battery performance.
The app has not been updated since May 2019, well until now. The developer has just updated YouTube Vanced and now we have a new version of the app (version 15.05.54). A lot has changed in the 9 months. Here's part of the changelog.
Updated Vanced to YouTube v15.05.54.
Auto subtitles have been replaced with Live Captions
The old mini video player has been removed (Google removed it completely)
Whatever bug fixes Google made to YouTube over the past 9 months.
There are a few things to note with this update, though. Some of the important things include;
Magisk installation is no longer supported with this update. This is because the Magisk and root installation methods are now the same.
The installation methods for non-root and root have also changed. We have an installation guide below.
Xiaomi's MIUI users installing the non-root variant will need to follow a special installation guide, also listed below.
---
Known Issues
There are some issues that users should take note of with this build. Some things that are broken or don't work right include;
Auto-repeat is not present in this build. The developer, however, promises that it will be fixed on February 30th (presumably in the next build).
The Accessibility button toggle is removed due to it being broken. The developer says that it will be added back later.
Chinese ROMs (MIUI, EMUI, ColorOS, etc.) have broken Picture-in-Picture (PiP). It's advised to just disable PiP for Vanced entirely if you use those ROMs.
Some tablets will get a force close immediately after opening the app. Not sure what causes this issue.
As mentioned above, the installation process has also changed for the most part. However, if you installed previous builds, this will not look too strange. That said, here's the installation guides.
For Non-Root devices:
For Rooted devices
Disable APK verification using a Magisk module or similar app (this module works on Android 9 or lower). If you're on Android 10, you can use Xposed + CorePatcher.
Install the SAI (Split APK Installer) app and enable root mode
Select the .apks file you download
Click "Install"
And now for Xiaomi users, this is the process for installing YouTube Vanced onto your device running some version of MIUI.
Advertisement - Continue reading below
Option A:
Deactivate MIUI optimization in Developer Options (this can delete all permissions for apps).
Open SAI and check that "signed APK" option is disabled and proceed with the installation of Vanced (follow non-root installation guide above)
NOTE: If you can't install, check if the original YouTube is installed. You need to hibernate or disable the app until the installation is completed.
Option B:
Install Shiziku from the official website, following all instructions carefully
Enable Shiziku Mode in SAI
Install Vanced as you would on any other phone (check instructions above.)
Option C:
If all the above fails, here's how to install the new Vanced via ADB.
Download the .apks file
Extract the .apks file (it's just a ZIP)
Rename the YouTube_15.05.54_API21(nodpi)(vBlack-v2.1.0)-vanced.apk to YouTube_15.05.54_API21nodpivBlack-v2.1.0-vanced.apk
Run this command while connected to your phone:
adb install-multiple YouTube_15.05.54_API21nodpivBlack-v2.1.0-vanced.apk config.arm64_v8a.apk config.xxxhdpi.apk split_config.en.apk
NOTE: If you want to install a language other than English, add it at the end of the command (for example split_config.de.apk). If you're on Dark, instead of Black, replace Black with Dark in the command.
Install MicroG manually on your phone
Download
To download the apk files and everything else you need to successfully install the YouTube Vanced app, you might want to grab the files from the the app's official website here.
Do you use modified Android apps? Do you have any security concerns? Or does the installation and usage process confuse you? Tell us in the comment section below; we'd be more than happy to help.