There are a lot of things that make the Google Chrome browser so popular and widely accepted. For one, it is a clean browser with top-notch user interface. Additionally, it also boasts of support for near-endless list of extensions. While there's still debate about whether the Google Chrome browser is the best or not, there's certainly something special about the browser that makes it widely used.
Google Chrome is also a very versatile browser, as there are loads of functionalities embedded within the browser that you probably haven't tried out yet. In this article, we list some Google Chrome features you probably do not know about.
Advertisement - Continue reading below
Related Article: 10 Google Chrome features you should master using
1. Highlight & Right-click to search Google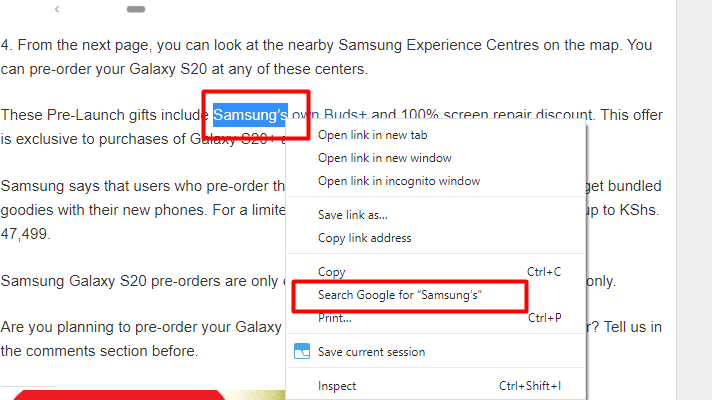 Going through a web page sometimes, you might come across words or phrases you want to know more about. Chrome provides a search option that makes it easy to search a word or phrase without going through the stress of manually opening a new tab and typing in the word.
To do this, simply highlight the word(s) you want to search, right-click and select 'Search Google for (word)'. A new tab will open with your search.  
2. Drag multiple tabs at once
You should be familiar with the ability to drag any tab on Chrome to any position, drag to create a new browser window, and mixing tabs within the same browser windows, but do you know you can do these with more than one tab at a time? Just hold the Ctrl key on your keyboard, and select all the tabs you want to move around.                                         
3. Pin Tab(s)      
This feature will help you manage your tabs when you have a lot of them open. Pinning a tab will turn it into a small icon and pushes it to the front. Also, you should pin your tab(s) if you do not want to lose them. Once a tab is pinned in Chrome, even if you close and reopen your browser, the pinned tab will still be there.
To pin a tab, right-click on it and select 'Pin'   
Advertisement - Continue reading below
4. Moving through tabs using key commands
If you have a lot of tabs opened at the same time, and you need to jump to another tab quickly, Google Chrome lets you navigate through them easily and fast using key commands.  For instance, you have 9 tabs opened and you are on the first tab, but you need to jump to the last tab, you can use a quick key command instead of your mouse or touchpad.
To do this, just hold down the Ctrl key and tap a number on your keyboard (number 1 through 9). Each number is associated with a tab. If you need to jump to the 5th tab on your Chrome browser, just hold down Ctrl and number 5.               
Related Article: Top Google Chrome URL Command Shortcuts you should know
5. Download files where you want them
If you are finding it hard to locate all that you've downloaded on your computer, you can change the location to an easier one (could be your desktop page). Just Navigate to 'Settings', click 'Advanced', and then click 'Downloads' from the drop-down. Under location, select 'Change' to choose a new download location.
6. Open accidentally closed tabs
It is not uncommon to accidentally close tabs you're still using. Google understands that this happens all the time, and added a feature that helps users immediately recover accidentally closed tabs.
To recover a closed tab, right-click on any open tab and Select 'Reopen closed tabs'. If you didn't find this option, use the keyboard option. Just hold down Ctrl +Shift + T, and the closed tab will be restored.
Do let us know if you've been using any of these tricks. Also, did we miss out on any important Google Chrome feature? Share with us in the comment section.
Advertisement - Continue reading below