During its developer conference in 2019, Facebook announced that it plans to overhaul the design of its social networking platform, Facebook, and push out a new design called The New Facebook (both desktop website and the mobile application will receive the update).
What Is The New Facebook coming with?
Dark Mode
Dark mode has become a huge trend of late. We saw it launch on the Android 10, and of recent, on the instant messaging app, WhatsApp. Facebook has also decided to join the trend, as it is offering the dark mode for desktop users in 'The New Facebook'.
Advertisement - Continue reading below
Related Article: Facebook is working on a "Dark Mode" for the main Facebook app
White Theme And Larger Icons
Facebook has decided to do away with its old blue theme. The new Facebook is designed with a cleaner and brighter white theme. This was announced by Mark, CEO, Facebook, during the developer conference in 2019.
The menu bar has also been redesigned with larger, sleeker icons, as well as larger fonts.
Groups
For the desktop design, the "Group" location has been changed, it now appears on the redesigned menu bar. Once you click the Group tab, you'll get feeds of updates from Facebook groups you're part of, and you also get group suggestions based on your interest.
According to Facebook's CEO, Mark, the change has made it a lot easier for users to find and connect to the groups they're interested in.
How to Switch to the New Facebook and Back
Facebook is now allowing users to try out the new Facebook; the dark mode, white theme, and other features.
Advertisement - Continue reading below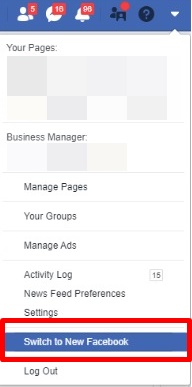 Log in to your Facebook account
Go to the settings drop-down menu, scroll to the bottom and select the "Switch to The New Facebook" option
You will be shown a card where you can switch to the dark mode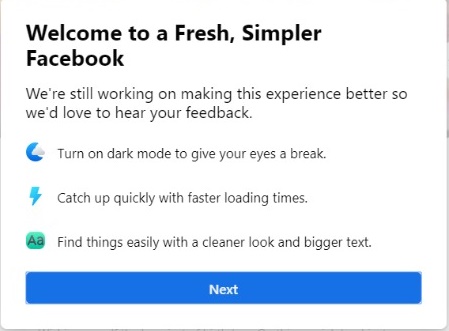 After selecting the dark mode option, click "Get started" and Dark Mode will be automatically activated.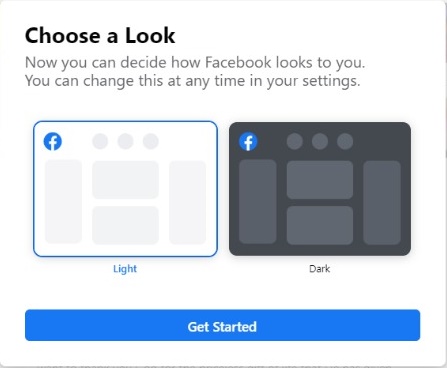 To switch back to old Facebook, just follow the same process – go back to the settings drop-down menu.
Conclusion
You should note that if you don't get prompted by Facebook to try the redesigned Facebook out, you might not see the option to switch to the new Facebook in your settings.