Netflix is a renowned streaming service with great collection of movies, TV shows and documentaries. During this Covid19 Lockdown, most of the world is shut. You should (and must) stay at home inorder to contain the virus.
But staying at home without some serious entertainment is boring. It's hard. There are several options; radio and TV are free if you have an FM radio or Free-to-Air decoder. But they are limited in content options. Netflix is an American video streaming service that supports vast number of countries including Uganda.
Advertisement - Continue reading below
Netflix packages start from US$7.99 or about Ugx 32,000 a month. No extra costs or contracts. Moreover you can watch Netflix from your smartphone, tablet, Smart TV, laptop, or streaming device. On mobile devices such as smartphone or tablet, you can download content offline so you can watch it where you don't have internet connectivity.
To subscribe to Netflix, you need a Credit card or Visa-enabled Debit card with some money on it. This is true even for one-month free trials because Netflix will ask you to fill in your card details before proceeding. Most Banks in Uganda now support online transactions, you simply have to ask your bank to activate your ATM card for online payments. But if you don't want to use your Bank card or don't have one, then you can use MTN Mobile money to subscribe to Netflix.
All you need is some money in your Mobile Money account, at least Ugx 40,000. Two years ago, MTN launched the MoMocard which is a virtual Master card created through Mobile money.
To create a Virtual Card, Simply dial *165*70# and select option 1 (Create MTN MoMocard). Afterward, you will be prompted to enter your MTN MoMo PIN.
The MTN MoMocard details are sent to the customer via SMS message. They include 16-digit card number, Expiry Date and Security code which are standard details websites ask when checking out online. It costs UGX 1,000 to create the MTN MoMocard.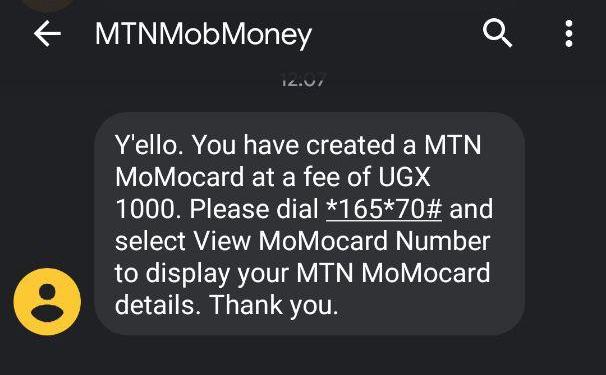 When entering payment details on Netflix, enter your full names and card number, Expiry Date, Security code sent to you. You can also view them by dialing *165*70# and select View details.
Advertisement - Continue reading below
NOTE: You must have some money on your Mobile Money account, otherwise Netflix will decline your details.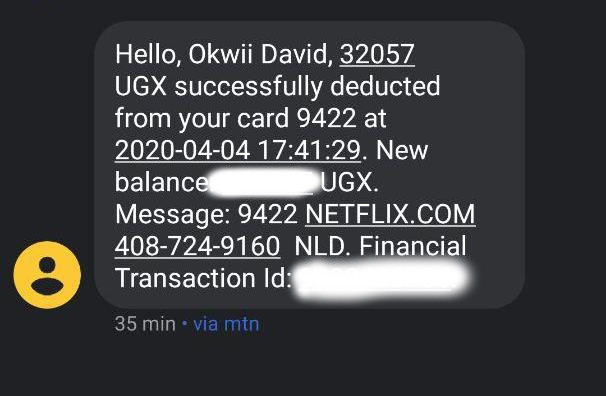 The MoMo Virtual Mastercard expires in 30 days from day of creation — the same period of your Netflix subscription — although you can cancel it anytime. This is perfect if you don't hope to subscribe for a long time. You can use it to subscribe to several other online streaming services as long as you have money on your Mobile Account.
And there's everything you need to know about paying your monthly Netflix subscription fee using MTN Mobile Money (MoMo). How do you pay for your Netflix subscription? Ever used MTN's MoMo virtual MasterCard? Tell us about your experience in the comments.