Obviously, the COVID-19 lockdown has affected a lot of individuals and businesses, ride-hailing companies inclusive. Individuals are now stuck in their homes trying to adhere to the social distancing call. Ride-hailing companies on their own hand can't operate effectively if there are no humans trying to get around. Besides, they (drivers) themselves might be practicing social distancing.
However, to keep business afloat, and also make sure that there's a business to return to after the pandemic, this shouldn't be a time to do nothing. No business should hibernate during this period. Instead, this should be a period to either pivot into other related, more essential services. Or re-strategize for life after the pandemic. Or at least, keeping customers engaged and loyal.
Advertisement - Continue reading below
A number of ride-hailing companies have recognized this and are practicing some of them. It is what every business should do to prevent massive customer dropoff after the pandemic. As currently, customer loyalty gets fickle by the day.
So, here are a few things ride-hailing apps are doing during this COVID-19 lockdown that has affected the world.
What Are Ride-hailing Companies Doing?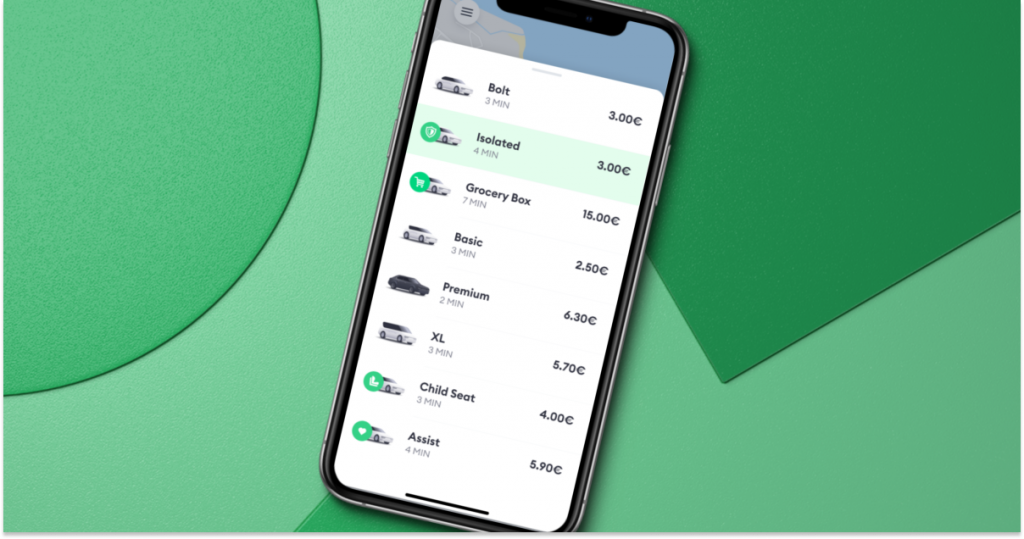 1. Selective Rides
At the beginning of all these, Bolt released a long piece on how their operations would be affected. Somewhere in that, they mentioned launching "Bolt Isolated", a ride-hailing service that will be dedicated to commuting essential and health workers that still have to move around during this period.
According to them, Bolt Isolated cars are filled with protective plastic sheeting between the passenger and driver seats to limit airflow.
Lyft, on the other hand, is actively supporting its drivers that have chosen to commute essential workers. They are doing this via the distribution of bottles of hand sanitizers and other cleaning supplies to drivers. At no cost to the drivers.
2. Food and Groceries Deliveries
On Bolt, there's a 'Bolt Grocery Box' service that can deliver everyday basic items direct to your doorstep. 100% contact-free. This service is available in Slovakia and Czechia.
Advertisement - Continue reading below
Bolt Food, an already existing food delivery service, was speedily repurposed to deliver groceries in countries it is present in.
Lyft is facilitating access to medical supplies in pharmacies, groceries, and other critical goods. They are also supporting the delivery of meals for those in need.
Uber Eats, a food delivery product by the popular ride-hailing company, Uber, has updated its delivery options to include "Leave at Door". This implies that the delivery man would leave the package at the door to prevent contact with the user.
3. Business Delivery
Apparently, businesses would be forced to rely much more on online orders. Hence, deliveries are a necessity for businesses that deal with physical goods.
Bolt launched a "Business Delivery" product for all kinds of businesses to cover last-mile delivery, item returns, and multiple drop-offs. It allows vendors to deliver products to their customers. This business delivery, though was launched during the pandemic, is a permanent addition to Bolt.
4. Providing Alternatives (Scooter and BikeShares)
Lyft, as part of LyftUp, launched a Scooter Critical Workforce Program. This is aimed at providing first-responders, healthcare, and transit workforce with free scooter trips as they serve the country on the frontline against COVID-19.
They also put in place bike-share programs offering free memberships for critical workers on networks Lyft operates.
5. Giveaways
Bolt is doing giveaways for its users in some countries to improve customer retention. The form of giveaways seems to be also aimed at actively engaging customers.
Advertisement - Continue reading below
6. Customer Engagement
Bolt is currently holding online masterclasses on various topics. The purpose, I believe, is to keep customers engaged and ensure maximum top-of-mind awareness for the brand.
Uber has also been using its platform to further push awareness about COVID-19 and social distancing. Copies like "A company that moves people is asking you not to move…" are used to urge users to stay home.
7. Free Rides
In countries like the United Kingdom, Uber is also actively joining in the fight against the Coronavirus. The company pledged 10 million free rides and food deliveries to personnel (e.g. health workers) directly at the frontline of the COVID-19 pandemic.
Uber says it'd be expanding this support globally to other countries affected by the virus.
Hospitals, clinics, senior centers, and others interested in signing up their workers for free rides or food deliveries would need to email Uber at [email protected].
Obviously, ride-hailing apps are trying to stay in the game and in business. At this period, all a business needs is the right mix of empathy and revenue streams and they'll be good. Keeping customers loyal and staying afloat in revenue should definitely be the priority at this period.
Tell us if you have used any of the new services of these ride-hailing platforms. What was your experience like? Was it short of the quality service you received before? Or even better?
Advertisement - Continue reading below