Xiaom's Mi Band 4 has proved to be a great fitness band you can get for yourself at an eye-popping price point. The Chinese company is known for producing premium products at an affordable price point. The Mi Band 4 has had four product iterations since it was first launched with each release packing better specs and features. Now Xiaomi is prepping to announce the next version of their popular health and fitness wearable device, the Mi Band 5.
Now there's been a lot to unpack about the Mi Band 4. Released last year in 2019, the Mi Band 4 spots a 0.95 inch AMOLED, full color touch screen display with up to 400 nits. It comes with the latest version of Bluetooth 5.0 BLE with NFC on China models, spots a 135mAh battery that lasts you upto 20 days. The Mi Band 4 is water proof up to 50 meters, 5 atmospheres and comes with a number of sensors including accelerometer, gyroscope, PPG heart rate sensor, capacitive proximity sensor.
Advertisement - Continue reading below
Read more: 5 things to like about the Xiaomi Mi Band 4 Fitness tracker
For a price point of below $40, it's hard to turn away the Mi Band 4. But now Xiaomi's subsidiary Huami has revealed that the Xiaomi Mi Band 5 will be launched this year 2020 according to Android Authority. The exact release date of the Xiaomi Mi Band 5 is unknown June 11 according to the Xiaomi Mall WeChat Public account.
The Mi Band 5 is expected to have a bigger 1.2″ display which is slightly bigger than the Mi Band 4's 0.95″ AMOLED display. The new display is expected to have a brighter contrast than one of the previous version. The display of the Band 5 is expected to spot an oval punch-hole unlike the previous one which didn't have it. It's not clear what the punch-hole is going to be used for, but we are speculating that it might be a camera.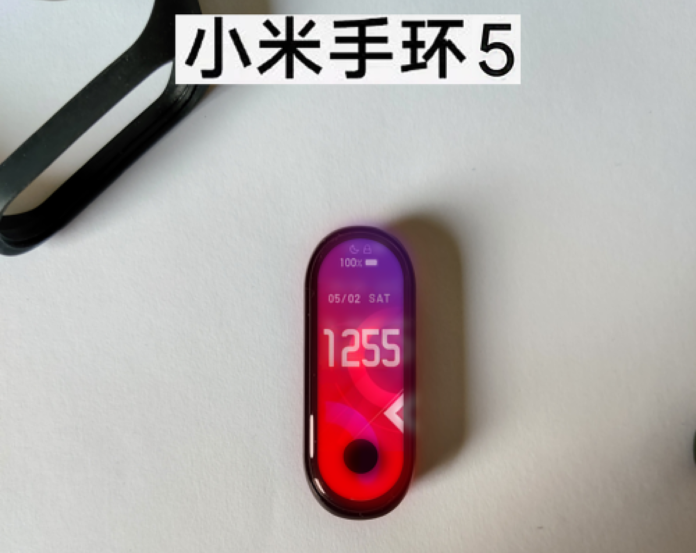 The other change expected with the Mi Band 5 is global support for NFC. Now both the Mi Band 4 and Band 3 have NFC but only for China models. NFC, short for Near Field Communication is a wireless technology akin to Bluetooth used to enable communication and data exchange between portable devices. NFC in the Chinese version of the Mi Band 3 & 4 has been used to power or integrate with mobile payments specifically AliPay and WeChat which are extremely popular in mainland China. Globally, few players have NFC-based payments and that explains in-part why the global version of the fitness band didn't have the capabilities.
Tizenhelp reports that the Mi Band 5 is expected to have SpO2 or blood oxygen saturation, Amazon Alexa support and Women cycle features. This will be first Mi band version to have an SpO2 sensor as well as Alexa support. Also menstrual cycle functions and camera controller are expected to be coming to the Mi Band 5.
Update 1: On 27th May, a user from Weibo, one of China's biggest social media website uploaded two alleged images of the Mi Band 5, one showing the Band's display and another a plug-in charger. The leakster says the device is expected to retail at 200 yuan (~$28).
Advertisement - Continue reading below
Update 2: On 6th June, Xiaomi has showed a poster of the Mi Band 5 on its Weibo page, showing the wearable in four colorways: yellow, red, green, and black. The band is set to launch this week on June 11.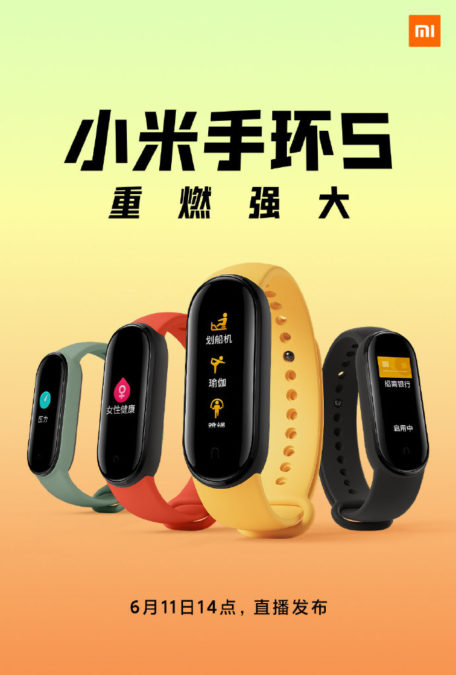 On price tag, the Mi Band 5 is expected to go for 179 yuan in China (~$25.31) in China. The price will obviously vary across the global and you can expect to topup about $5-20 to that official price tag. Even then, this is a lot cheaper than similar products from the likes of Apple, Samsung, Garmin and Fitbit.
Upgrade 3: The Mi Band 5 has appeared on Chinese retail website Gearbest selling at $39.99 for the Chinese version and $42.99 for the global version. According to the product page, the Mi Band 5 will feature for following;
Extra bigger dynamic color screen
magnetic charging
NFC uniopay Quickpass
Remote camera
Upgraded professional sensor
11 professional sports modes
new female health model
So, should you wait for the Mi Band 5 or simply go with the current Mi Band 4? Well, if you are to ask me, I think I don't see much of a major upgrade between these two version except for the slightly larger 1.2″ AMOLED display in the Band 5. NFC isn't that terribly useful if you aren't living in China although both Google Pay and Apple Pay have support for NFC payments. The Mi Band 4 is currently priced at $30 on Amazon or for our Ugandan audience Ugx 200,000 on computers.co.ug.
The coming Mi Band 5 is certainly going to cost slightly more for a not-so epic upgrade. So I would go for the Mi Band 4. But if you can wait and you really want to see what's new from Xiaomi, then you should probably wait for the Band 5.