The Xiaomi Mi band 4 is the latest band from Xiaomi and there's a lot to like about it. The company first released it in 2014. Now Xiaomi has iterated through the product with 4 versions now, the band 4 announced in 2019 being the latest. The product has been praised by pundits for its robust features at an unbeatable price of less than $50 globally.
The Band supports multiple languages including Chinese, English. It supports Android 4.4, IOS 9 and above and you can view more accumulated data using the Mi Fit App that you download separately.
Advertisement - Continue reading below
Mi Band 4 Full Specs
Release date:2019
Display: 0.95 inch AMOLED, full color touch screen
Colour depth: 24bit
Screen brightness: Up to 400 nits
Resolution: 120 x 240
Button: Single touch button (wake up, go back)
Connectivity: Bluetooth version 5.0 BLE; NFC on some models
Mass: 22.1 g
RAM: 512KB
Storage: 16MB
Battery: LiPo, 135mAh, 20 days of battery life
Sensors: accelerometer, gyroscope, PPG heart rate sensor, capacitive proximity sensor
Waterproof: up to 50 metres, 5 atmospheres
Read more: Fitness Band Buying Guide: 5 Features to Consider
Battery life
The Mi Band 4 features a LiPo, 135mA battery with at least 20 days of battery life. This is an improvement from the previous version which had a 110 mAh battery. I have tested my Band 4 and it gives me at least a week's battery life while actively using it and at least two weeks or more without much use. This is expected of a fitness band. Imagine picking up your band while going out for a run or Gym workout only to discover it's low on battery.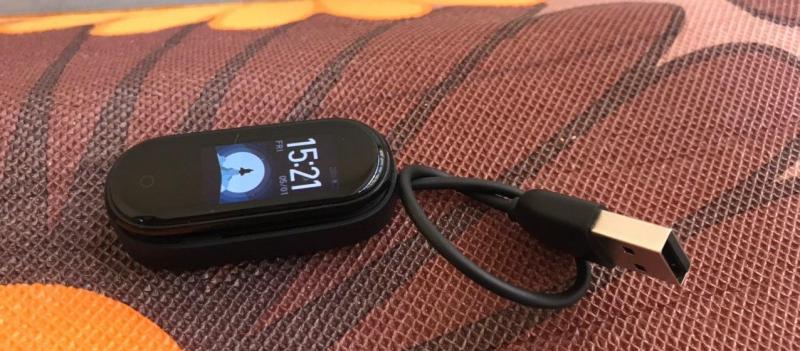 The Band is charged via an external USB adapter that attaches to the Band. But first you must take it out from its straps before you place it on the charger.
Heart rate monitor
Mi Band 4 brings 24/7 heart rate monitoring. The previous version, the Band 3 did not offer continuous heart rate display. The Band 4 uses a PPG heart rate sensor to do accurate heart rate monitoring.
For accurate results, fasten the band slightly above your wrist bone and then wait a couple of minutes. Heart rate is the speed of the heartbeat measured by the number of contractions (beats) of the heart per minute (bpm). A normal resting heart rate for adults ranges from 60-100 bpm. If you're doing vigorous activity such as speed walking or jogging, then it's about 100-160 bpm.
Advertisement - Continue reading below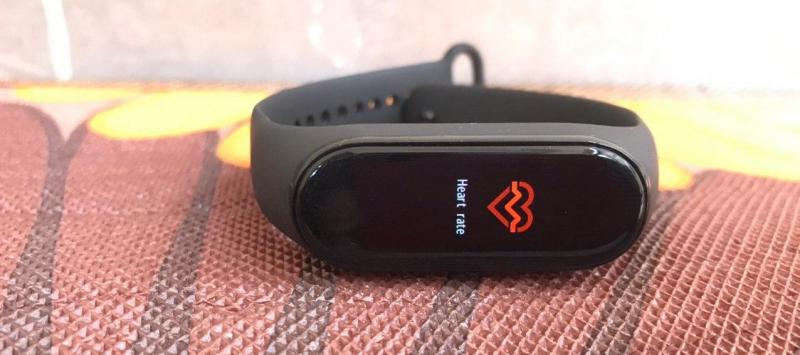 You can view your heart rate right from the band itself. But if you want historical accumulated data, then you view this from the Mi Fit App.
The band will buzz if the heart rate is low or higher than normal. Not related to heart rate monitoring, but the band will buzz when you stay in one place a while. As you know, a sedentary lifestyle isn't good for your health. Also included is sleep monitoring.
Display
The Mi Band 4 comes with a gorgeous 0.95 inch AMOLED full color touch screen with a colour depth of 24bits, screen brightness of upto 400 nits and a resolution of 120×240. This means you don't have to squint your eyes to look at it even on a full bright day outdoors. In contrast the Mi Band 3 spotted a smaller 0.78 inch OLED, single point touch screen.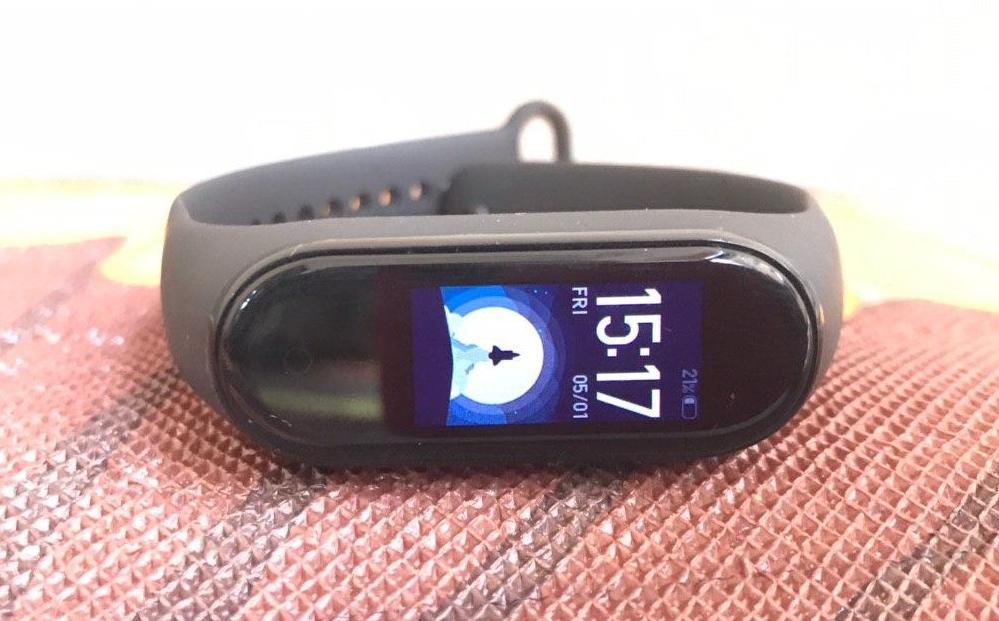 Besides these hardware specs, you can change the Fitness Band's display from several faces available through the App. Downloading the face using the Mi Fit App on your Smartphone and then syncing it to the Band takes about 2-3 minutes.
Fitness tracking
The core function of the Mi Band 4 is tracking your fitness. And tracking it does. The band comes with 6 workout modes; Treadmill, exercise, outdoor running, cycling, walking, swimming, Counting steps. The Band is waterproof up to 50 metres, 5 atmospheres which means you can go swimming or to the shower without worrying about damage to the device. So whatever workout you choose, you are most likely sorted.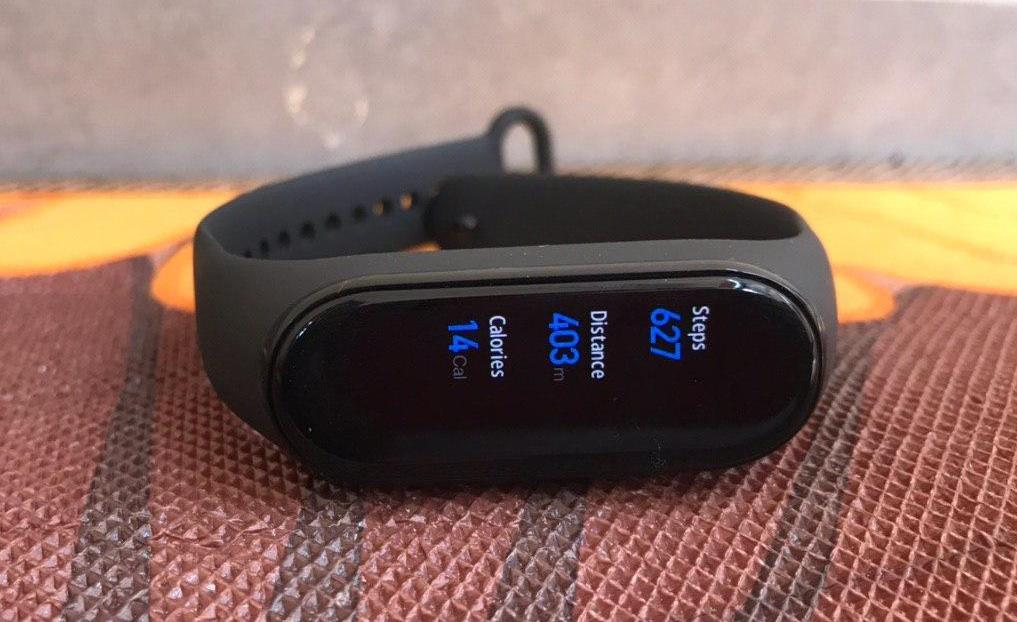 I personally use the band to keep track of my walking steps and jogging. You can set daily walking steps (the default is 8,000) and the band will keep track of how many steps you have done for that day. If you do jogging or a related workout, it'll keep track of distance covered and calories burnt.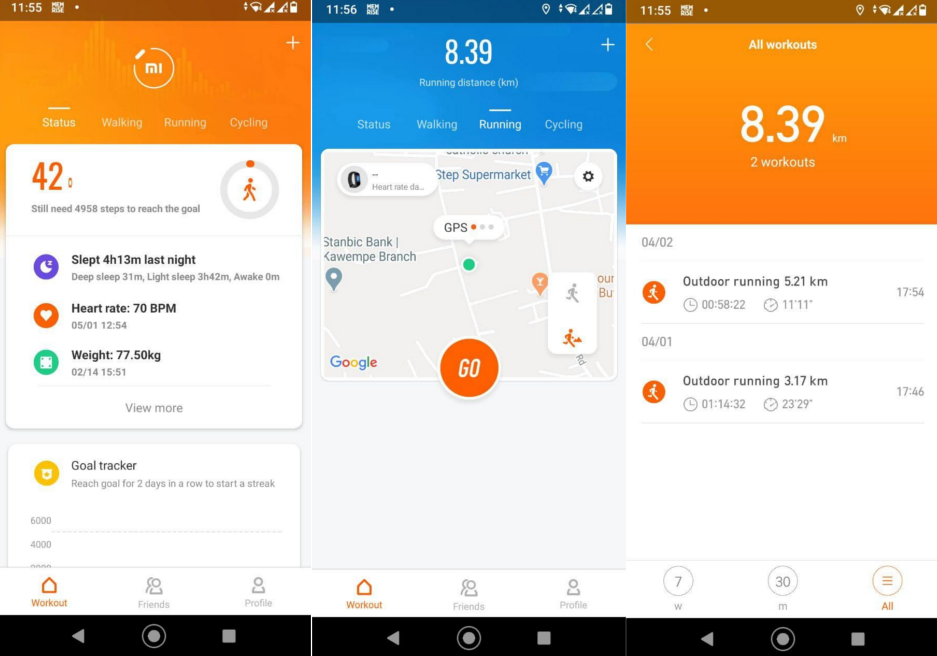 Now the Mi band 4 doesn't come with an in-built GPS unfortunately. However, when paired with your Smartphone, it uses the phone's GPS to accurately track routes and distance. Without the phone, it uses algorithms and a combination of accelerometer, gyroscope capacitive proximity sensors to tell distance covered.
Price
Price is probably the best part of Mi Band 4. Xiaomi is known for making premium products for the global market at affordable prices. The Mi Band 4 continues with that tradition with a competitive band at less than $50.
Advertisement - Continue reading below
The alternatives to the Mi Band 4 range from $49-70 and they include the Fitbit Inspire HR ($69.95), Huawei Band 3 Pro($49.99), Garmin Vivofit 4($49.99), Amazfit Bip($79.99), Samsung Galaxy Fit($69).
The band is currently priced at $30 on Amazon. For our Ugandan audience, it's at Ugx 200,000 on computers.co.ug.
Before I conclude, there's what's not to like about the Mi Band 4;
No built-in GPS. You have to pair it with your Smartphone inorder to use the GPS
No Automatic Activity tracking. You have to start and stop specific activities.
Otherwise, the Mi Band 4 is very much worth it.