The wireless earbuds market is so saturated, it's hard to separate the fakes, wannabes and real good stuff. This why the Apple Airpods standout as a premium option for those looking to get great earbuds. But if you're not an Apple fanby or are simply looking for a alternative, then you just might want to give the Anker Soundbuds Slim a chance.
These wired Bluetooth earbuds are mostly targeted towards those that are active physically; that is if you jog or do some sort of vigorous workout frequently. The earbuds are IPX7 sweat and water-resistant exactly for this purpose. They also have ear wings that lock tightly into your ear preventing them from falling out during physical activity.
Advertisement - Continue reading below
I have been using my own Anker Soundbuds Slim for over a month now. As someone who occasionally jogs, I have good things to say about these Earbuds. But as someone who also enjoys music, there's not much good stuff to report. That's because the earbuds have less bass, otherwise they do have crystal clear stereo sound for calls, podcasts and audio books.
Anker Soundbuds Slim Full Specs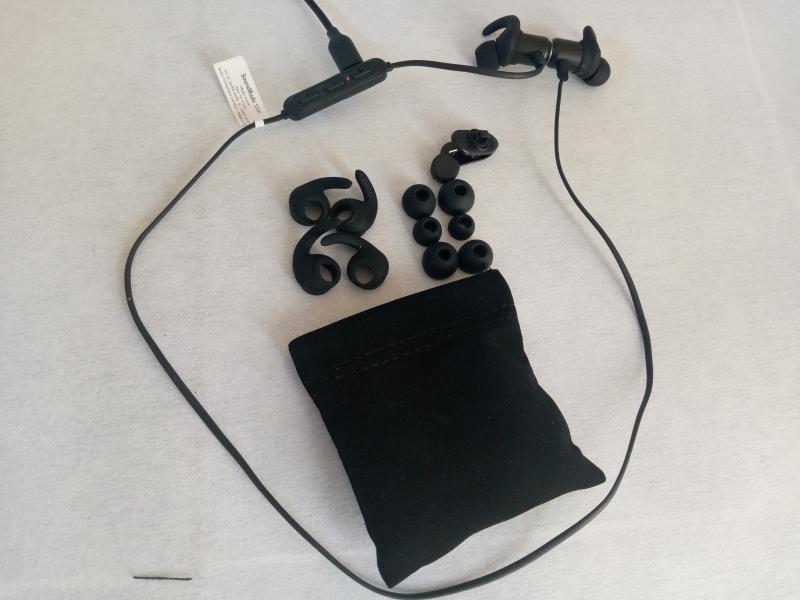 Input: 5V / 0.1A
Charging time: 1.5 hours
Play Time: Varies by volume level and content – 10 hours
Battery Capacity: 110mAh
Waterproof Rating: IPX7
Bluetooth Version: V5.0
Range: 10m/33ft
Frequency Response: 20Hz-20KHz
Driver (full range): 6mm*2
Impedance: 16Ω
Weight: 16g / 0.56oz
In the box: SoundBuds Slim, XS/S/M/L Ear Tips, S/M/L EarWings, Fit Clip, Shirt Clip, Micro USB Cable, Travel Pouch, welcome guide, our worry-free 18-month and friendly service.
Design and features
The Anker Soundbuds Slim are designed specifically for physical activity. You can tell from pair of ear wings that lock in well into your ears to prevent accidental fall out while walking, running or some sort of vigorous exercise. You have three different pair of earwings to choose from; small, medium and large. You also have three pair of eartips; small, medium and large. So chances are you'll find the best configuration that fits perfectly into your ears. To supplement this, both earbuds are held together by a wire that runs around your neck. I have been jogging with them for a month now and they have never fallen off while I am on the road.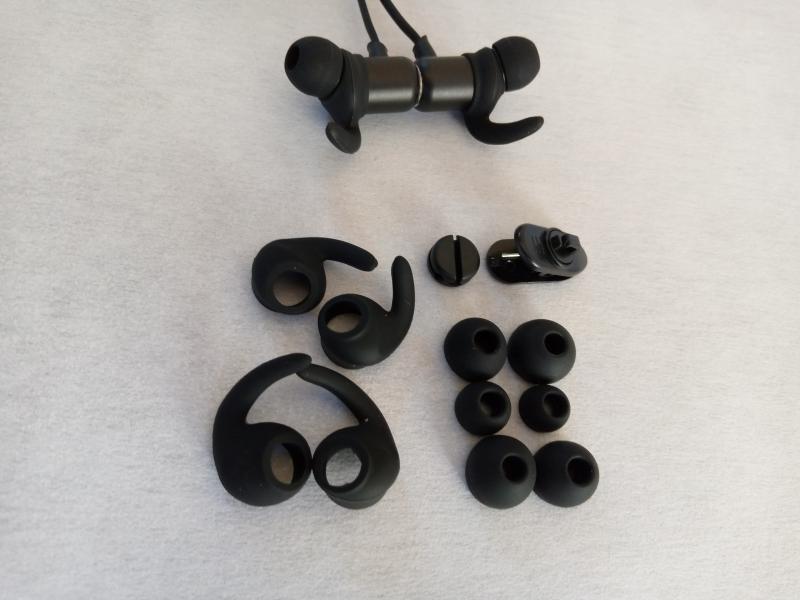 The earbuds are IPX7 water-resistant meaning you can take them swimming or jogging or workout at the Gym. The sweat from your body won't have any effect on the earbuds once again making them a good companion for the physically active users.
The Anker Soundbuds Slim earbuds have magnetic heads so they can snap together in such as a way that you can wear them like a necklace while not in use or put in the travel pouch. This is probably more convenient than other earbuds such as Xiaomi Airdots or Apple Airpods that you have to put back into their charging/storage case while not in use.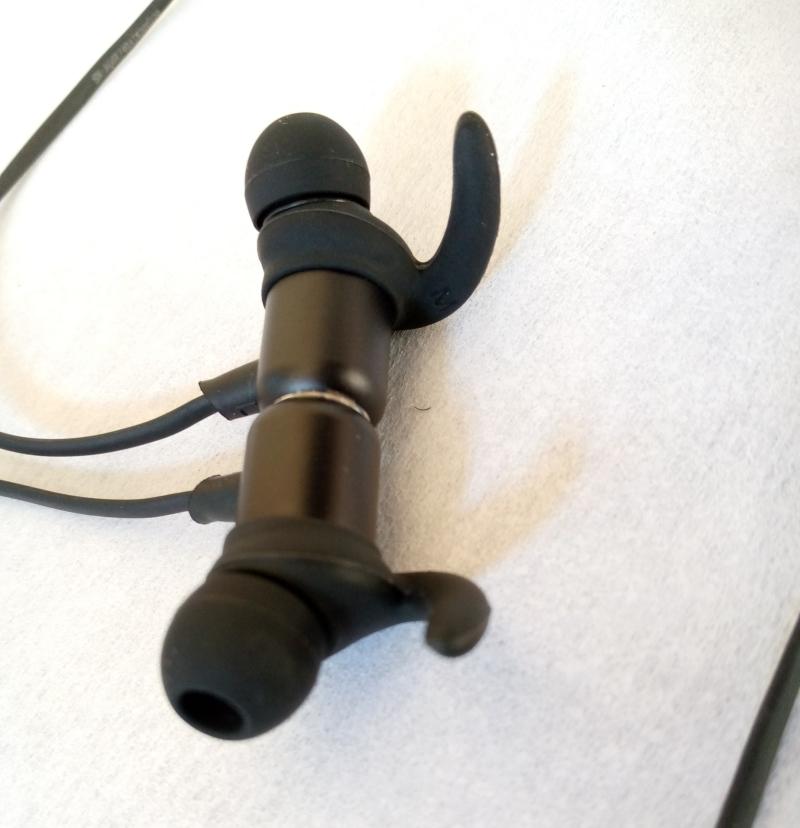 For controlling media playback and answering/ending calls, the Anker Soundbuds Slim have three buttons on one end of the wire. One for increasing volume, another for decreasing, skipping songs and the middle multi-function button for pause/play or talking/ending calls.
Advertisement - Continue reading below
Battery performance
With these Anker SoundBuds Slim, I was able to squeeze out an impressive 5-7 hours of battery life. They are powered by a 110mAh battery charged through Micro USB port. The Earbuds will light blue on full charge and Red when battery is low. They also have battery level voice alerts when you power them on. Also you can see the battery level from when they are paired with your Smartphone or tablet. The earbuds will automatically power off when not paired to minimize on battery.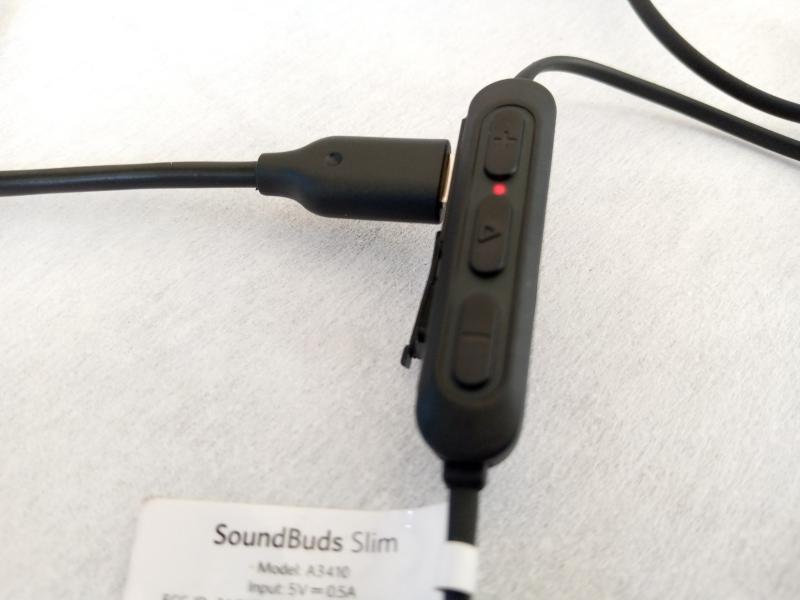 Sound quality
The SoundBuds Slim are great stereo sounding Earbuds thanks to High-Fidelity Audio 6mm drivers. If you are looking for abit of bass, then you're in the wrong place. The Earbuds have good balance of clear stereo sound with a bit of bass not good enough for the bass fans.
Bluetooth performance
The version that I have is are the upgraded SoundBuds Slim. The original version supported Bluetooth 4.1, but the latest ones I have support Bluetooth 5.0. The pairing is fast and less troublesome compared to other earbuds I have used such as Xiaomi Airdots. They support both iOS/iPhone 7 and Android phones. The buds have a good range of upto 10m although I have experienced upto 30 meters without barriers.
The best part about the Anker SoundBuds Slim Bluetooth performance is they can pair two devices at the same time. This is not very common among other wireless earbuds. So I can pair my SoundBuds Slim with my smartphone and laptop at the same time. That allows me to listen to music on my laptop and take calls from phone when it comes.
Price and where to buy
The Anker Soundbuds Slim cost about $25 on Amazon and come in Black, Blue and Red versions.
If you live in Uganda, you can get the same from Odukar store for Ugx 180,000 with same-day or Next-day delivery around Kampala.
Whatever your decision, if you are looking for great earbuds for your morning or evening workouts on the road or at the Gym, then the Anker Soundbuds are a great option for you. They come with 18-months warranty which should give an idea of the level of confidence Anker has its products.