Whether you looking for wireless headphones to keep you focused while working or keep you company while travelling or studying, getting a good headphone is always a good investment. Before Bluetooth headphones were a hit, we had wired ones that connected to your phone, laptop or tv via standard 3.5mm headphone jack. Now, the cool kids have moved on, so should you.
The Bluedio T7+ combine the best of the old and the new worlds. They have wired mode which means you can still fallback to using the good old wired headphone jack to listen to your jams. You won't have battery anxiety since there's no need of battery charge in this mode.
Advertisement - Continue reading below
In wireless mode, the headphones resort to using Bluetooth audio to play music. In this mode, the headphones must be paired to your phone, tablet or PC through the usual pairing process we all have come to hate.
Bluedio T7 Plus Full Specs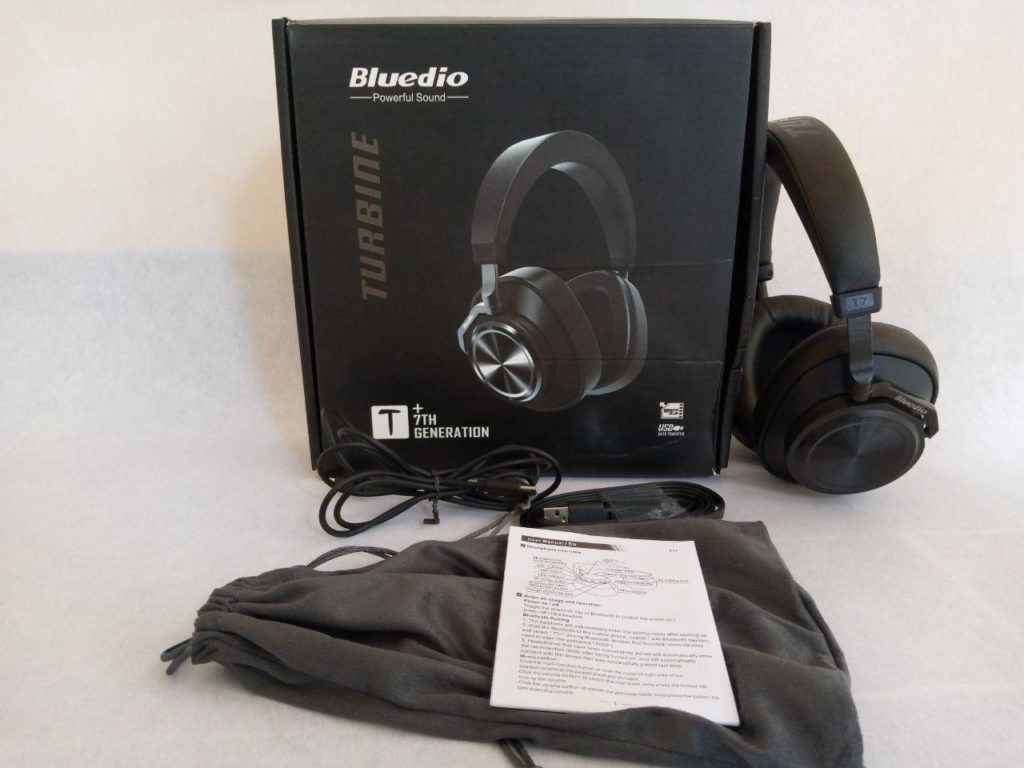 Bluetooth version: 5.0
Working range: 10 meters(free space)
Bluetooth profiles: A2DP, AVRXP, HSP, HFP
Driver unit: 57mm
Standby time: about 1,000 hrs
Music/Talk time: 35 hours
Playback on MP3: about 16 hrs
Charging time: about 2 hrs
Input voltage: 5v/>500mA
Output power: 50mW+50mW
Noise-cancelling sensitivity: -25dB
Impedence: 16 ohm
In the box
1 x Headphones
1 x 3.5mm turn TYPE-C audio cable
1 x USB TYPE-C charging cable
1 x Flocking bag
Design and features
The one thing that Bluedio has done really well with these headphones is the design. Almost everyone who has used my Bluedio T7+ has praised their sturdy design. The headphones come with soft protein earpads that are more comfortable on your ears.
Rather than go with the usual foldable design that's quite common with wireless headphones, Bluedio opted go to with 90° swiveling earcups. With this design the headphones can be placed flat on their box or carrying bag making them easy and safer to carry.
These headphones also have a metallic headband making them more durable than the plastic counterparts I have seen.
Advertisement - Continue reading below
Now on the right headset shell, you have Microphone for noise cancellation, ANC indicator, ANC switch, LED indicator light, Bluetooth power on/off button, Shift key for ANC/MP3 power button and USB-C charging port/Audio jack. On the other side of the same headset shell is an SD card slot, Volume up/down buttons, Multi-functional button, Air leaking hold and Microphone to talking calls. That's a lot to unpack, but does it work?
Intelligent Playback: The first thing you'll immediately appreciate about the T7+ is what Bluedio calls "Intelligent Playback". The music will pause when you remove the headphones from your head and play again when you put them back. Wow what a nice feature.
Update: After using the headphones for 6 months, I discovered that the headphones sometimes falsely pause music playback even when you didn't to. The sensors get it wrong sometimes. This can be annoying. I have had to turn this feature off through the Bluedio android App.
MP3 Music Mode: The headphone also comes with Micro-SD card slot on the top of right headset shell. Instead of pairing with your phone or laptop to play music, you could just play it from a Micro SD card. The phone has a MP3 power button for turning on MP3 Music mode.
Bluetooth performance
The first things I always want to find out with wireless Bluetooth anything is the Bluetooth performance. These Bluedio T7+ ship with Bluetooth version 5.0 which is the latest standard. I have not found much trouble in the pairing process really except there's one quirk. The Headphones will appear as "T7+" and "T7 Sterio" the first time you pair them. Ignore "T7 Sterio" and instead on T7+. You have to switch on/off Bluetooth using the Bluetooth switch on the right headset shell. Once paired, you'll see the headphone battery levels displayed as well as battery level voice alerts whenever you power them on.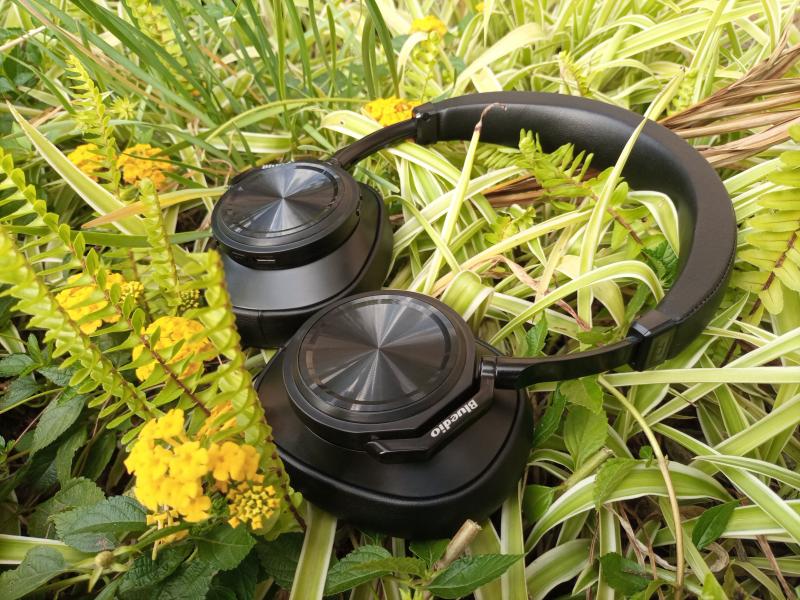 Once the headphones are paired with your phone the first time, they enter reconnection mode where they automatically connect to the last or previously connected device once you power them on.
On range, the T7+ can go upto 10 meters and even farther where they are no obstacles.
The Only thing I didn't like about Bluetooth performance is the fact that you can only pair with one device at a time. Some headphones now allow upto two devices concurrently. So if you want to pair with your laptop for instance, you'll have to disconnect from your phone for instance.
Battery performance
These Bluedio T7+ will take you the whole day depending on your playback volume levels. Bluedio promises about 35 hours on battery while pairing and 16 hours on MP3 Music mode. Now Bluedio hasn't declared the actual battery capacity of the headphones but I have to say that I have not been disappointed.
The headphones are charged via USB-C port which also doubles as the headphone jack port. In the box, Bluedio ships a USB-C to standard USB-A cable which you use to charge the headphones. Bluedio is clearly thinking ahead since USB-C is now the standard the industry is adapting for almost everything. It takes about 2 hours to fully charge the phones.
Advertisement - Continue reading below
In the box is also USB-C to 3.5mm headphone cable for using the headphones in wired mode where you plug them directly to standard 3.5mm headphone jack on your phone or laptop. However, you'll have to turn on Bluetooth mode first to listen to music using the cable. The advantage is that you don't need to worry about battery/charging.
Sound quality
If you are looking for headphones on budget with good bass-intensive listening, then the Bluedio T7+ are a good choice. I have listened to Hip Hip, R&B jams with these and I was really surprised the sound quality you get from these $43 headphones. These headphones are not the loudest I have tried. You really have to turn up the volume to get that great punchy bass sound.
The headphones come with Active Noise Cancelling(ANC) which you can turn on/off using an ANC switch on the right headset shell. When you turn on ANC, you'll hear a clear difference with ambient surrounding noise around you. You almost can't hear anything. And you can tweak the ANC levels according to your preference.
Tips and tricks
When pairing the first time ignore "T7 Sterio" and instead tap on "T7+" in available devices.
The headphones will automatically pause/play music when you remove/put back headphones on your head.
To use the headphones in wired mode, but off Bluetooth with the Bluetooth switch.
Turn off the headphones before charging. The red indicator light will come on while charging and turn blue when they're fully charged.
Switching between MP3 Music mode and Bluetooth mode is as simple as switching off the Bluetooth mode with the BT switch and turning on MP3 mode.
Toggle Active Noise Cancellation(ANC) using the ANC switch which should light blue with ANC mode is turned on.
Price and where to buy
These Bluedio T7+ are available on Amazon for $43.
If you live in Uganda, our favorite store Odukar doesn't have them yet in stock, but you can instead the MPOW 059 wireless/wired headphones which are a great alternative. We are told they'll be stocking the Bluedio T7+ soon if you can wait.