There comes a time in our lives when we just want to unplug from the matrix for whatever reason and live a little in the real world. A number of my friends actually deactivate their Facebook accounts and go AWOL for weeks or months on end to re-energize. It's perfectly fine and highly recommended.
Telegram messenger though like so many other social apps doesn't have a straightforward deactivate option. Think of the lyrics to the Eagles jam, Hotel California. You can check out anytime you like, but you cannot leave. Jokes aside, you actually can nuke your telegram account quite easily, although the process isn't straightforward with good reason.
Advertisement - Continue reading below
Before deleting your Telegram account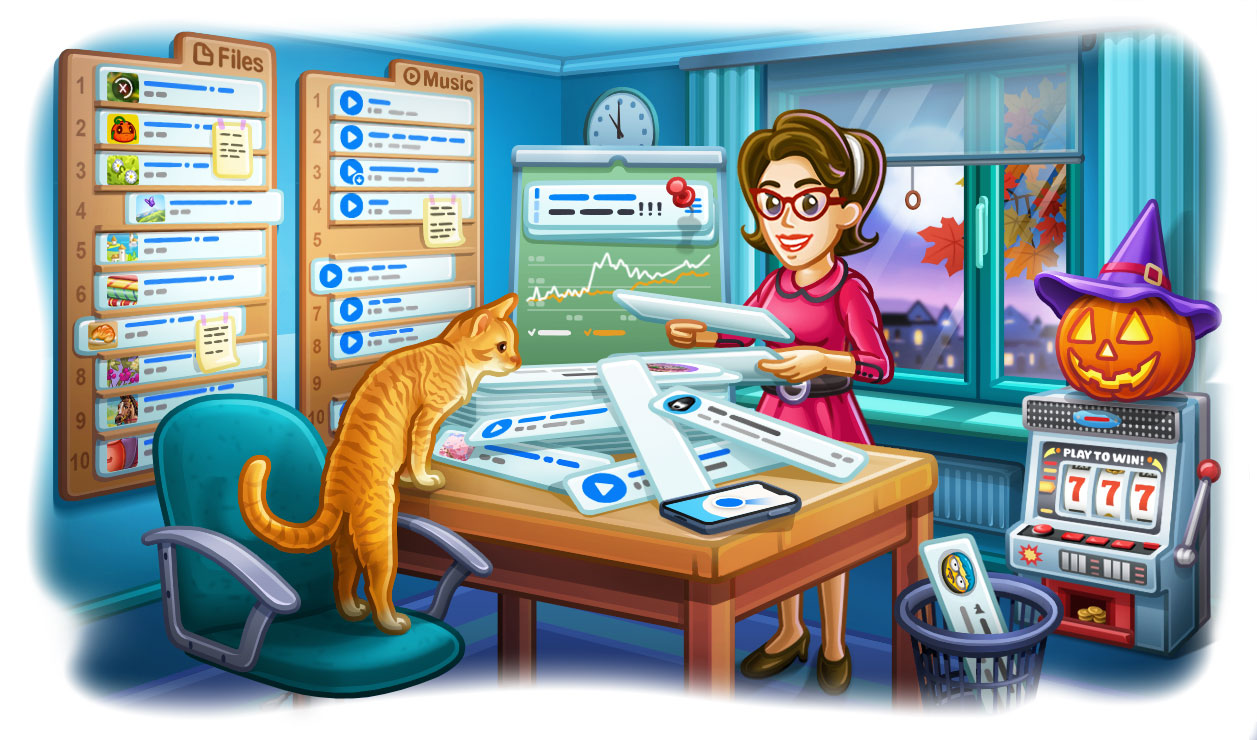 Telegram places hurdles on deactivating your account for a number of reasons, partly for your benefit, partly because they genuinely don't want you to go. But if you must, here's something to keep in mind;,
Account deactivation is irreversible
Deactivating your account erases media, contact lists, messages, groups, and channels permanently.
You won't be able to restore previous messages, contact lists, channels, and media even if you sign up again with the same phone number.
You could change your number instead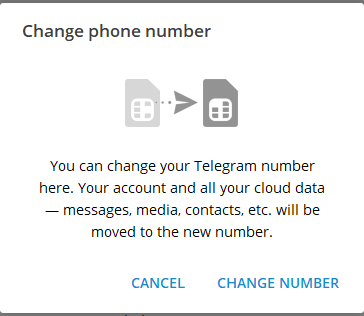 In the event that you're hiding from somebody who has your telegram number already saved, perhaps you don't have to deactivate your account just yet. A sensible thing to do would be to simply change your account to a new number they don't have saved.
Your account and all the cloud data comprising messages, contacts, media etc will be moved to the new number. Once done, you can then terminate your old account with extreme prejudice. 
Go on menu and tap on your profile picture
Under Account, tap on your phone number
Tap on Change Number and begin the transition to a new number
Export your data while you're at it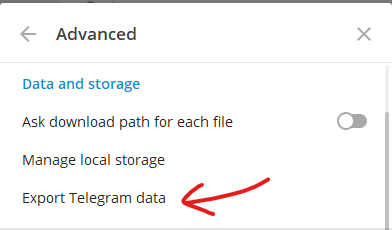 If changing to a new number is not an option, a good old backup comes in handy. We spend so much of our lives in DMs and it would be a shame to lose all that. Unless a clean slate is what you're after.
There's an option to export all your data. Unfortunately, you still only find the feature on the desktop app. On your PC, head over to;
Settings > Advanced > Export Telegram Data.
Advertisement - Continue reading below
You can save just about anything, from account information, contacts list, personal chats, bot chats, private/public groups, private/public channels, media, active sessions and miscellaneous data you might not even know about.
This way you have something to reminisce over in the months to come. The formats can either be human-readable HTML or machine-readable JSON format. Take your pick.
---
Related: How to Create an automated Telegram Bot to post in your Telegram Channel/Group
---
Telegram account Self Destruct: The easy way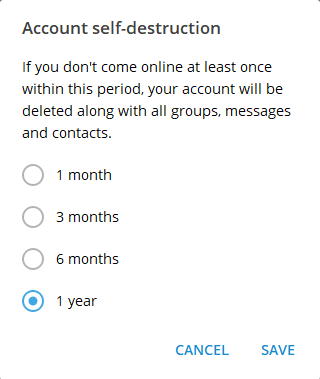 Telegram offers a dead easy option to delete your account. Once set, your account will go the way of the dodo if you don't get online in a certain amount of time i.e 1 month, 3 months, 6 months or 1 year. 
It goes without saying that your messages and media will be automatically deleted one the grace period expires. What I like about this is that it gives me time to decide whether I should rescind my command.
Go to your Telegram Settings
Tap on Privacy & Security.
Scroll down until you see *Delete my account* if away for…
Adjust the time frame based on your preference (1 month, 3 months, 6 months or 1 year)
If you abstain from using Telegram for the set time, Telegram will do you a solid and erase your messages, media and whatever else.
Delete your Telegram account from the website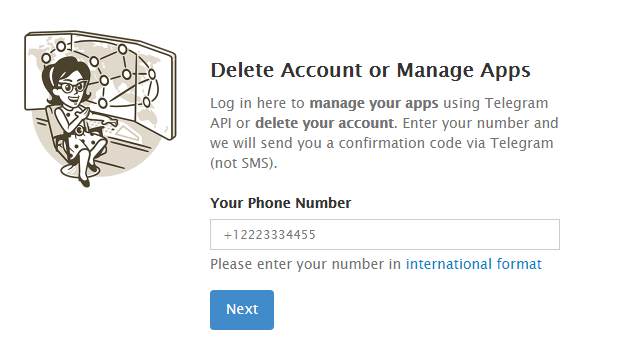 If you're in no mood for all that hullabaloo and just want to delete your telegram account ASAP and be over with it, this one is for you. Remember that deleting your account this way will nuke everything from messages to contacts, groups, channels.
You might also not be able to sign up again for Telegram for some days after deleting your account. If it's all well with you, then let's proceed.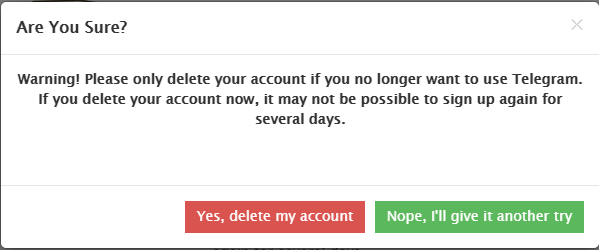 Enter your Telegram number to receive a confirmation code
Enter the confirmation code to proceed
Verify the number that you are deleting.
Leave a reason for leaving Telegram. Or not.
Done

Photo by Christian Wiediger on Unsplash
Advertisement - Continue reading below