Users can now buy and sell Bitcoin on Chipper Cash, a platform that allows you to send and receive money across the African continent. This is a big deal for the company as it would help to popularize crypto on the continent.
The African payment startup has been around since 2017. It was co-founded by Maijid Moujaled and is now present in a number of African countries including Ghana, Kenya, Nigeria, South Africa, Rwanda, Tanzania, and Uganda.
Advertisement - Continue reading below
In June 2020, Chipper Cash raised up to $13.8 Million in Series A funding. As at the time of the raise, the platform boasted of over one and a half million users and over $100 million dollars a month in transaction volume.
The recent inclusion to transact Bitcoin on Chipper Cash seems brilliant. For one, it expands the options of current crypto traders using the platform. On the other hand, it exposes non-crypto traders on the platform to the possibility of trading.
On the Chipper Cash mobile app, you can buy and sell Bitcoin under the "Invest" section. This makes it appear attractive to users. Although there's a disclaimer on the app that attests to the volatility of the crypto market when a user shows interest.
On the app, users can see a chart that shows the price fluctuations of Bitcoin. This can be customized to show for the previous hour, day, week, month, year, or overall chart.
In this post, we'll detail out the steps on how to buy and sell Bitcoin on Chipper Cash.
Buy and Sell Bitcoin on Chipper Cash
Follow the steps below to do this.
Advertisement - Continue reading below
Download and open your Chipper Cash mobile app.
Tap on the "Invest" icon at the bottom of the app homepage.
You'll see a disclaimer that tells you about the volatility of Bitcoin. Tap "I Understand, Continue" to proceed.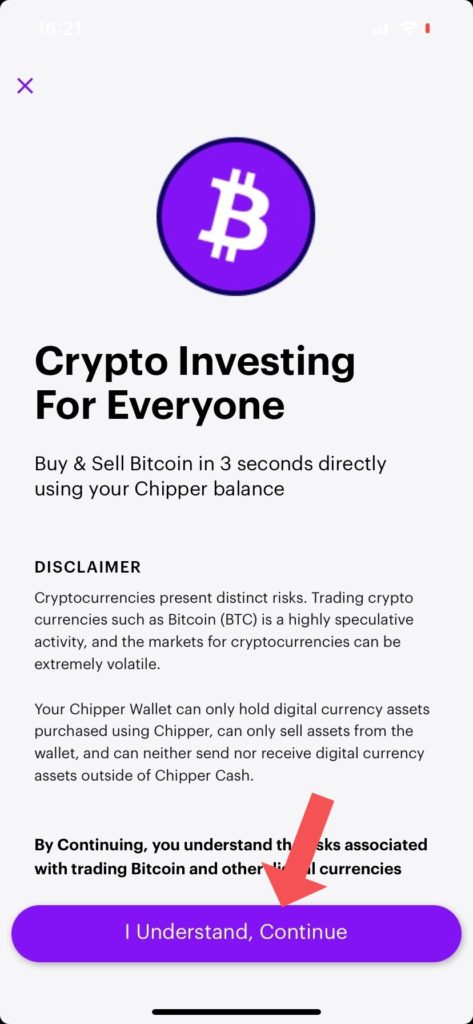 Tap on either "Buy" or "Sell" on the next page depending on what you want to do.
Enter the amount (in your local currency) that you want to buy or sell.
Choose "Next."
Confirm the details and click on either "Buy Now" or "Sell Now."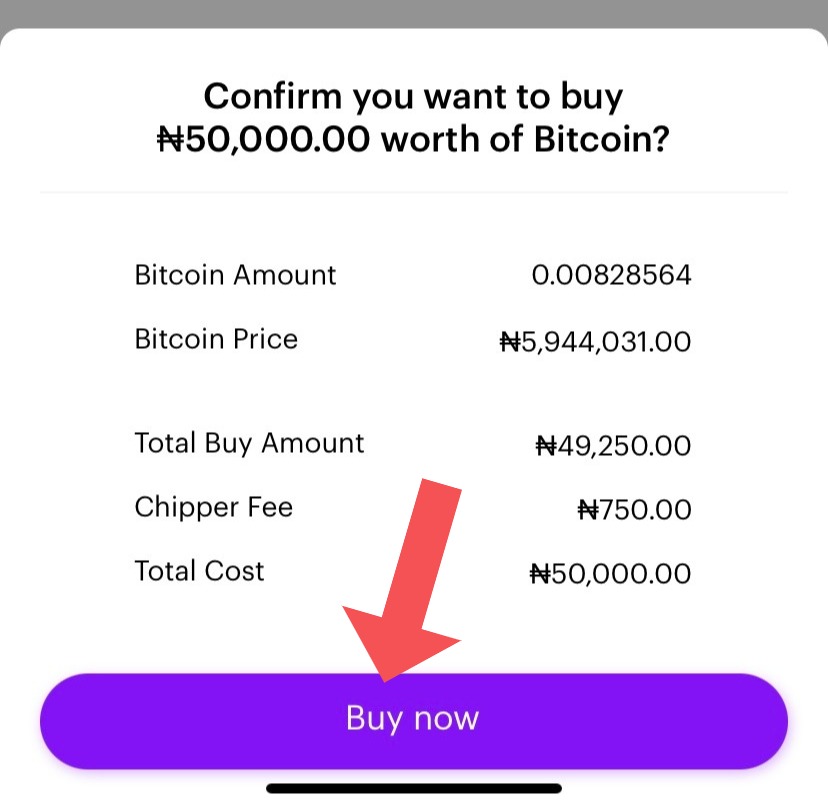 Important note: If you prefer to use other platforms (like Binance, Paxful) to trade Bitcoin or other cryptocurrencies, you can use Chipper Cash as a payment method by adding your wallet to the platform.
This is an important addition by Chipper Cash and we're positive the reception will be great. Even as we anticipate an expansion to trade other coins asides from Bitcoin on the platform.
Tell us in the comments section if you're stuck at any stage or have further questions on buying and selling Bitcoin on Chipper Cash.