Along Kampala Road at the Uganda Post Office building used to be an old and rusty tourist Map of Kampala City. The objective of this map was simple; to guide first-timers — that included tourists from abroad and locals from other towns in the country — around Kampala city.
Well, maybe that map has now outlived its purpose thanks to Mobile technology or even more, the Uganda Guide Mobile App. The App developed by The Pearl Guide boosts itself as Uganda's first tourism mobile app, the ultimate travel guide to Africa's most diverse and traveler-friendly country with clear maps and detailed coverage of all the best Uganda attractions.
Advertisement - Continue reading below
Among a myriad of Apps developed for Africa by Africans, we found this one very appealing. So we put it to our testing Labs as we've done with many other innovations.
Say hello to your mobile travel directory
No doubt the mobile App contains a vast amount of travel information on Uganda anyone could find on a mobile device. The pearl guide has managed to zip all there's you need to know should you want to go on a vacation or visit Uganda. The App has basic information about Uganda as a country such as the capital city, People & language, currency, weather, public and private transport among other things that you can get right from the home screen.
You will also find a list of hotels, guest houses, apartments, safari lodges with contact details like an email and phone number that you can contact instantly from your mobile device. All this is very convenient since pressing any of these will immediately bring the phone dialer or email client right-on without having to go through the error-prune copy-paste method you would otherwise do on web directory.
Beyond where you wish to stay, you will find transportation such as Taxi cabs, car rentals, health services, entertainment centres like casinos where you can bet, cultural dancers, Embassies, shops and malls should you want to do shopping. The Uganda Guide App is truly your travel buddy.
Fun activities for you
The App provides a recommendation of activities to have some fun — after all travelling is about having fun, right?  This can be accessed from the "Things to do" option on the home screen. You'll find things like Bird watching, Boat trips, Bungee jumping, Golf, Mountain biking, Quad biking and the famous White water rafting on the River Nile. Amazing, uh. However, when you click on one of those activities, the App doesn't show you where or how to go and enjoy your fun activity which we found quite odd. We would expect that should a user press "Bungee Jumping" for instance, then beyond telling me how adrenaline-packed and thrilling it is, the App should help me go bungee jumping should i want to.
Advertisement - Continue reading below
Travel toolkit with you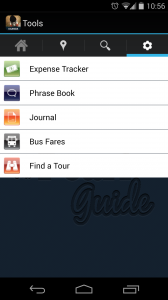 The App goes beyond giving you all the travel information you need to actually providing a toolkit of what you may need on your safari which we found thoughtful. The toolkit isn't all that comprehensive yet, but has the basics. For instance, under tools, you will find a journal where you can record your journey in words and pictures that you can share with your family and friends or keep precious memories. You will also find a bus fares tool that calculates bus fares to common destinations around the country so you won't be cheated. A phrase book with common phrases that you may need in your getting around the country could come in handy for tourists that don't know the local language. However, its odd that phrase book instead has words(which of course the tourist doesn't understand) instead of sounds that could be played back and memorized.
What we liked
# Has rich information about travel in Uganda all packed in one Mobile App. The App is truly a travel directory on mobile with contact phone number and email of great destination places. The pearl guide claims to have about 1500 locations around the Uganda where you can find the must-see sights and attractions, the perfect hotels, choice restaurants, apartments among others. Going by what we see, it might as well be true.
# The App is multi-platform available on the web, iOS and Android. That's really great! Irrespective of your mobile phone operating system apart from Windows Phone, you'll use the App.
# Design is way beyond the average local Apps we've reviewed so far. Of course we are a little forgiving with the typography but we couldn't be more lenient with the Images. Ironically, the Pearl guide website has stunning images, but we don't know why they didn't do the same with the App!
What we didn't like
#While the App is full rich information, it lacks a vibrant community. There's no community whatsoever in the App which is odd especially for a travel-guide App that has several people doing various activities that they perhaps could share. We didn't find user reviews, comments, photos uploaded by travellers etc. Contrast this to similar Apps like TripAdvisor and you quickly see the App is missing something significant. Again the developers say, they will include these features in version 2.0 which we look forward to.
# The App while has a wealth of information doesn't get you to do stuff. For instance while it has a list of hotel and restaurants you can sleep in or have your favorite cappuccino, it won't let you do a booking or order that cappuccino instantly. We think that the reason you want to check out cinemas in Kampala is also so that you can buy a ticket and go watch the movie.
On this  Philip Kalibwani, the business development manager, said there's lack of standards in the hospitality industry in Uganda that inhibit a more mature ecosystem. He gives an example of the UK where one standardized accommodation booking mechanism is utilized and it is also standard habit that at the beginning of every year, members of the hospitality industry submit all new year rates to all tour operators and publicly display them on their websites and promo material. Unfortunately this isn't the case in Uganda.
Advertisement - Continue reading below
#Branding: Is it "the pearl guide" or "Uganda guide app"
You couldn't help noticing a bit of a branding confusion here. The pearl guide decided to name its App the "Uganda guide App" which is confusing for first-timers or those who already know the pearl guide from the website. Chances are, someone would search "the pearl guide" in the app stores. When we asked about this discrepancy,Philip said it was for SEO(Search Engine Optimization) reasons although they indeed need  to harmonize the branding in version 2.0 of the App.
Bottom line
Ultimately the pearl guide is a glimpse into the future of tourism and travel in Uganda. While the App does a lot more than the rusty tourism guide on Kampala road, there's a lot more work to do to deliver a truly great travel experience to mobile users.
Rating
3.5/5
Download links