Are you looking to redeem free internet data, SMS, or voice bundles from any of the top two Telco companies in Uganda? Well, here's a step-by-step course of action on how you can earn yourself those free bundles.
Some of the processes are renowned and advertised campaigns while a bunch is hacks I have picked along the journey of trying to earn something from all the available services offered by the telcos.
Advertisement - Continue reading below
1. MTN Uganda Senkyu Loyalty Program
MTN Senkyu is the loyalty program from MTN for its customers. The Senkyu program is a bit of a household campaign lately as MTN has thrown its marketing muscles into educating customers on how to earn and use the loyalty program points.
Customers earn points upon joining MTN Senkyu for the first time. Extra bonus points are earned on days like birthdays and MTN anniversaries.
The majority of the points are earned when an MTN customer uses MTN services including buying airtime and internet bundles, making phone calls, using the internet, using MTN mobile money, and subscribing to Rich Media Services (SMS).
In summary you'll earn points when you;
Load airtime
Make a call
Send an SMS
Use data
Subscribe to Rich Media Services
Buy voice, data, combo, or contextual bundle using airtime or MTN MoMo
Use MTN MoMo to carry out any revenue-generating service
Deposit MTN MoMo on their wallets.
Dial *141# or use the MyMTN app to join MTN senkyu loyalty program.
How to Use Senkyu Points
Dial *141# and select Use Points to get any of the following:
Advertisement - Continue reading below
Voice minutes
Data MBs
SMS units
MTN MoMoPay
Alternatively, you can open the MyMTN app and navigate to the side menu to the MTN Senkyu page to redeem the benefits. The beauty of using the app is that it shows you the maximum number of SMS or voice bundles you can get with your current points.
2. Download the MyMTN App
MyMTN App is an all-in-one, self-care tool enabling customers to self-serve and engage with MTN customer service online.
The app is available for all smartphone users. Download for free from the Apple App Store for iPhones and Google Play Store for Android devices.
When you download the app and log in with your MTN number for the first time, you will automatically get free 200MBs of open data to browse the internet.
3. MTN Ramadhan Data
Ramadhan period is here and MTN is showing its appreciation to the Muslim community by offering free 100MBs worth of data and 30 minutes voice bundles to make phone calls.
To enjoy this offer, you will have to load airtime to your MTN number using mobile money and enjoy the free data between 12:00hrs to 06:00hrs every night. A quick reminder is that you have to recharge airtime daily to be able to use this service. Dail *131*4# to check your remaining MTN Ramadhan data balance.
---
READ ALSO: How to Buy Airtime and Internet From MTN to Any Teleco Network in Uganda
Advertisement - Continue reading below
---
4. Free Monthly 20MBs Data
The free monthly 20MBs from Airtel Uganda has come a long way and it's virtually the only campaign from the red team that hasn't changed way, shape, or form since its induction.
At the beginning of every month, Airtel customers get free 20MBs worth of data and all they have to do is dial *175*9# and select Free 20MB to enjoy the offer.
5. Refer and Earn Program on MyAirtel App
The myAirtel app is a one-stop center for all Airtel services such as buying data, voice and SMS bundles, bill payments, and combos. Additionally, all mobile money services including bank and wallet money transfers are only a few taps away.
The Refer and earn program is exclusive to people who have downloaded the MyAirtel app only.
Refer a friend by copying the link from the app and earn up to 50MBs of data whenever that colleague downloads the myAirtel app through your referral link.
Your friend, on the other hand, gets up to 200MBS worth of data when they use your link to download the MyAirtel App.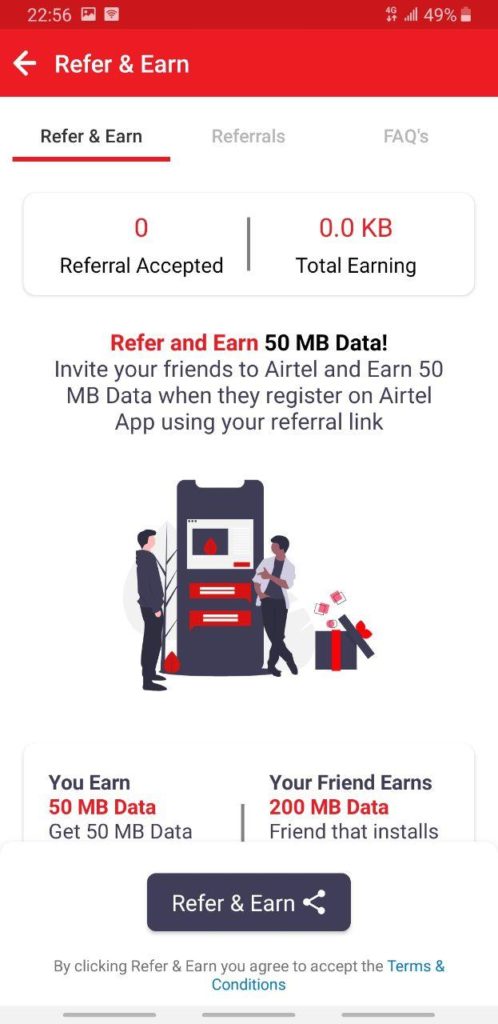 Do you have other hacks to get free data, SMS or voice bundles from either Airtel or MTN? Let us know in the comments.
Advertisement - Continue reading below