Airtel Uganda has launched a new credit initiative that allows customers to get a new smartphone they want and pay back in installments. They call it "Kwata Essimu" and it is in partnership with Asante Financial Services Group, Mastercard, and Samsung.
Customers will get a chance to own selected Samsung 4G gadgets that include; Samsung A01, A3 Core, and A11. The new Airtel's Kwata Essimu service has a favorable re-payment timeframe ranging from 3 months, 6 months, 9 months, or 10 months period.
Advertisement - Continue reading below
The Pitch
Smartphones and internet access have become an integral part of lives and the pandemic just made the demand even more important as a lot of our daily activities have moved online. From entertainment to educations, things we use our gadgets for is unimaginable at this point of the year.
According to Uganda Communication Commission's Q3 2020 report, the telecom sector has registered an increase in subscribers. From 26.7 million in 2019 to 28.4 million by end of 2020, translating to 1 million new subscribers. However, the total number of newly connected smartphone users remains fluctuating. A total of 530,000 new smartphones were hooked to the terminal in Q4 of 2020.
Speaking at the launch of the Airtel Kwata Essimu service.
Manoj Murali, Managing Director Airtel Uganda said: "Our mobile money services are changing customers' lives across Uganda. This innovative partnership will help Airtel feature phone customers upgrade to smartphones and pay with Airtel Money on flexible installment plans. This opens up the digital economy and creates additional opportunities for Uganda's entrepreneurs."
---
Read More: MTN Kabode is a 4G smartphone you can buy in installments
---
How to Get Started with Airtel Kwata Essimu
The Kwata Essimu service is based on Airtel Money as the major gateway to be able to get the Samsung smartphones on credit and pay later. Your Airtel money transaction history translates to the model you can get.
Advertisement - Continue reading below
As a value addition to the users of Airtel's loan service 'Wewole', their loan repayment history will act as a benchmark on what smartphone they can acquire and it's a much better bet than the mobile money transaction history.
Here are the steps of how you can get started with the new Airtel Kwata Essimu credit scheme;
Step 1: Grab your Airtel number and dial *284*49#
Step 2: Your current eligibility status will be displayed, if you're eligible for the service, you can select the preferred smartphone model from the available list.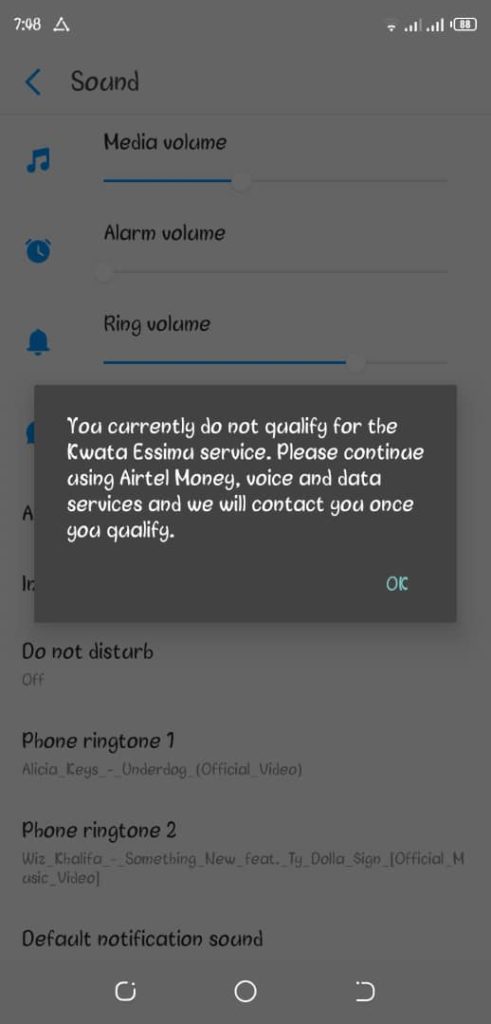 Step 3: Choose your preferred Samsung smartphone model—between Samsung A01, A3 Core, or A11 with their repayment options.
Step 4: Once done, you will be required to visit the nearest Airtel service center with an original National ID card to pick your Smartphone and deposit an initial payment.
At the Airtel service center, you will sign the final paperwork plus detailed terms and conditions. What isn't clear at the moment is the initial deposit amount as it seems like they vary from each model of the phone. We shall update the article as we try to secure one device and test out the process for you.
For now, let us know in the comment section if you will be getting a new Samsung phone with the Airtel Kwata Essimu.
Advertisement - Continue reading below