Imagine creating an Instagram account for your business and it gets banned or deleted by Instagram. All the resources (time & money) invested into building your audience, followers, and customers…gone!
This has happened to many Instagram users' most likely because they violated Instagram's terms of service or community guidelines. To avoid this gruesome experience, we've listed some actions (you should avoid) that can get you banned on Instagram. Check them out.
Advertisement - Continue reading below
---
Related Article: How To Convert A Personal Instagram Account To A Business Account
---
Types of Instagram Ban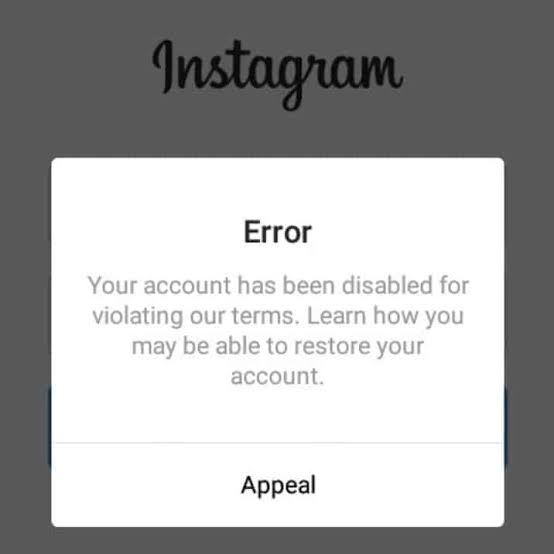 Action Ban
An action ban typically happens when you exceed the number of actions you should perform on Instagram within a time frame. For example, liking too many posts and following too many people too quickly. These could get your account blocked by Instagram.
Action blocks are usually temporary and you will get your account back up and running after a couple of hours or days.
Shadow Ban
When you get shadow banned, your content gets limited reach and visibility; it doesn't show up in hashtags or on anyone's feeds on Instagram, unless they already follow you. This can happens when you use broken/ banned hashtags or your account is often reported by other users.
Permanent Ban
In this case, your account gets permanently deleted from Instagram and you will no longer have access to it. When this happens, you're almost never going to get your account back.
---
Related Article: What Happens When You Delete Your Instagram Account
Advertisement - Continue reading below
---
5 Actions That Can Get You Banned On Instagram
1. Using Automation Tools
Although automation tools are very effective in managing and growing your Instagram page, using them is against Instagram's terms of use. If Instagram finds out, you will get banned from using the service permanently.
2. Buying Fake Likes and Followers
Buying fake likes and followers is common on Instagram. According to Instagram's community guidelines, buying fake followers is officially banned and is considered fraudulent.
If you're lucky, Instagram will only remove the fake followers from your account when you're caught. Otherwise, your Instagram account will get banned.
3. Promoting and Selling Illegal Products
According to Instagram's terms of use; You may not use Instagram for any illegal or unauthorized purpose. Therefore, selling products that are illegal in your location (for example, guns), can get you in trouble with Instagram.
4. Posting Sexual, Inappropriate, or Copyrighted Content
Instagram takes posting sexual content very seriously. In its terms of use, it says; You may not post violent, nude, partially nude, discriminatory, unlawful, hateful, infringing, pornographic, or sexual suggestive photos or other content via the service.
Copyright infringement is also a serious issue on Instagram. Make sure you post original content, and in cases where you use people's content, be sure to take permission. If you don't, the content owner can report your account to Instagram and you will get banned for breaching Instagram's copyright rules.
5. Spam Comments and Direct Messages
When you constantly duplicate (copying and pasting) comments and direct messages to lot of different Instagram users, Instagram considers this as spamming and warns against this in its community guidelines.
In conclusion, to avoid issues with Instagram account restrictions in future, we advice that you pay attention to Instagram's terms of use and community guidelines.
Advertisement - Continue reading below