Demands for eLearning and EdTech (Education Tech) platforms spiked during the COVID pandemic as parents and schools sought new ways to serve students in a virtual environment.
Now the question looms: Will the rapid growth continue when the world settles back to something closer to "normal?" At least we are noticing the trend been accepted and indulge in student's lifestyles as more and more platforms sprung up to fill the void in different domains of online studies.
Advertisement - Continue reading below
There's a tremendous amount of innovation happening in the education industry. Here is a list of eLearning platforms and EdTech startups in Uganda doing phenomenal work to make learning easy for students nationwide.
Here is an overview of some of the e-learning platforms that guided our list, we managed to try out a few and curated a list of the top 10 platforms we feel can be relevant to you;
| | |
| --- | --- |
| EdTech Startups | Elearning Platforms |
| Oysters & Pearls | Totoquiz |
| ThinkPlay | Yiya AirScience |
| Fundi Bots | Yaaka Digital Network |
| Schools Uganda | Checheza |
| Teach for Uganda | Revisenow |
| Izere Education | Passuneb |
| | Kolibri |
| | Prime learn |
| | Kaino |
| | Gradesplus Uganda |
| | TutorView |
| | Exam Uganda |
| | Somesa |
| | Sharebility Uganda |
| | Yukudemy |
1. Totoquiz
Totoquiz is a digital platform that enables children in Ugandan primary school to revise using educative quizzes, learn using a digital library, and ask questions that are answered by real practicing teachers.
Totoquiz is an innovation by Toto Technologies that serve both students and parents via a web portal and a mobile app. You can download the app from Google Play Store, sign up to supplement your kid's learning process.
These offer a conducive, safe, and fun learning environment that increases motivation and interest in learning.
2. Cyber School Technology Solutions
Cyber School Technology Solutions offers myriads of digital learning solutions for both students and schools.
Advertisement - Continue reading below
They offer Digital Science lessons (Maths, Biology, Chemistry, and Physics) and a Virtual science Lab where students can perform any science experiment just like they would in a science lab.
Digital Science and Virtual Lab software (which has over 6000 animations and 157 science lab experiments) can be installed on your home computer for a small fee of UGX 100,000 and schools have dedicated packages that are tailored to their budgets.
3. Yiya AirScience
Yiya AirScience is an interactive STEM learning experience for remote populations with no access to the internet, smartphones, or academics materials, using only simple keypad phones and radios.
The platform runs on Africa's Talking's Shared USSD platform. To access Yiya AirScience's services, dial *284*19#
Below is an infographic describing how to access the platform.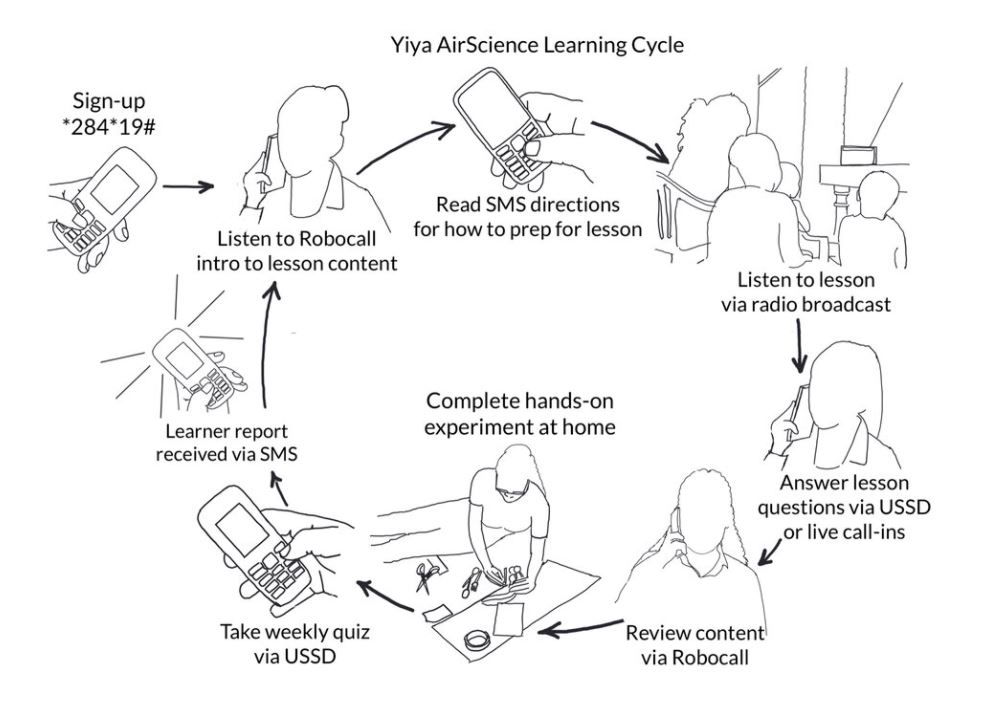 4. Fundi Bots
Fundi Bots provides hands-on and practical education on Science, Technology, Engineering, and Maths (STEM) to children and youth in classrooms, communities, and universities.
Students learn how to build robots, which radically improves school curriculum knowledge, classroom performance provides hands-on vocational skills and career development, and empowers students to be forces of change in their communities.
The Fundi Bots learning model is practical, fun, engaging, and puts students in a collaborative and exploratory learning environment that inspires them to think beyond simply passing classroom examinations.
---
READ ALSO: The future of Edtech in Africa
---
5. Revisenow
Revisenow has a pool of past UNEB question papers for Primary Leaving Examinations, O Level, and HSC or Advanced Level of education.
Advertisement - Continue reading below
The platform displays the questions from the past final papers. There's no option to download or print the questions. A student is expected to copy the questions, attempt, and either check for a correct answer in their study notes or consult a teacher. Keep in mind, the website displays ads.
6. Passuneb
Passuneb offers candidates a chance to do a multiple-choice questions self-test on selected subjects at the Primary and UCE levels. The platform has an online self-test section where a student attempts questions and views the solutions or explanations of the question.
The primary section has a set of questions on all 4 subjects.
The UCE or O Level module has a self-test on the main subjects of Math, Biology, Physics, Chemistry, English, and Geography.
The e-library section has a rich collection of ebooks on various subjects which you can download or read online.
7. Kolibri
Kolibri is a free digital learning platform run by the Ministry of Education and Sports.
The e-Learning platform has content for science and mathematics for only O-Level students (senior 1 to 4). Content on the platform is presented through video and text (PDF format).
Users can choose to create an account or explore the platform without an account.
8. Kaino
Kaino started off as a premium STEM blended curriculum aligned for early childhood education.
Parents can use these contents to homeschooling their children. Likewise, teachers in Early Childhood Development centers can also use the platform as lesson guides to deliver daily curriculum-aligned lessons to children.
Currently, on their website, they offer free lessons for their Early Childhood Development program. You can create an account and check their learning materials for free.
9. Yukudemy
Yukudemy is an Open E-learning Platform (OEP) geared towards the promotion of knowledge sharing and skills and has no limit to the type of courses created on the platform.
It hosts a wide variety of learning resources and topics for primary, secondary, tertiary institutions. The platform boasts a stat of 2,163 lessons 140 courses 38 instructors 12 academies.
10. Checheza
Checheza is an offline learning application for children. The content on the platform is packaged into a mobile learning game and distributed to children with no or limited access to quality education.
And that is it for our list of top 10 list of edTech startups and e-learning platforms in Uganda and If there is any startup or EdTech innovation missed, please post in our comment section and we will have the article updated with it.