Roku has announced a new 4K streaming device called the Roku Express 4K + that's supposed to replace its entry-level 4K device — the Roku Premiere 4K. The Roku Express 4K plus has a "lite" version, the Express 4K with similar specifications except that the Plus comes with a voice remote while the base version comes with the Roku standard remote.
Now you'll be wondering if there are any much upgrades to the Premiere 4K. The answer is, yes albeit minor changes. The most noticeable is that the Express 4K+ now spots Dual-band WiFi on 2.4Ghz and 5Ghz frequencies while the Premium was a single-band WiFi device. While Dual-band WiFi 5 isn't necessarily faster than its single-band counterpart, you get better performance in areas with congested WiFi networks.
Advertisement - Continue reading below
Phasing out the Roku Premiere line will make Roku streaming device look more consistent and less confusing in my opinion. The very entry-level product is called the Roku Express which only supports Full HD 1080 resolution, single-band WiFi and comes with the standard remote. Then up on the ladder is the Roku Express 4K which supports 4K, HDR, 1080p HD, dual-band WiFi and a standard remote. Its premium version is the Roku Express 4K+ with similar specs but comes with voice remote that supports Siri, Alexa and Google Assistant. On the top tier is the Roku Ultra which is slightly bigger, supports Bluetooth pairing and has an Ethernet port for faster internet connection.
What about the Roku Streaming Stick+ ? I honestly don't know where to place it. Other than the design which follows a stick form-factor which doesn't required a dedicated HDMI cable, I've failed to tell what differentiates it from The Roku Express 4K+. The Streaming Stick+ looks like an orphaned child now in the Roku device family as its specifications directly mirror the Express 4K+.
Related post: Roku Streaming Stick+ Review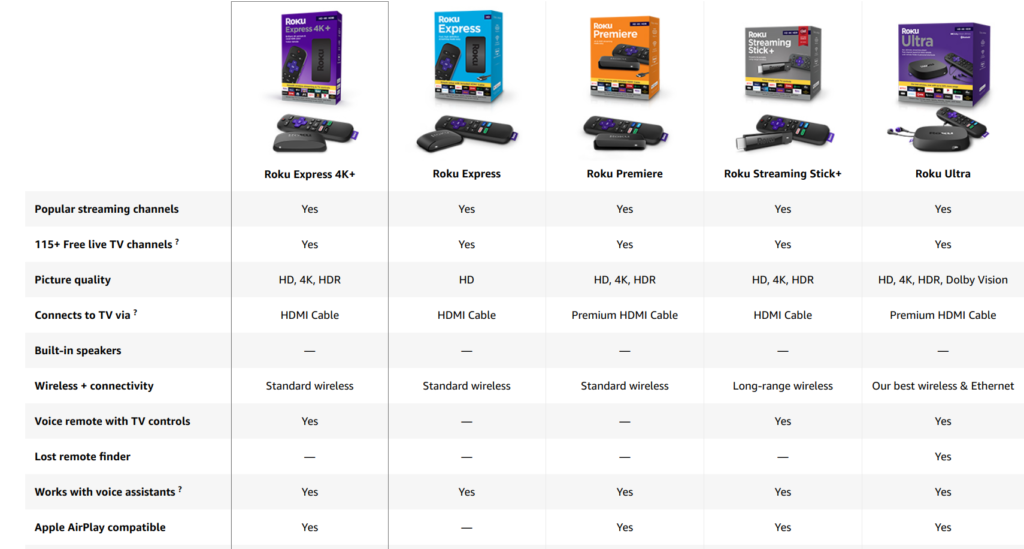 The Roku Express 4K+ is being listed for $39.99 on Amazon.com and will be available tomorrow on 16th May while base version, the Roku Express is available on Walmart for $35 on pre-order. Compared to the competition, this device is competitively priced. Amazon's Firestick 4K goes for $49.99, last year's Chromecast with Google TV at $49.99 and the Android TV-powered Mi Box S 4K at $59.99.