Windows 11 is the new operating system from Microsoft. It is rumored to be released in October this year but our best guess is early next year. Windows 11 will be a free upgrades to users already running Windows 10, provided your PC is compatible.
Windows 11 introduces rounded corners across the whole UI, moves some standard application from baked-in to the Micrsoft store, and completely removes others. This post will not go into it but if you want to know details about what it is, here's what's new in the new version of Windows, Windows 11.
Advertisement - Continue reading below
You can get Windows 11 running on your PC right now by signing up for the Windows Insider program. This will allow you to get the early preview versions of windows. However, this method isn't as straightforward since most of the prerequisites for running Windows 11 are not properly outlined.
Whether you will receive Windows 11 is currently confusing. Microsoft says you should run the PC health check app which is currently unavailable.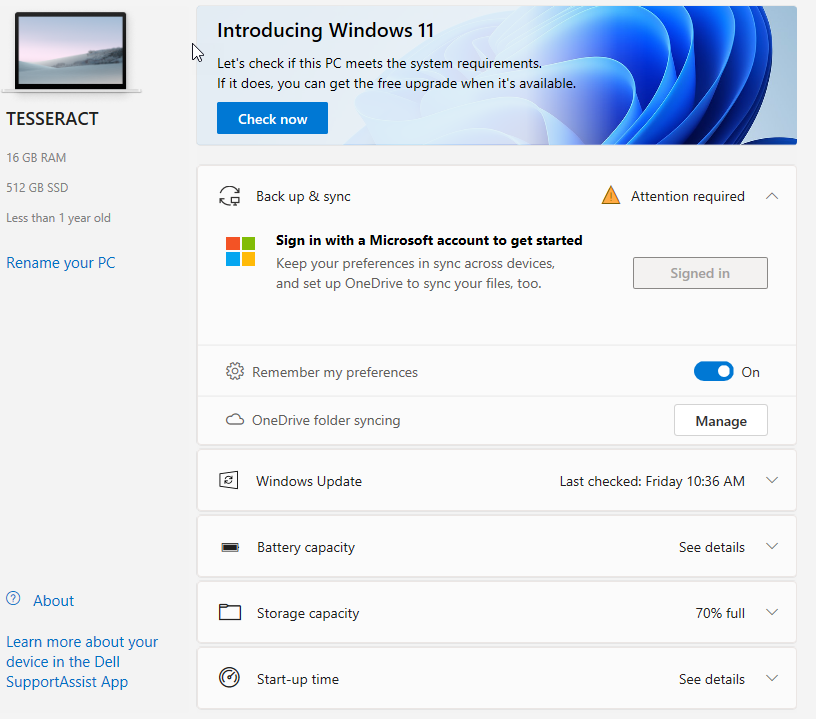 The above is what it says on this computer. This is in no way helpful and looks mostly like an advertisement for Microsoft services (Outlook.com, OneDrive, and Windows). My computer passes but we don't know why exactly.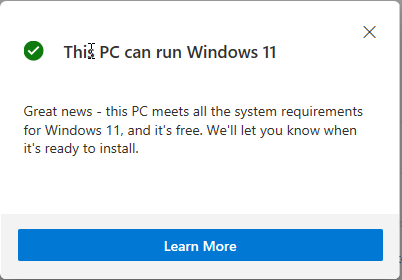 From research, I was able to put together some features that Microsoft is looking for to ensure your PC qualifies. They look at Architecture,  Booting, CPU, Grahics, Storage, and Security.
Architecture
The computer must be 64-bit compatible and running 64-bit Windows 10. If you have Windows 7 currently, you can still upgrade for free to Windows 10 which will upgrade you for free to Windows 11 when it is available. But your version of Windows must be 64-bit and not 32-bit.
Advertisement - Continue reading below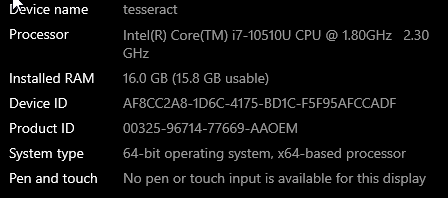 If you are a big fan of local administrator accounts or you do not have a Microsoft (Outlook.com email account) account, you might not be able to use Windows 11 Home. You will also need an internet connection to upgrade to Windows 11 Home. While internet connection and having a Microsoft account will not disqualify your computer, they will stop successful setup of your upgraded Windows Home 11.
Boot features
First your computer should have UEFI booting. I will not go into what it is since it is already covered in BIOS vs UEFI, what's the difference and which one does your computer support?.  You will need to have UEFI installed and enabled to install Windows 11.

CPU Compatibility
Another feature to consider is CPU Compatibility. This so far is a thorny issue since Microsoft has a known rocky relationship with Intel and does not clearly specify which CPU you will need. A safe bet from my friends at Windows Central, Windows Weekly and Thurrott.com is to have a Kaby Lake – Wikiwand  (7th generation) processor or better. Basically, almost anything released after August 30th, 2016 should do except perhaps the 8th generation processors over which the Microsoft Surface ("a tough computer science problem") scandal was.
The Core count is also a rough guide to your processor compatibility.  A rough guide says dual core and better. I will provide a more accurate guide later.The CPU Frequency is also important with a rough guide being 1GHz and better. The complete list of Windows Processor Requirements Windows 11 Supported Intel Processors can be found at that link. You can manually check to see if you qualify.
Graphics
It seems graphics are also important these days. With the advent of serious gaming outlets like Epic, Stadia, Ubisoft, NVIDIA and Microsoft's Xbox, Windows 11 will now require your PC and graphics card to be compatible with or running DirectX 12 Ultimate. If you have Windows 10 21H1, you already have this.
Storage and Memory
The Partition type of your primary hard drive is also a key issue as to whether you will get Windows 11. Fortunately all operating systems since Windows XP have been using the popular GPT or GUID Partition Table. However, if you dual boot Windows 10 with any other operating system and Windows 10 isn't the primary booting OS (as is the case with Linux), then Windows 11 will not install.
You will need to have at least 64GB of storage space available as free space for Windows 11 to install (Calm down Dr George). You can of course reclaim some space after successful installation by deleting the previous version of windows. Then lastly, you will need at least 4GB of RAM available. So for those people who came from Windows 7 with 2GB or 3GB, now might be the time to upgrade.
Security
In conjunction with using a Microsoft account as your primary login type, you will also need to have TPM or Trusted Platform Module installed. You will need TPM version 2 installed. This will allow secure booting which also needs to be enabled. I cannot say enough about securing your computer through UEFI and TPM. 
Advertisement - Continue reading below
The good news is that most high-end laptops since 2018 should meet all these requirements. The tough news is that this is a lot of things to check your computer for especially if you are the good type of user whom all administrators love.
The type who do not tinker with their computers. If you are anything like my brothers (by blood, by family or in-law) you might need a specific tool to help you. Until Microsoft fixes PC Health Checker (diagnosis by loudest scream in the insider community) you can download a free too called WhyNotWin11  from rcmaehl/WhyNotWin11: Detection Script to help identify why your PC isn't Windows 11 Release Ready. This tool does a quick check on your PC compatibility based on the most recent and ever-evolving Microsoft requirements.