Microsoft's Windows remains the undisputed king when it comes to desktop operating systems, standing in at a monopolistic 73% market share, at least according to the latest data, and for good reason.
It therefore, goes without saying that any Windows announcement is met with a lot of attention from the whole tech scene as it effectively points at the direction that most of the industry will be moving towards owing to the ubiquity of this operating system.
Advertisement - Continue reading below
Back in 2015, we saw Microsoft unveil Windows 10, along with the announcement that this was going to be the last version of Windows as thereon, the company would maintain this system as a service. And sure enough, Windows 10 has slowly but surely evolved over the years, all while remaining the same for the most part.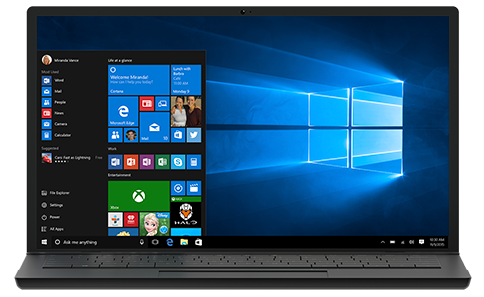 Now, these past few weeks have been a buzz in the Microsoft camp following the leak of an alleged Windows 11 build, along with teasers from the company, all hinting at a new operating system. The big event slated for June 24 has just been concluded and sure enough, we have been treated to a spanking new version of Windows, Windows 11.
So what's new in Windows 11? Well, quite a bit, and not a whole lot really. Let's dig in.
Redesigned Windows
Well, it wouldn't be a new version of Windows if Windows remained the same, right? See, Windows hasn't changed much over the years, probably in a bid to not alienate the millions of users across the globe with drastic changes, so we often see subtle refinements and tweaking with each new release.
Windows 11 comes with new rounded corners for Windows, icons and more, giving the whole UI a more 'soft' look and feel. There is a new theming engine that brings back the glass-like interface we first saw with Windows Vista, a look that later morphed into Aero on Windows 7.
Advertisement - Continue reading below
A redesigned Snap feature also aims to help users be more organized as they use Windows 11. Hovering your mouse over the maximize button on the title bar will offer you the option to snap your windows in a bunch of ways.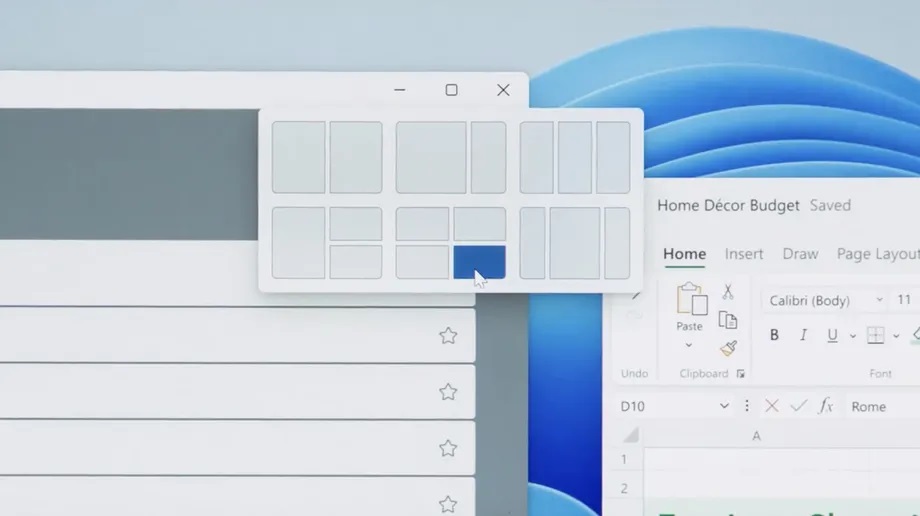 Windows 11 is also set to play nice on touchscreen displays. The taskbar icons space themselves out a little more when the trackpad is detached on touchscreen devices. This allows users better precision. Additionally, there are subtle UI responses to touch inputs so you don't have to guess whether your touch has been registered.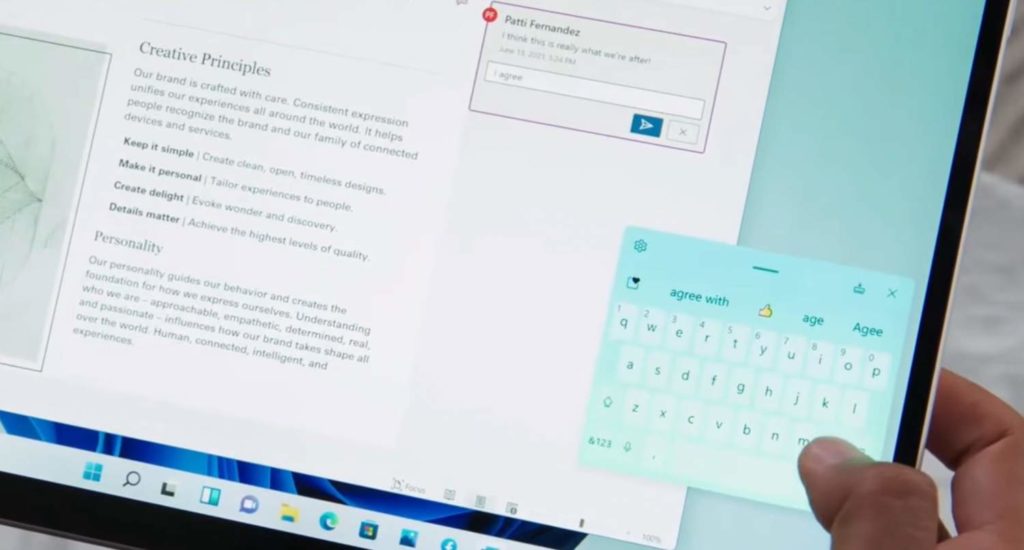 A better onscreen keyboard experience has also been announced for Windows 11 and we cannot wait to see how well this works.
Centered Start Menu and Start Button
The Start button has been a key part of Windows since the very early builds in the early 90s. Over the years, Microsoft has been trying out new things and in Windows 11, the company is taking yet another crack at it, this time a more modest approach.
Gone are the live-tiles that debuted in Windows 8 and stuck around through Windows 10 and now, the Start Menu is…well….simple. The Start button and Start menu is now centered on the taskbar, a move that, in my opinion, gives this new version of Windows a more macOS look.
Themes
Windows 11 redesigns Windows' legacy theming engine and supercharges the dark mode we have currently on Windows 10. The glass-inspired user interface is appealing to say the least.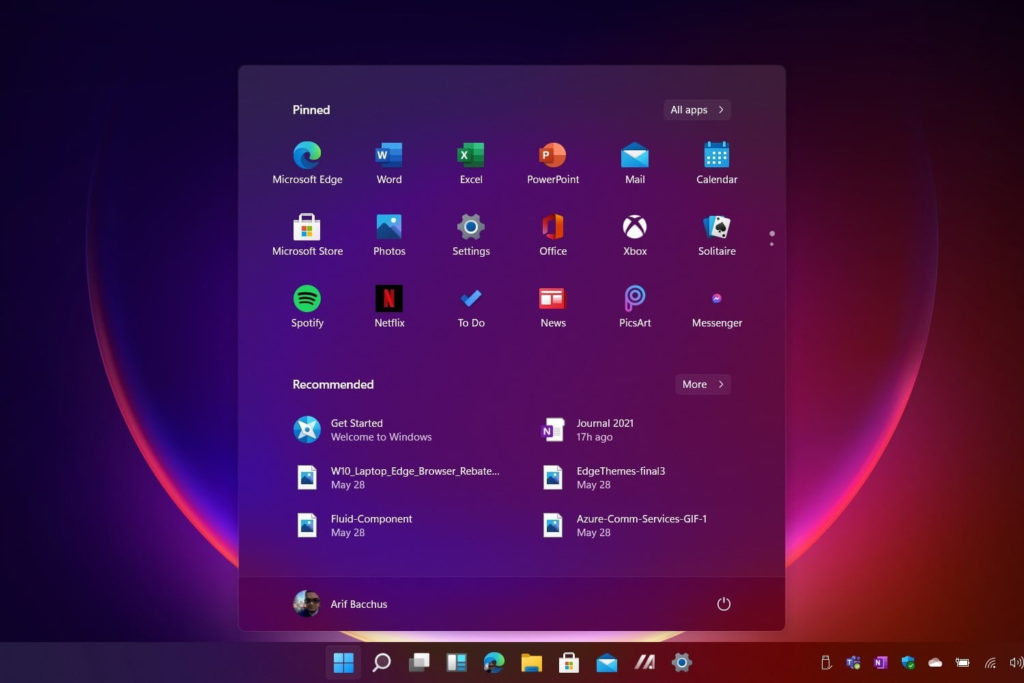 While not confirmed, we got a feeling of wallpaper-inspired color schemes throughout the Windows 11 demo. Could this be Microsoft's swing at what we've seen Google doing with Android 11's Material You design language?
Advertisement - Continue reading below
Redesigned, simplified Microsoft Store
Linux users have the Snap Store, Android users have Google Play Store and Microsoft is looking to simplify the process of installing apps on Windows with this new release.
The Microsoft Store now offers developers simple ways to enlist their apps, effectively offering users a repository of certified apps. This means you no longer have to scout the internet, picking installers from various hosting sites just to install your favorite apps.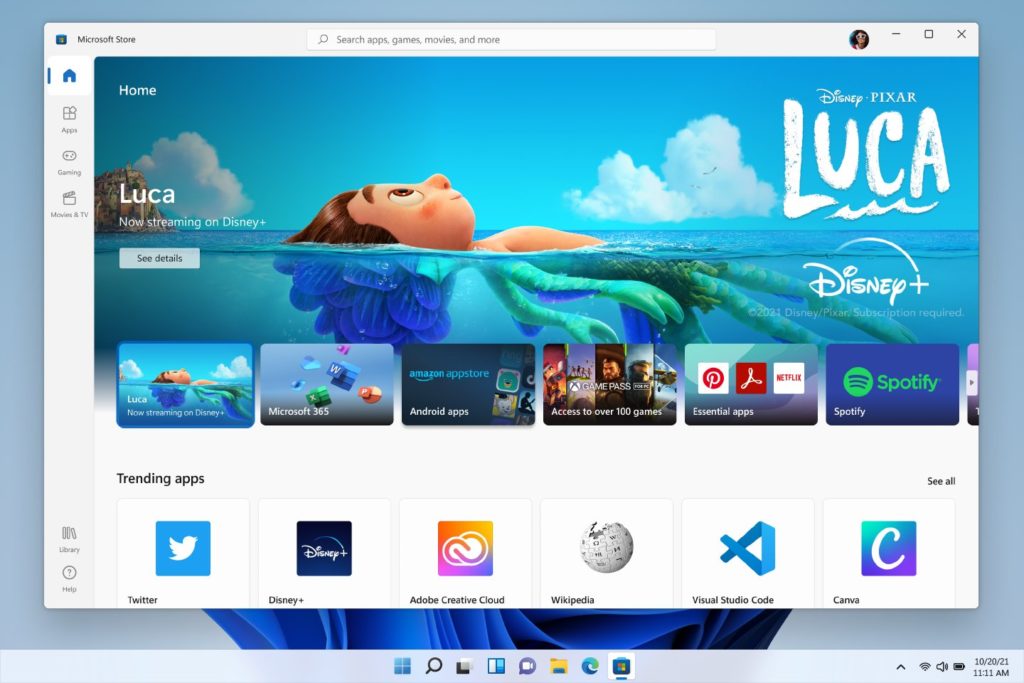 At launch, Microsoft says the Adobe Suite of apps will be available from the Microsoft Store, perhaps an indication of the level of seriousness the company is putting into this one.
Additionally, Microsoft says that developers can use their own "commerce engines," and Microsoft won't take a cut; devs can even use their own payment systems if they want to. This is big in this era of Apple and its antitrust issues.
---
Read More: How to check the Windows version of your PC
---
Support for Android apps
Yes, Windows will now support Android apps, effectively taking on Chrome OS and rendering services like Bluestacks obsolete. Of course, no support for Google Play Services but you bet some developer somewhere will find a way to make this work.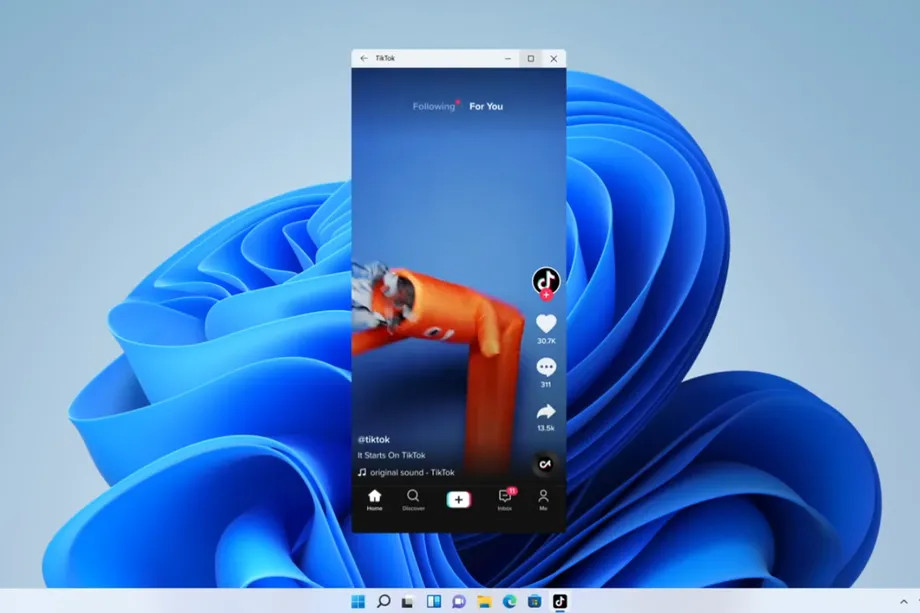 The Amazon Appstore will be the default source for Android apps for Windows. This is an interesting addition and we can't wait to see how well the emulator works.
We'd love to hear from you. Which Android apps have you always wanted to run on your PC? Tell us in the comments section below.
Advertisement - Continue reading below
Microsoft Teams is now baked into Windows 11
Zoom is probably one of the biggest success stories of this whole global crisis period but it is far from the only player in the space. Microsoft's Skype has been doing this for years and we even saw tight intergation into Windows 8.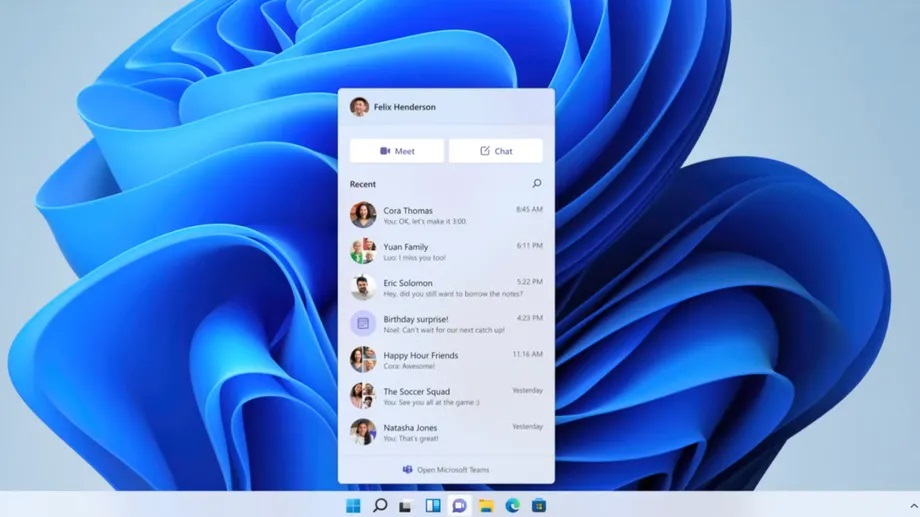 Now, Microsoft Teams is the new favorite child and this is heavily integrated into Windows 11. The demo showed Teams being used to message family and friends and demonstrated the ease of casually starting a video call.
Teams has often been associated with the workplace as it features so many tools geared towards the virtual office meeting. How well this works in a world where Zoom is reigning supreme and Apple's Facetime is slowly reaching out to users outside the ecosystem remains to be seen.
Gaming
The XBox is still a pretty important product in the Microsoft ecosystem and we were bound to see some convergence between Windows and XBox in Windows 11.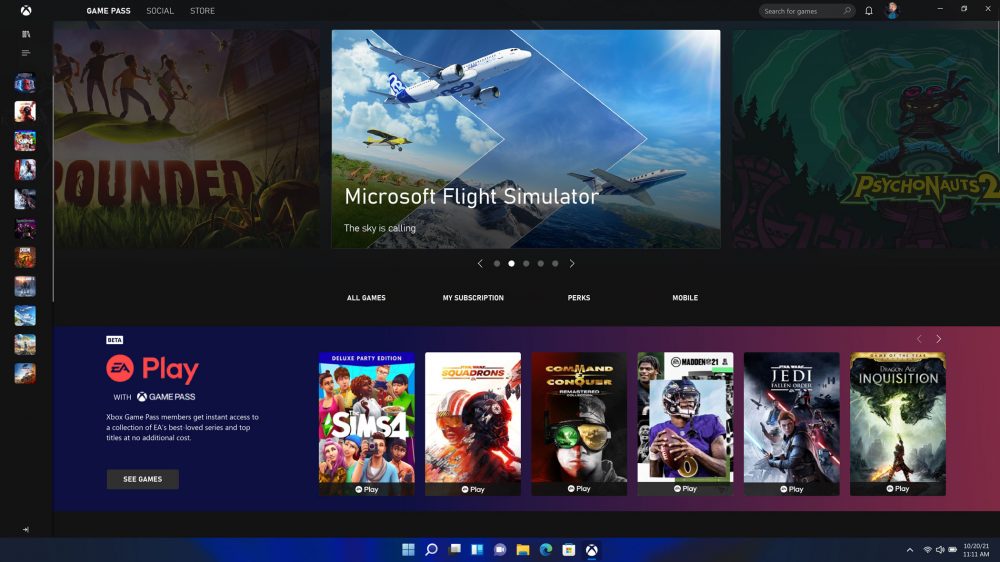 Perhaps the most interesting announcement was Auto-HDR. According to Microsoft, Windows 11 will support Auto-HDR, a feature that made its debut on XBox recently, as long as your Windows 11 machine meets the requirements.
However, your PC must be able to support DirectX 11 and DirectX 12 games for this to work.
Quality of life improvements
Windows has matured over the years and as such, we're less likely to see huge feature sets, but the little improvements and enhancements are bound to improve the quality of life.
Windows updates have always been a pain. They take ages to download and installation is often fussy at best. In Windows 11, Microsoft promises 40% lighter updates, saving you download time and bandwidth.
In a move seemingly inspired by Google Discover, Microsoft is bringing Windows Widgets to Windows 11, along with touch gestures that give you personalized, AI-powered feeds.
Conclusion
Windows 11 is still very early in its development and as such, there are so many details we still don't know about. Additionally, pre-release often drops and gains features before the official release so Windows 11's complete form is still not clear at the moment.
Advertisement - Continue reading below
While this is exciting stuff, we have to wait for the Insider builds before we can have a proper feel of the new operating system.
Availability of Windows 11
Microsoft says that Windows 11 will be available for users who would like to have an early look at the new OS via the Insider Program starting next week. Anyone interested to join might want to sign up here.
You might first want to check if your PC is compatible by downloading and installing the PC Health Check App from Microsoft.
With regards to the release date, Microsoft says that Windows 11 will be rolled out to users running Windows 10 sometime over the holiday season.
Are you excited for this new version of Windows? Tell us in the comments section below.