Google Sheets is a web-based application designed by Google to enable users to create, update and modify spreadsheets and share the data with others, online – in real-time. And because Google Sheets is a web-based application, it can be accessed through the Google Chrome browser, Firefox browser, Microsoft Edge, and Safari for Mac users. It is also available as a mobile app for Android device users.
Furthermore, because Google Sheets is a web-based application, data sharing with other people becomes easier. Collaborating with others (colleagues at work, friends & family) to get work done is also seamless. This article will teach you how to collaborate in Google Sheets with others. You'll learn to invite collaborators, drop comments and work with them seamlessly to make work easier.
Advertisement - Continue reading below
---
Related Article: Google Docs vs Microsoft Word: Which Should You Use
---
Collaborate with Comments in Google Sheets
When you create and you're working on a Google Sheets, the only reason why you will need to collaborate with comments is if you have other people (colleagues at work, maybe) you've shared your Google Sheets with – working with you on the same sheet. So, first, you need to share your Sheet with other people you want to collaborate with.

To share, hit the large Share button at the top-right corner of your Google Sheets document. You will then need to type in the emails of the users you want to share it with.You can choose to either make them Editor (they can edit your article) or commenter (they can only make comments about the article), or just viewer.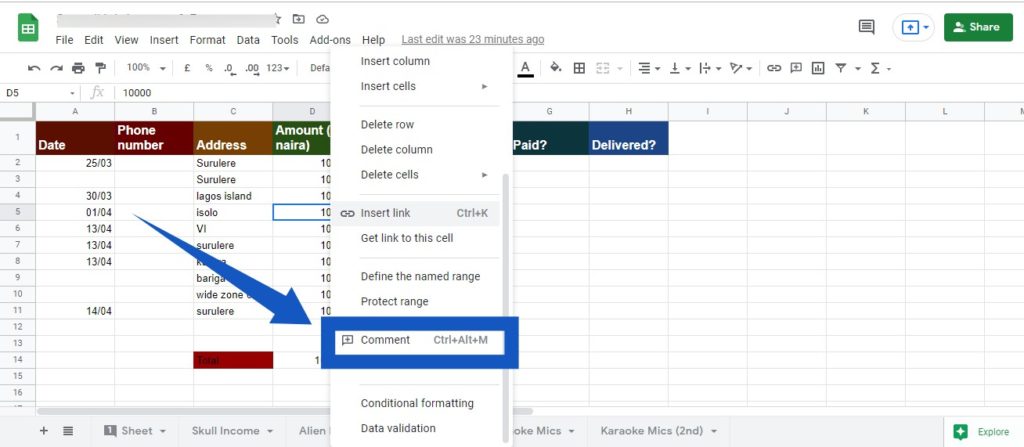 To add comments, tap and right-click on the cell block you want to comment in.
Next, scroll down and select Comments. Alternatively, on your keyboard, tap ctrl+Alt+M.

Type in your comment In the comment box that is displayed, and then tap the comment button when you're done.
---
Related Article: How to Collaborate in Google Docs
---
Conclusion
When other users who have access to your Google Sheets open the sheet, they can view your comments when they hover their cursor over the cell you commented on, or when they select the cell. They (other users) have the option to respond to all your comments. How often do you use Google Sheets, and how do you collaborate with others on the web-based application? Tell us in the comments