Word processors are one of the most used tools on computers and smartphones. We use them to write reports, draft assignments, among others. Google Docs and Microsoft Word are two of the most widely used word processors. So, between Google Docs vs Microsoft Word, which one would you choose? Let's walk you through the differences between the two, stating the pros and cons of each while at it.
Availability
Google Docs is available for free to everyone who has a Google account. Enterprise users pay about $5 per month but this package will not be needed if you are going to use the platform as an individual. On the other hand, Microsoft Word is available as part of the Microsoft Office suite which can be purchased at a one time fee of $500. You can as well get MS Word from Microsoft 365 at a yearly fee of $70.
Advertisement - Continue reading below
Although Google Docs is free, it is not as feature-packed as to MS Word. More of this later in this article. Both Google Docs and MS Word can be accessed on all major platforms, that is, Android, iOS, Windows, Mac, and Linux.
Offline Access
If you need a word processor to use offline, Microsoft Word is the best option for you. You can easily create new documents while offline and then upload them onto the cloud once you go online. This isn't the case however with Google Docs. Although you can still create, view, and edit documents offline on Google Docs, you would need to have an internet connection to sync the changes across your devices.
Functionality
As earlier discussed, Google Docs comes on the cheap but this is at the expense of advanced features and functionality. With MS Word, you are able to get better table formatting, more control over text styles, better page numbering, among others. You can as well achieve this when using Google Docs with third-party extensions on your Chrome browser to help you avail some of those features.
---
Related Article: How to remove Signature background using Microsoft Word in 3 Quick Steps
---
Cloud and Syncing
Both Google Docs and Microsoft word offer cloud capabilities making it easy to backup documents. You need to have a Microsoft 365 account in order to access the cloud capability of MS Word. On the other hand, you need a Google account in order to backup your documents on the cloud using Google Docs. However, Google Docs stands out in this area because;
Saving of any changes is done automatically to the cloud. This way, you can't be worried about the abrupt loss of data due to issues like power cuts.
You are able to see and revise any changes made to your document.

File Formats
Files on Google Docs are stored as one type although you can download a file in different file formats, including DOC, DOCX, PDF, RTF, plain text, and HTML. Microsoft Word offers a larger variety of file formats that you can save your documents in. It is also possible to open PDF documents in MS Word, edit them and save them back as PDF documents, something that is alien to Google Docs.
Advertisement - Continue reading below
Collaboration
Both MS Word and Google Docs offer support for collaboration. For MS word, you will have to use Microsoft 365 to enjoy this functionality. Google Docs edges MS Word here in that you are able to control who can edit, view or comment on your document.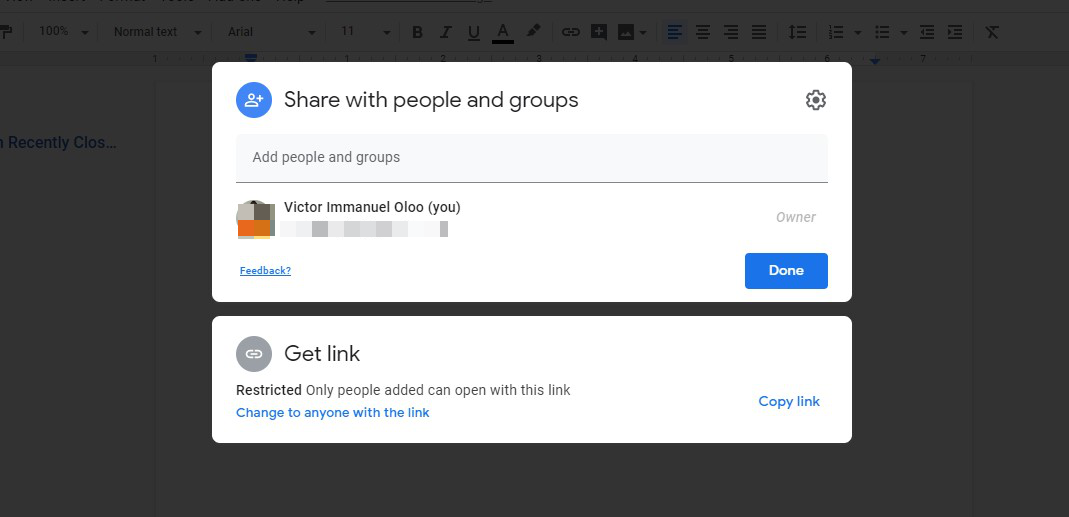 As you can see, the battle of Google Docs vs Microsoft Word a tough one. Both word processors are neck and neck, offering similar features — although some are more advanced than others. For basic word processing, any can work. If you need to backup your documents frequently and do not want to worry about it, Google Docs is the answer for you. If you need to further format your document and add features like watermarks and page border, MS Word is your answer.
Which of the two is your favorite word processor and what features do you like about it? Share with us in the comments section below.