The Mi Watch Lite is Xiaomi's first attempt into the smart watch product category, but not necessarily into fitness band health tracking products. Xiaomi is building on the massive success of its Mi band series, a popular fitness tracker that takes a rectangular band form-factor.
With the Mi Watch Lite, Xiaomi is providing customers with an Apple watch-like smart watch on the cheap. At about $50, the Mi Watch Lite packs a lot of features you will find on the Mi band series but now on a bigger 1.4″ screen and a familiar square watch form-factor. Released at the end of 2020 along with the pro version called the Mi Watch, this smart watch looks to have a bright future. I got mine from Aliexpress and I am currently using it as my daily driver. So stay tuned for a full in-depth review.
Advertisement - Continue reading below
For now, let me show you how to set it up.
Mi Watch Lite Full Specs
Mi Watch Lite specifications
Product name
Mi Watch lite
Model
REDMIWT02
Display Screen size
1.4"
Display Tech
TFT(Thin-Film Transistor)
Screen resolution
320x320 resolution, 323 PPI
Net weight
35g (Incl. watch & strap)
Strap material
TPU
Adjustable Length
140-210 mm
Bluetooth
5.1 BLE
Sensors
Heart rate, Accelerator, Gyroscope, Compass, Barometric Pressure sensor, Ambient light
Built-in GPS
Yes (GLONASS)
Water resistance
5 ATM
Battery capacity
230 mAh
Compatible with
Android 5.0 & iOS 10 and above
Mi Watch Lite setup
I have used the Mi bands and Amazfit smart watches. I must say, Xiaomi Mi Watch Lite gave me a little trouble setting up at first. The watch is however more intuitive than the bands because it comes with a power/function button on the sides. Intuitively, this is what you press to start the watch. If it doesn't power on, first charge it for about 10 minutes.
A QR code will be displayed which you can scan with your smart phone. It's simply a shortcut to download the Xiaomi Wear App, the companion App to this particular device. This is not be confused with the Mi Fit App used to setup the Mi bands. Now not every android phone camera has a built-in QR code scanner, so you can just head straight to the Google Play store, search and download the Xiaomi Wear App.
Related post: Mi Watch Lite(Redmi GPS Watch) review: Budget smartwatch with built-in GPS
The Xiaomi Wear App is used to setup your smart watch. When you start the App, you are prompted to login or create a Mi account. You can also login with your Google account.
Now you must ensure that Bluetooth is turned on from your smartphone. Then on the app, tap on Profile > Add device > Mi Watch Lite. A pairing request is sent to the watch, accept it.
Advertisement - Continue reading below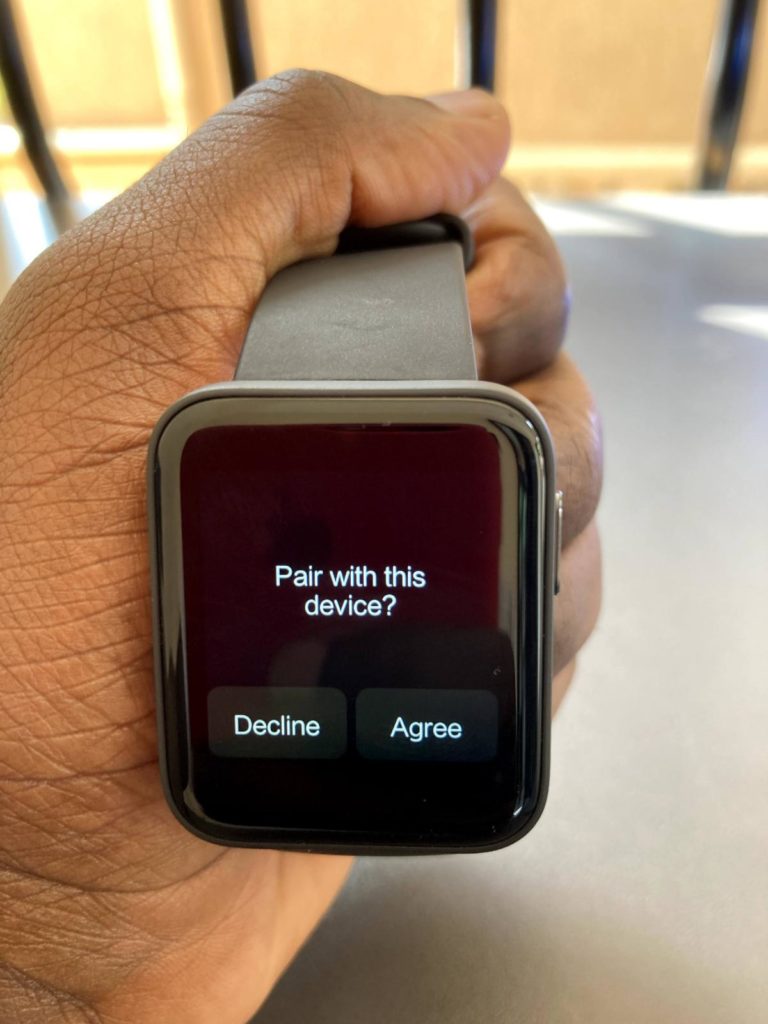 If all goes well, the app should connect and pair with the smart watch and activate it.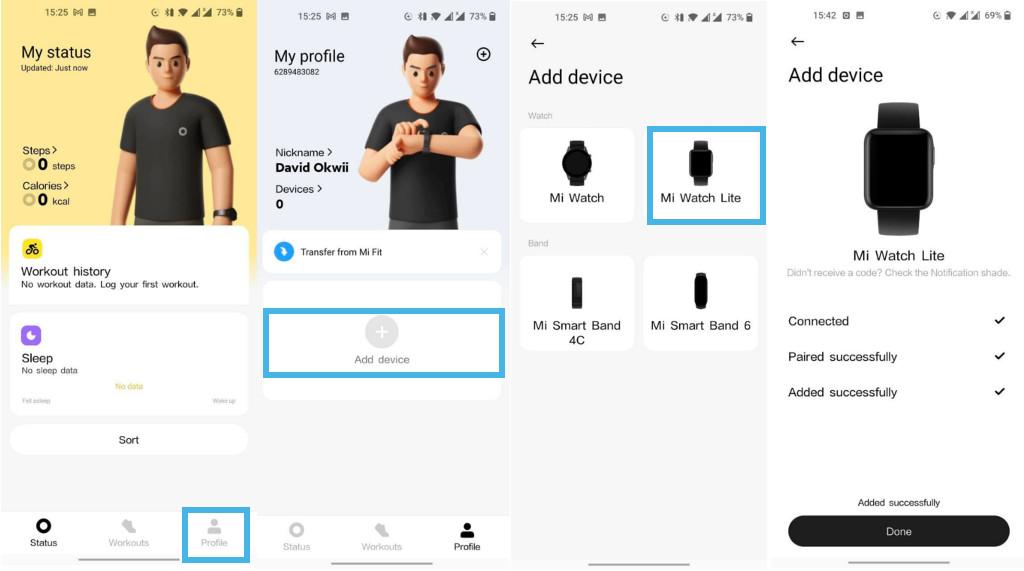 However, I didn't get it the first time. I kept getting this "Couldn't find the device" message on the Xiaomi Wear app irrespective of how many times I tried. A quick Google search revealed a number of users were running to the same issue.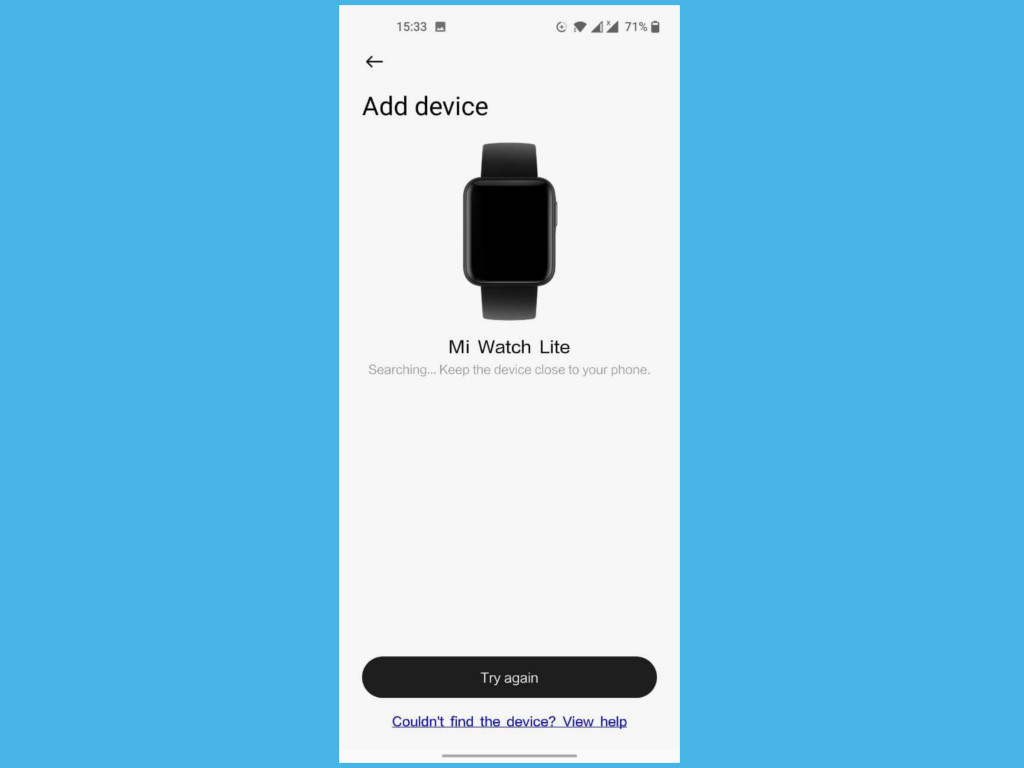 To solve Mi Watch pairing issues, I had to change my country from the United States to Kenya. Well, I live in Uganda, so I had to choose the nearest country to mine. If you are already signed to the Xiaomi Wear app, you can change your country by heading to Profile > Settings > Region and then select the country that corresponds to your region. I have never run into similar issues with Xiaomi's Mi bands though.
Alright that's it. Look out the review of this Mi Watch Lite coming up in a few days. If there are any talking points you are looking forward to, let me know in the comments below.