Realme UI 3.0 is the most important Realme update yet because it now has a whole lot of users. Realme have had an unprecedented astronomical rise to the smartphone big leagues as it now ranks in the top 6 of the smartphone brands in the world. This is no small feat considering that Realme started off in 2018 and now in 2021, it is the 6th largest smartphone brand following its sister brands Vivo and Oppo.
All this means that a lot of people are on the Realme UI making it one of the most widely used Android skin at the moment. However not all will make it to the Realme UI 3.0 because Android phones usually just have 2 years of major OS updates. Also, Realme UI 3.0 has been launched and we will be revealing the details here, so read on.
Advertisement - Continue reading below
Realme UI 2.0 based on Android 11 which I'm currently using is still rolling out to some smartphones because some are still yet to receive the update. Anyway, let's face it. If you are haven't still received the Realme UI 2.0 update then you are unlikely to get the Realme UI 3.0.
---
SEE: Why and How to Set Up Emergency Rescue Contact Info on Android Phone
---
See if Your Phone Will Get Realme UI 3.0
Going by two major OS update that Realme and Android phones in general normally get, here is the unofficial list of phones that will be getting the Android 12 based Realme UI 3.0:
Realme GT / GT Neo / GT Neo 2 / GT Master Edition / GT Master Explore Edition
Realme V11s 5G
Realme Narzo 50A / Narzo 50i / Narzo 50 Pro
Realme Narzo 20 / Narzo 20A / Narzo 20 Pro
Realme Narzo 30A / 30 Pro 5G
Realme 8 / 8i / 8 Pro / 8 5G l 8s 5G
Realme 7 / 7i / 7 5G ) 7 Pro
Realme 6 / 6s / 6i / 6 Pro
Realme X50 5G / X50 Pro 5G / X50m 5G / X50 Pro Player Edition
Realme X7 Max / X7 5G / X7 Pro 5G / X7 Pro Extreme Edition
Realme X3 / X3 Super Zoom
Realme V3 / V5 / V11 / V13 / V15
Realme Q2 / Q2 Pro / Q2i / Q3 / Q3i / Q3 Pro
Realme C25Y ) C21Y / C15 / C15 Qualcomm Edition / C12 / C17 / C12 / C17 / C20 / C21 / C25 / C25s
Realme UI 3.0 Beta Official Release Timeline
Here are the Realme smartphones that will be getting the Realme UI 3.0 Beta and when they will be getting it. This is different from the rollout of the stable Realme UI 3.0, you can check the list above for that list.
October 2021
December 2021
Reaimo GT Master Edition
Realme GT NEO 2 5G
Realme X7 Max
Realme 8 Pro
First Quarter of 2022
Realme X7 Pro
Realme narzo 50A
Realme narzo 30
Realme X50 Pro 5G
Realme 8 4G
Realme Bi
Realme 7 Pro
Realme C25
Realme C25s
Second Quarter of 2022
Realme X7
Realme X3
Realme 8s
Realme X3 SuperZoom
Realme narzo 30 Pro SG
Realme 8.5G
Realme 7 5G
Realme narzo 30 5G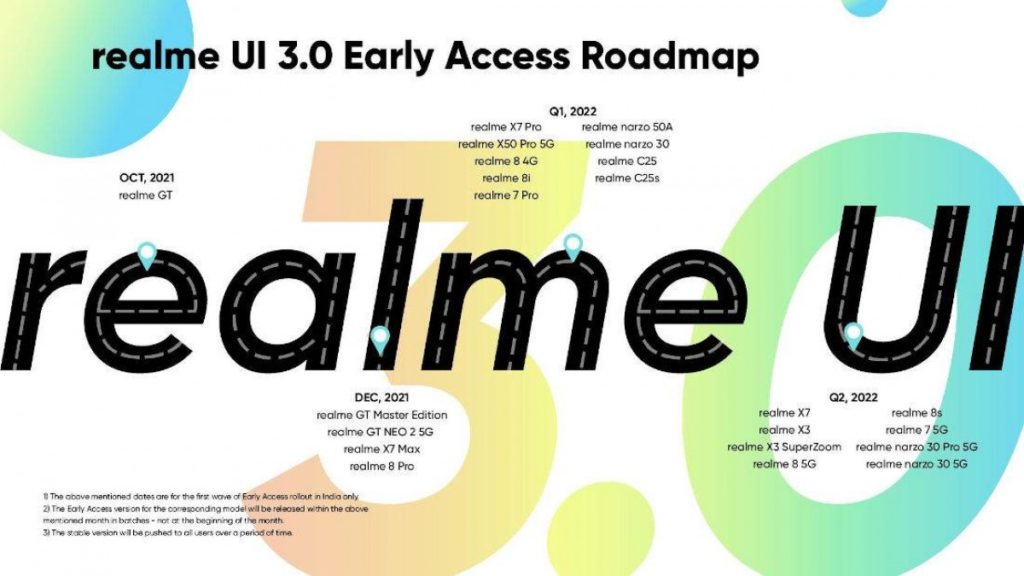 Confirmed Realme UI 3.0 Features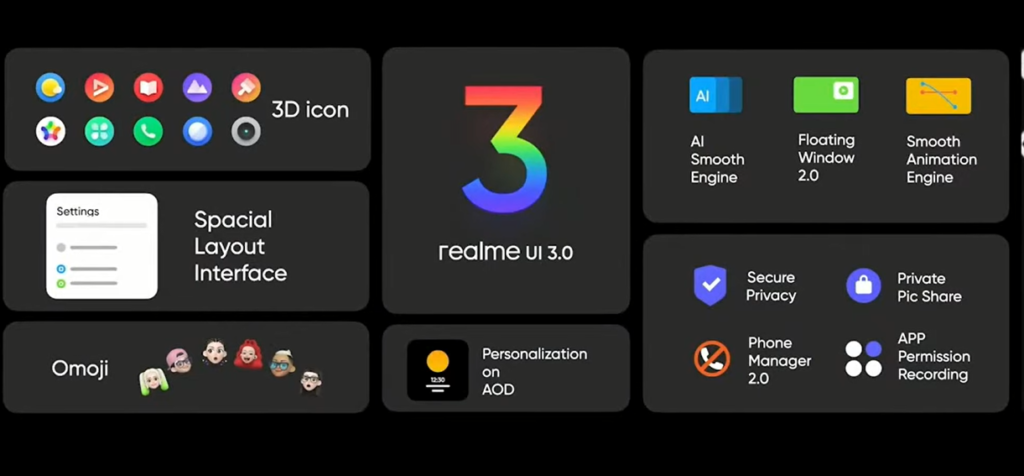 Furthermore, it is very much apparent that Realme UI is modelled after ColorOS which is the custom UI of Oppo, Realme's former parent company. As formerly announced, the merging of ColorOS and OxygenOS is underway already which would definitely reflect on the upcoming Realme OS update in a big way. Here are what to expect from the Realme UI 3.0 update:
Better Security and Privacy: To imrpove security on the Realme smartphones, Realme UI 3.0 provides better security by introducing features like private media sharing that remove personal imformations like location, name of device, time stamp and other media data from your pictures and videos when you share them. Also, it will prevent apps from obtainin your exact device location. In addition, you will be able to get a detailed view of app permisions so you can easily manage them. In addition, phone manager 2.0 brings more secure payment, call spam blocking, hide apps, app lock and private safe for hiding files.
Fluid Space Design: There is an imrpovement to the design on a new 3D icon design and more color options for customization. There is a new spatial color interface that reduces information density by intoducing more whitespace between texts.
Global Theme Color: In line with the availability of different customization options for icons, fonts and backgrounds. With Realme UI 3.0 you can do more by changing the overall theme color on your phone with a wide range of hues to choose from.
Personalized always-on display (AoD): Currently on the Realme UI 2.0, you have can only change the options between custom patterns, texts only, text and image, analog and digital clocks for you always-on display. On Realme UI 3.0, you can now upload your picture to use for your always on display background for personalized experience.
Realme Meow (Realme Mascot for AoD: To further improve the customization option for your always on display. Each Realmeow mascot is a different aimated character that brings your allways on display to life.
AI Smooth Engine: The new Realme UI will aslo improve your phone performance by inimproving memory utilization efficiency and reducing memory fragmentation. Due to the AI memory compression and AI resource scheduiling, memory usage will be reduced by up to 30%, apps will launch 13% faster andimprove battery life by 12%.
Smooth Animation Engine: In order to make the UI experience smoother, there will be an optimized animations system wide with more fluid gestures that translates into better read world use.
Omoji Avatar: Just like the ColorOS 12 introduced Omoji Avatars, you will also be able to use the bitmoji-like feature on the Realme UI 3.0 as it was announced to be one of the features that will be added for the new UI based on Android 12.
Floating Window 2.0: If you're using Realme UI 2.0, floating windows is a feature that you'll be conversant with. However, Realme UI 3.0 brings an improved version of this feature. This makes them more pratical and covenient to use.
Update: Realme UI 3.0 Early Access application is out for users in India. You can apply by going into your settings, software update and then click on the gear icon at the top right corner to access Realme UI 3.0 early access application.
Advertisement - Continue reading below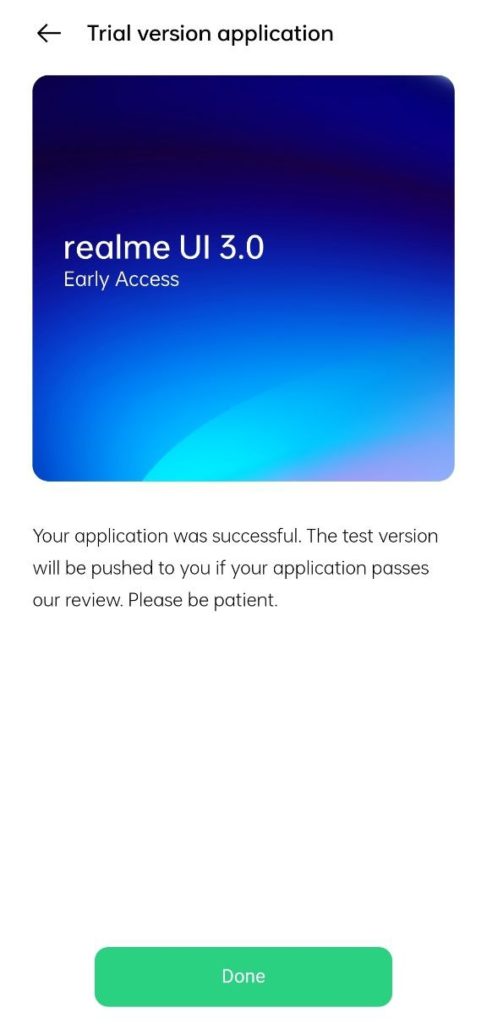 Conclusion
New features introduced on Android 12 is likely to find their way to the Realme UI 3.0 as well as some custom additions that the Realme custom OS have been known to bring. According to the timeline released by Realme, the beta version of the Realme UI 3.0 will be available on the Realme GT this October but according to Realme's spokesperson during the launch event, the official release will be in December. Currently, the Realme UI 3.0 Beta is not available yet outside China on the Realme GT. However, we will keep you updated when it starts to roll out.