Alongside the new Windows 11 SE (a lighter version of the Windows 11, dedicated to the K-8 education market, and will only ship exclusively on low-cost laptops), Microsoft is introducing what it calls Surface laptop SE. It is an education-focused laptop designed for K-8 education. it is a simple-looking computer with plastic chassis and basic specifications and features. This is Microsoft's response to the Google Chromebook, and it is unsurprising that Microsoft has decided to go head-to-head with Google on this one.
The Chrome OS (running on all Chromebooks) is popular amongst students, especially in the US. Microsoft's Windows 11 SE will be competing with Google's Chrome OS, while the new surface laptop will be competing with the Chromebook.
Advertisement - Continue reading below
Related Article: Chromebook vs Laptop: What's the Difference?
Surface Laptop SE Specifications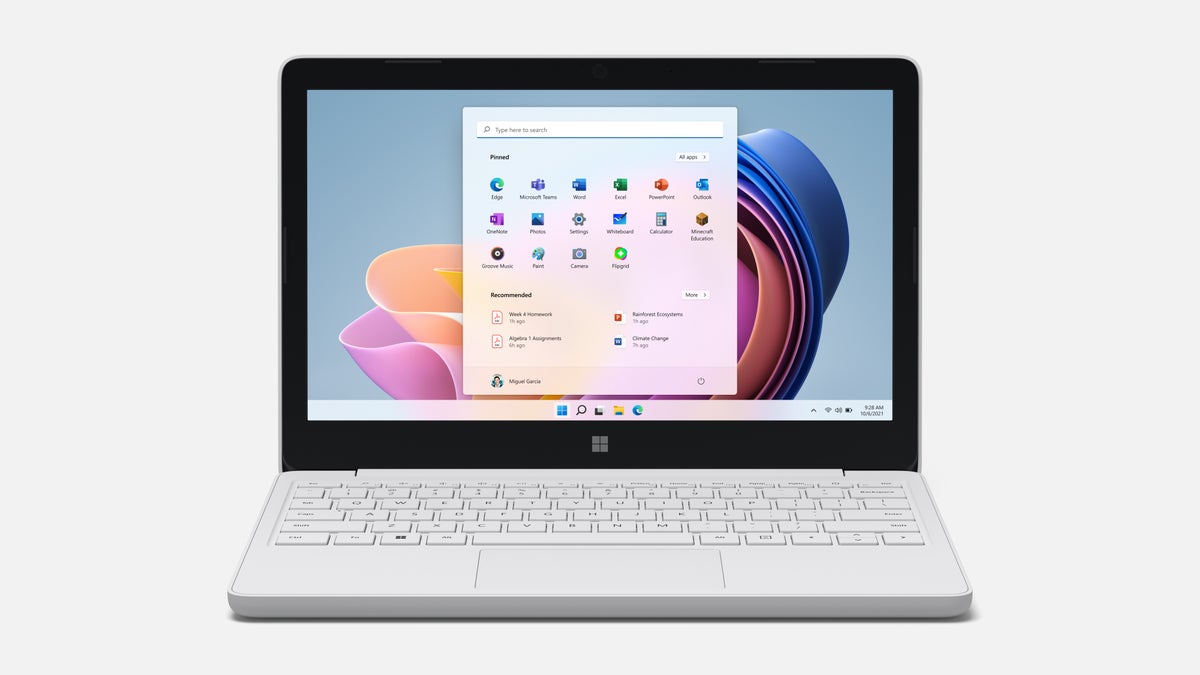 Dimensions
11.17" x 7.6" x 0.70" (283.70 mm x 193.05 mm x 17.85 mm)
Display
Screen: 11.6" TFT Liquid Crystal Display Module
Display Resolution: 1366 x 768 (135 PPI)
Aspect Ratio: 16:9
Memory
4GB or 8GB
Processor
Intel® Celeron® Processor N4020
Intel® Celeron® Processor N4120
Software
Windows 11 SE
Microsoft 365 for Education3
Sensors
1 x Hall-effect sensor
Weight
2.45 lb (1,112.4 gr)
Storage
64GB or 128GB Embedded MultiMedia Card (eMMC)
Battery life
Up to 16 hours of typical device usage
Connections
1 x USB-A
1 x USB-C
1 x Barrel type DC connector
1 x 3.5 mm Headphone/Mic Jack
Cameras, Video, and Audio
1MP Front-facing camera with up to 720p 30fps video
2W Stereo Speakers
Single digital microphone
Wireless
Wi-Fi: 802.11ac (2×2)
Bluetooth Wireless 5.0 LE
Battery capacities
Battery Capacity Nominal 35 Wh
Battery Capacity Minimum: 33.9 Wh
Price and Availability
According to Microsoft, the Surface Laptop SE will be sold exclusively to schools and students. The base model of the Surface laptop SE (with 4GB of RAM and 64GB of storage) will be priced at $249, while the 8GB of RAM and 128GB of storage version is priced at $329, and they will begin rolling them out early 2022. Also, various laptop manufacturers including Acer, ASUS, Dell, Dynabook, Fujitsu, HP, and Lenovo will also be rolling out their own Windows 11 SE PCs in 2022.