Devices are used for various things, but among them is the storage of important documents, photos, videos, etc. So what happens to all the files stored in your iCloud in the unfortunate event of your death? That's where Apple's Digital Legacy comes in.
What is Digital Legacy?
Simply put, Apple's Digital Legacy is a program that allows your loved ones to request access or delete your Apple ID after you die. This program is functional on devices running iOS 15.2, iPadOS 15.2, and macOS 15.2 and above. You can add up to five Legacy Contacts under this program.
Advertisement - Continue reading below
For these Legacy Contacts to access your Apple ID via Digital Legacy, Apple requires proof of death and an access key. The proof of death can be through legal documentation like a death certificate or court order.
Types of Data That Can be Accessed via Digital Legacy
Here is a full list of data your Legacy Contacts will be able to access under the program:
Call history
 Files stored in iCloud Drive
 Health Data
 Voice Memos
 Safari Bookmarks and Reading List
 iCloud Backup
iCloud Photos
 Notes
 Mail
 Contacts
 Calendars
 Reminders
 Messages in iCloud
Related Article: How to Remove a Device From Your Apple ID
How to Set-Up Digital Legacy
Like we said earlier, your Apple device should be running iOS 15.2, iPadOS 15.2, and macOS 15.2 and above. This update is available for the iPhone 6S and later. If your phone falls in that category, update it before going further.
On an iPhone or iPad, go to Password & Security under your Apple ID Settings. If you are using a Mac, the Password & Security feature is found under your Apple ID System Preferences.
In the Password & Security category, you will see Legacy Contact.
Select the Add Legacy Contact option and then choose someone from your Contacts list. If you are using Family Sharing, you can choose a family member from the list.
Tap Continue, and then choose how you want to save your Access Key. This is what the Legacy Contact will need it to access your account. You can either print out a picture of the key or send it in a text message to your legacy contact.
To see all the Access Keys, go to the Legacy Contact menu and tap on each of your legacy contacts' names for their indiviaual access keys. You can also remove a contact from the Digital Legacy Program from here.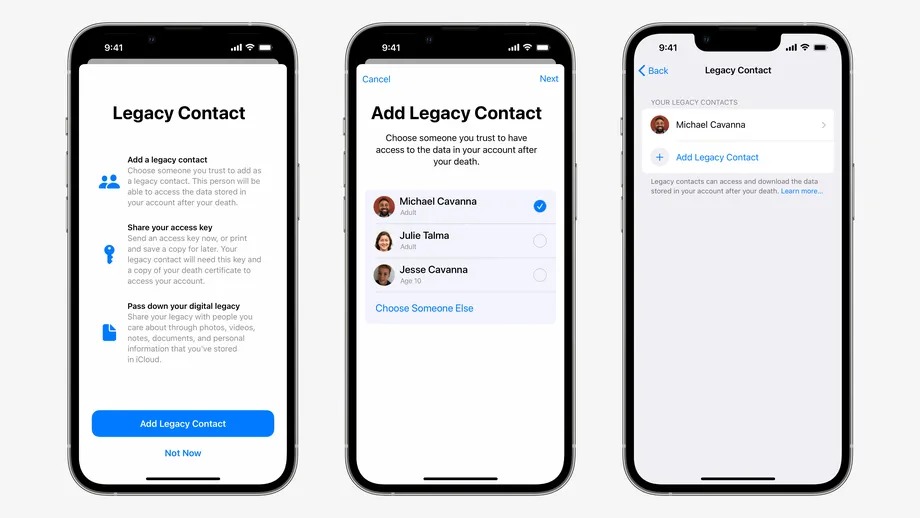 How to Access Someone's Apple ID After They Die
The key to accessing someone's Apple ID after they pass on is, obviously, the Access Key. Once you have it, follow these steps:
Go to Apple's Digital Legacy site and select Request access.
You will then be prompted to sign into your personal Apple ID account.
A dialogue box will appear asking for the Access Key. Enter the first 32 characters of this key and click Continue.
You will then be redirected to a page where you will have to upload a copy of your contact's death certificate. Make sure all text and features of the certificate are visible.
A request will then be sent to Apple for verification and once approved, you'll get an email with more information on how to access the account.
Apple will create a special Legacy Contact Apple ID for you and the account holder's original Apple ID will no longer work.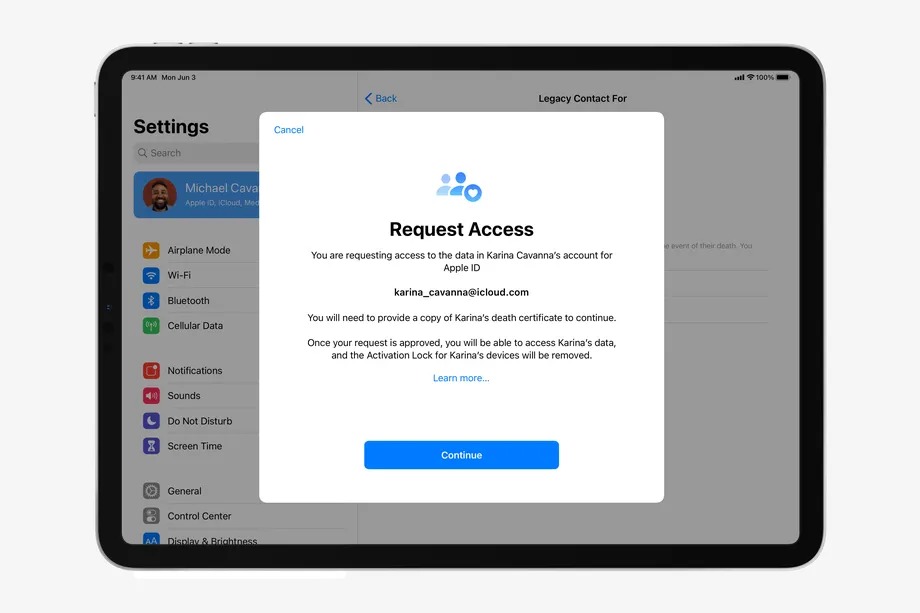 Note: Once Apple has approved a Legacy Contact request, the Legacy Contact Apple ID will be able to access the deceased's data for a period of three years. After that, the Legacy Contact Apple ID will stop working, and Apple will permanently delete the deceased individual's data and account.
Advertisement - Continue reading below
While it is almost taboo for you to think about your death, your data might be useful to some family members. Therefore, it is wise for you to add these people to your Legacy Contacts list. I will leave you with this quote:
"We don't often think about it, but it's important that we can easily pass down information to family members or friends when we pass away. So you'll now be able to add people to your account as Legacy Contacts. So when you're gone, they can request access, and your information can be passed along quickly and easily," Mike Abbott, Apple's Vice President of Apple Cloud Services.