If you've been following the global roll out of 4G LTE, then you should by all means be surprised that a little known Telecom called Smile communications has already turned on the 4G LTE tap in Uganda — making it the first operator to introduce 4G LTE services in the whole East African region.
4G LTE is a 4th generation cellular network technology that succeeds the current 3G standard that's prevalent in most countries around the glob.  3G has had tremendous success as many smart phones today and mobile carriers support the standard.  But 3G being predominantly a voice technology with significant support for data has not matched up to the enormous data requirements that today's applications on smart phones and portable devices like tablets need.  I must add that I had a hard time finishing up this post using a tethered connection from MTN Uganda's 3G+ connection and this should give you a picture of just how slow and frustrating 3G is.
Advertisement - Continue reading below
However, 4G LTE with up to 100 Mbps downstream speeds is far faster and efficient than it's predecessor that has been capable of about 21Mbps and 42Mbps for 3G+. To put this in context, Mark Pritchard, the Head of Sales and Marketing at Smile Telecom described 4G during the TEDx event last Saturday at outbox as "the Youtube generation".
The roll out of 4G around the world has been somewhat slow considering the fact that only Verizon wireless and  AT&T in the US are the only operators currently with 4G coverage in the Americas. 4G is expected to role in Europe next year despite the fact that Europe is home to network equipment vendors like Alcutel Lucent and Siemens.
The challenge of 4G for operators is that they've to refarm some of the spectrum that is being used by 3G coupled with lots of other regulatory issues.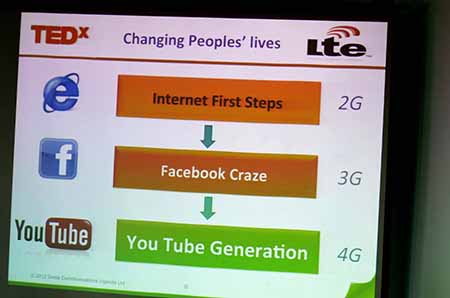 Today the line between voice and data is becoming more and more blurred with the introduction of fast wireless technologies like 4G especially as mobile users become acquainted with VoIP services like Skype,  Viber,  Jaxtr.
4G adaptability also largely depends on how many tablets and  handsets are 4G compatible.  As of today all major flagship handsets with the exception of Google's most recent handset — the Google Nexus 4 — support 4G. These include the iPhone 5 and the Samsung S III.
But we also know that many home and business users here in Africa use wireless technology as the most convenient and cheapest means to meet their data needs.
4G being predominantly a data Wireless technology is well suited for this purpose and Smile Telecom knows this so well that it's offering 4G data services to its customers long before it even thinks of voice!
Advertisement - Continue reading below
Smile Telecom seems to be matching us to this brave new world and we can only hope that the new Technology will spur more economic growth as more and more find it easier and affordable to get connected.