You might not currently be facing any existential threats, but planning what happens to your Google account if or when you checkout is quite important. If you're like me, your Google account is a lot like your digital lifeblood. It holds emails, photos, notes, memories, passwords to other critical services, credit cards, search history, documents and files among other things.
You can decide if you wish Google to share your data with a trusted family member or delete it. This is why Google has a provision for helping you plan what happens when you can't use your Google account.
Advertisement - Continue reading below
To get started, visit the page myaccount.google.com/inactive. Click on Start. You can then choose the amount of time Google should trigger your plan. The default time is 3 months. But you can choose between 3, 6, 12 and 18 months. My ideal time is 6 months. Before Google takes any action, they will attempt to contact you multiple times by SMS and your primary email and secondary email. So you need to add a phone number if you haven't already.
You can then choose up to 10 people for Google to notify if your Google Account becomes inactive. You can also give them access to some of your data. So go ahead and click on Add person.
The users you choose will have access to your Google account for 3 months after your account
becomes inactive. You can choose exactly what data they'll access from Access Log activity,
Blogger, Calendar, Chrome, Fit, Google Play, Photos, Books, Play store, Mail, Maps, Profile, Keep, Tasks, and Reminders among at least 65 services. If you are a Gmail user, you can also set up an AutoReplay email that will inform anyone who emails you that your account is inactive.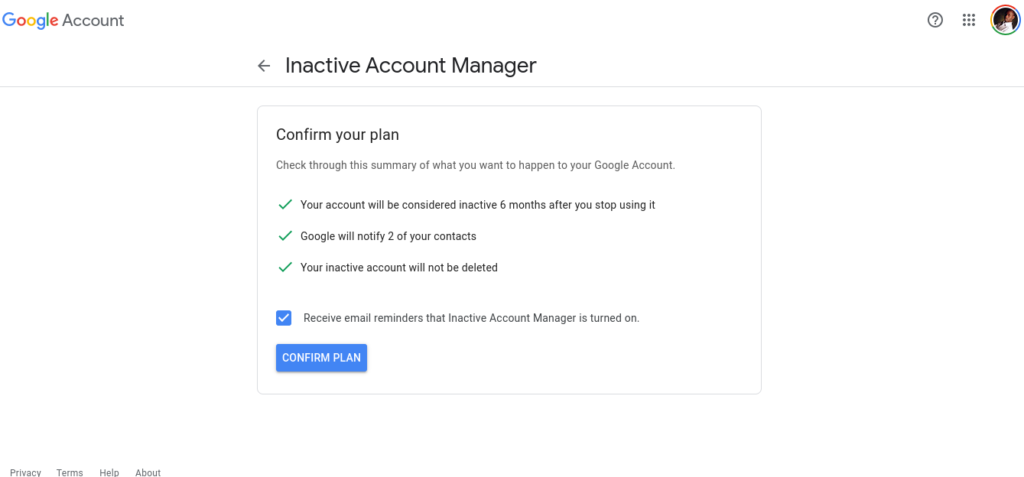 Finally, you can tell Google whether or not to delete your data. If you choose to delete your Google Account, this will include your publicly shared data like your YouTube videos, or blogs on Blogger. After your plan is set in place, you'll have the opportunity to review the settings. You can also turn it off any time you wish.
Admittedly, this is a somber thing to do, planning for your exit from this glorious earth of ours but it is just as important as having a Will. This is worth doing.
Feature image: Pixabay.com
Advertisement - Continue reading below